This episode was much better than the previous few in terms of development in the story but it had more than its fair share of ridiculous moments. There were many scenes which could have been shot and written in a more convincing manner. The opening scene in which Saman has her first real but the most candid conversation with Hashir sounded very strange. The way Saman asked Hashir why he couldn't marry Shazia and who he loved seemed out of place. The last time Saman met Hashir she did not even want to stop and say hello and now she had no issues with having a very personal conversation with Hashir when she knew her husband was around. When Hashir told Saman that he loved someone else and she should have guessed by now who it was, I was hoping that she will put two and two together but Saman is so blinded by whatever information Shazia has been feeding her that she fails to see anything else.
Saman's mother overhears the entire conversation between Shazia and Hashir. She does not have the guts to say everything to Shazia's mother's face but she conveys whatever she can indirectly and decides to keep her distance. I have to say that this was one aspect of the play which I could totally relate to; the way Saman's mother and Shazia's mother drift apart because of their children although they have lived very happily with each other all these years. Hahsir decides to go abroad for God knows how long but it was mainly due to Mehreen's father's request. Hashir's confrontation with Shazia was not as impactful as I was hoping it would be. All of Shazia's hopes have been dashed to the ground for now, what is she going to do with her life now!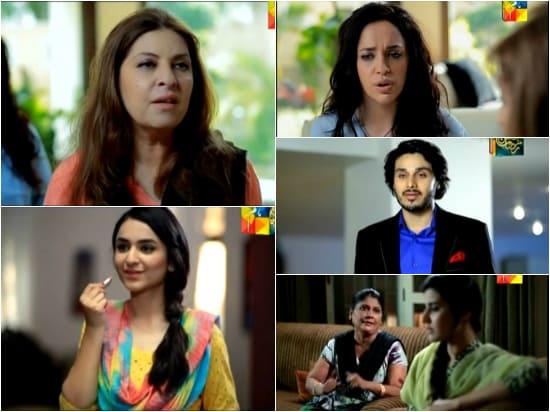 I feel for poor Saman, looks like her mother made all her jahez suits from the dresses she had stored in the trunk for ages. Saman looks like she walked out of a 60s movie and I am so not impressed by Hareem Farooq's acting. There are times when she delivers but mostly she looks very clueless. The scenes with Saman and her mother in law are getting repetitive. I wonder where Faisal's mother got all that money from, any guesses? I am warming up to Hashir's mother's character gradually, she makes an effort at every step to rebuild her relationship with her son.
Mehreen can't take Hashir out of her mind and her father is waiting for her to move on. Shazia Naz is a total misfit for playing this character. I wonder how old she is because it is very difficult to accept her as a girl in her 20s. The make up artist has worked very hard on her and she looks great so it is only fair that I should give the person responsible for her grooming credit.
Overall a pretty average episode as usual but one that left me with the hope that the story may move forward at a relatively faster pace now. Hashir is gone for now so the good news is that we probably won't be seeing Ahsan Khan in the next episode. The relationship of the characters with each other hasn't been cemented well therefore most often it is very difficult to relate to them. I am really disappointed with Aliya Bukhari's script because the drama just isn't taking off.
Do share your thoughts about this episode.
Fatima Awan