Let's start with the highlights of tonight's episode.
* Saman sells her gold bangles and makes special Biryani for her undeserving husband but neither does he acknowledge her sacrifice nor does he eat the Biryani, Saman is heart broken (yet again)! She continues being "brave" and does not react the way any other girl would.
* Shazia continued being her selfish old self. Who wants to die in Hashir's ishq when there is the option of making a career until he comes back. She decides to work in a 'boutique" (with special emphasis on the letter T since it is a designer boutique).
* Shazia and Saman's mothers nok jhok continues throughout the episode with little or no impact!
* Mehreen and Shazia finally meet and Mehreen gives Shazia a piece of her mind. Shazia still hopes that she will be able to win Hashir one day!
*Shazia's mother asks Saman to get in touch with Hashir so that she can convince him to get married to Shazia….how ironic!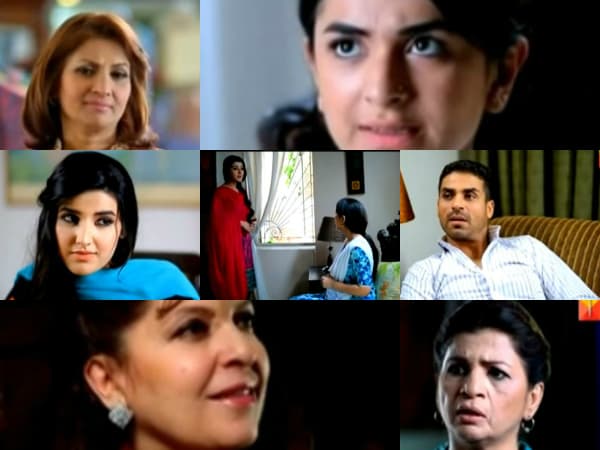 Salma Khala's character is getting more annoying by the day. There seems to be some kind of a communication between Faisal and Shazia, not that anything can make things worse for Saman. The story is moving forward gradually but like I said earlier the characters have failed to impress and the manner in which the story is being taken forward is very unconvincing. Saman's character is too good to be true and Shazia is completely opposite. The friction between the two mothers seems forced and unnecessary now. Of course people do grow apart like this but these two women had a very strong bond for years now and Saman's mother knows only too well that Shazia's mother had nothing to do with everything that happened therefore she should be able to share her feeling with Shazia's mother. Shazia's mother clearly has double standards, there is no questioning that but if she knows the truth she may see things differently.
I am tired of listening to Shazia's mother raving about Fazilat's khushkismati because her daughter got married to someone like Faisal without even trying! The dialogues are getting repetitive; in every episode someone tells Saman that she needs to put on even more make up and look good for her husband! Yes they all need to get their eyesight checked. Saman wants Faisal to take her out in every episode because that is what her Khala wants. Saman's behavior towards the whole situation is not understandable at all, we all know she is a good girl but she is also a human right? We never see her crying or showing her frustration.
The preview of the next episode showed that Saman's becharapan reaches a whole new level after Salma Khala leaves. I did not miss Hashir's character for even a split second today; the drama is equally boring with or without him!
Fatima Awan