So much for hoping that khizan ka mausam was finally over and it was spring time now. Saman went back to being the top contender for the door-mat of the year, Faisal will be Faisal, Shazia proved that her evil ways know no bounds (what fun!) and the last thing I want to hear is that Hashir's mother has some fatal disease. I cannot relate to our heroine one bit, the woman does not have an ounce of self-respect. The way she thanked Faisal for coming to take her back home was just plain shocking and her reaction to what Faisal said was even more so. It does not take a rocket scientist to figure out that Faisal does not love Saman one bit then why is Saman so sad every time Faisal tells her off? Why does she keep on hoping that one day this man will love her? Why does she trust Shazia so much? And why oh why does she blame Hashir for all her troubles? It isn't as if her life was perfect before Hashir came into her life. When is Saman's mother going to share the big secret with her? And last but in no way the least why did Saman feel the need to put on even more foundation when her mother came to visit her??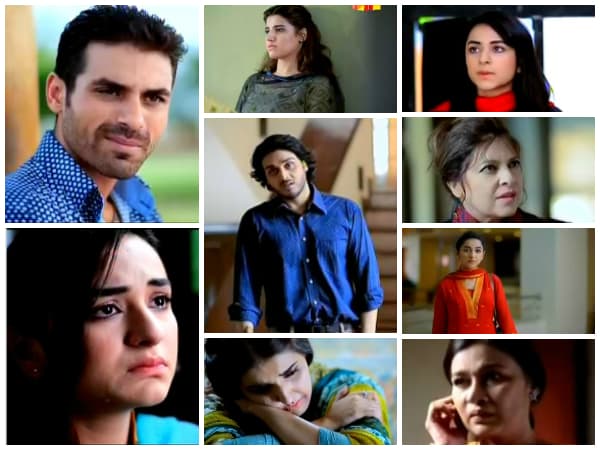 Immediately after watching the first scene of the play I thought of all the nice "titles" Shazia has been given till now meethi churi suits her the most. Doesn't she get tired of living this two-faced life? So much plotting and planning to ruin someone's life, for what? Is there a reason why she is so evil or being evil is like a hobby she enjoys too much to give up? A big part of the episode was wasted on showing the viewers what is going on between Faisal and Shazia as if it was brand new information. It was quite apparent that Shazia has Faisal wrapped around her little finger so few minutes of screen time covering Shazia and Faisal's "love affair" would have been enough. Hashir tries to knock some sense into Saman but she does not listen of course because she only trusts people who are out to destroy her life. Saman keeps on giving Shazia credit for every "good thing" that happens to her but her mother does not tell her the truth, her silence is getting frustrating. She does give Saman an indirect message but it doesn't do any good.
Hashir's mother advices him to use his money to get what (who) he wants and if that doesn't work out then "sub se qeemti sheh apna ap hota hai jis ko dao pe lagana prta hai apne pyaro ki khatir." I have a bad feeling that Hashir will take his mother's advice a little too seriously; that is the reason why he proposed to Shazia in the next episode in order to save Saman's dysfunctional marriage! I find it impossible to believe that Saman thinks the biggest (or perhaps the only problem in her marriage) is that Faisal thinks Hahsir likes her and proving him wrong will make everything fine. The plot of the drama and its characters are as weak as they get. The script lacks substance and defies common sense. Hashir's love for Saman is unconvincing to say the least and Saman's fixation with Faisal defies logic. It is very difficult to fall in love with someone like Faisal and it is even more difficult to continue loving him especially when we consider the way he treats Saman. Any normal girl would want such a marriage to end unless she had no other choice but the eagerness with which Saman is out to save her marriage is beyond me!
Fatima Awan