Mausam has been a very slow play till now but all of a sudden things are moving forward rather quickly. Hashir's father finally decided to call him today, he listened to him and confronted his mother but there was nothing new about what Hashir said to his mother because he has always believed that his mother was responsible for the separation between his parents. When Hashir finds out the next morning that his mother has gone to the doctor he decides to go after her but when he finds out that his mother has already left and spots Saman's mother there, he conveniently forgets all about his mother but is more concerned about setting things straight in Saman's life. I am glad that we were not shown the details of what went on between Faisal and Saman after he saw her in Hashir's office. Even after going through so much Saman's sole concern is saving her marriage.
Shazia on the other hand thinks she has hit a jackpot, she is finally going to get the man she always wanted….so basically mission accomplished! I am waiting to find out how she is going to convince Faisal to accept this marriage since she is the one who has been telling Faisal that Hashir is interested in Saman. I am anxiously waiting to see how Faisal reacts to the news of Shazia and Hashir's marriage because I can foresee Karma taking care of Shazia's future from now on (or it could be my wishful thinking!) Surely someone like Shazia cannot get away with everything that she did; she will eventually have to pay for all that she put Saman and Hashir through.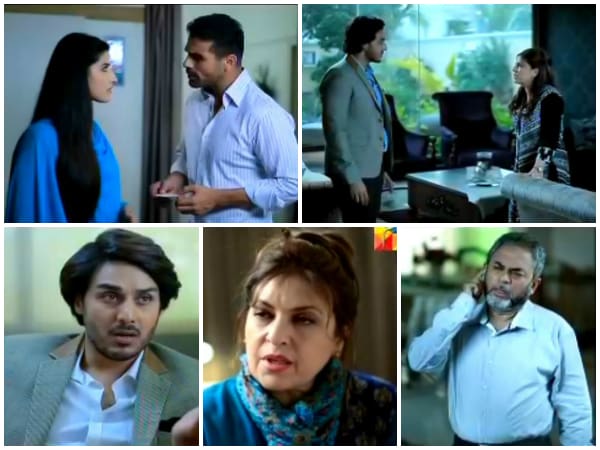 Saman surprised me yet again with the change in her personality when she is around Hashir. It is strange and ironic that all of Saman's lectures and words of wisdom are for Hashir's ears only. Also, her common sense works only when it comes to Hashir. She took seconds to put two and two together when it came to figuring out Luqman's connection with Hashir. She must be one of those people who will do anything for family, even if that family is a back-stabbing cousin or Khala or an abusive husband, but she will never trust someone who is not part of the family. Hashir is definitely not a stranger to Saman but the way she told him off was actually very surprising; I had no idea that she knew that Mehreen was interested in Hashir too since even Hashir found out that Mehreen had feelings for him only recently. And when did Saman find out that Hashir likes her? Saman is definitely not the sort of person who can just figure something like that out.
Shazia's conversation with her mother highlighted her mother's double standards even more. It looked like she knew exactly what her daughter had been upto all these years. She did not want Saman to be there when Hashir's mother came and she was very sure that Faisal could create problems – now what does that say about her? Looks like Saman's mother is going to keep the big secret all to herself, she is the only one who knows exactly what Shazia has been doing to her daughter for all these years but for some odd reason she feels absolutely no need to confront her even – not that it is going to do any good.
The preview of the next episode showed that Faisal threatens to divorce Saman, yet again and Hashir plays "the savior" with flying colors! I am glad that the story is finally moving forward and at this point I am looking forward to Shazia paying for whatever she did to Saman more than anything else.
Fatima Awan