Opening Thoughts – Intense & Interesting:
Ohkay so, these two episode of Meer Abru were not only interesting but were intense & I absolutely loved watching them. This drama has been so well-directed & all the performances are just so effortlessly convincing that make Meer Abru worth your time. All the things that happened were the defining moments of the story & now the course of it is going to change.
Short Lived Love Story:
I loved the short-lived love story of Meer Abru. Meer finally poured his heart out to Abru & told her what he felt for her. Abru happens to be the first girl ever to have made Meer feel that way & that is why he realized that the thought of her made him happy, her presence mattered to him & he loved her. Abru was shocked to hear everything that Meer said but then even she was in love. Abru never really paid heed to the feelings she had developed for Meer until he confessed his love to her & she also realized that she was in love. Meer showed Abru his vulnerable side & it did affect Abru emotionally, she knew that she had to mend his broken heart. Abru felt so many emotions for Meer, from anger to hatred to sympathy to compassion, then affection & also love, it was like Meer could not escape Abru's mind & that is why despite not having a smooth relation with him ever, she couldn't help falling in love with him. Meer gifted Abru the chain & told her to wear it if she wanted to show her acceptance. I loved that entire equation & the time both Abru & Meer shared with each other, they both were different to each other but were now in love & absolutely happy but then, the circumstances took that away from them.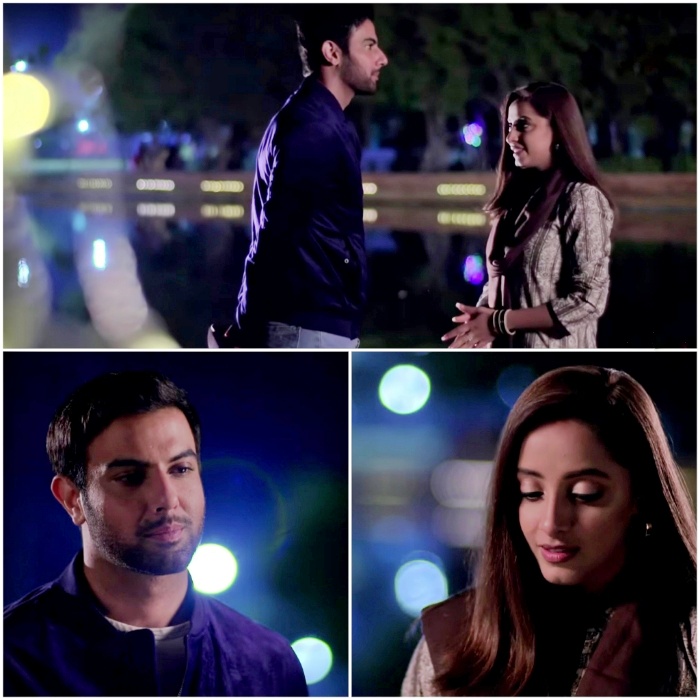 In the meantime, Waleed continued to trap Haya & Sana, especially Haya because he knows she is someone who does not even question him unlike Sana. When it comes to Sana, Waleed has to prove himself to her over & over again but Haya trusts him blindly. Waleed ended up spotting that chain & took it back to create more misunderstandings between Abru & Meer.
Zebi only agreed to Saim & Abru's marriage because she thinks she will use Abru as a weapon to break this entire home. Zebi didn't even tell her plan to Waleed, who actually happens to be her ally in most of the things. Waleed doesn't like Abru & Zebi knows that too but she knows that her sons absolutely love & respect Meer's family, so she kept her secret to herself as she knows she will have to do everything on her own if she wants to achieve what she has been dreaming of; a separate home & business for her family unit. I am not a fan of Zebi's character, I am sure no one is but what makes it far more difficult to tolerate her is Jia Ali's tacky styling, uf! Anyways, that scene was cute where both Zebi & Jamal teased Saim & then let him know that they were totally on his side & were giving him & Abru their blessings for the marriage. Such scenes add a different dimension to the story & they actually tie the story together.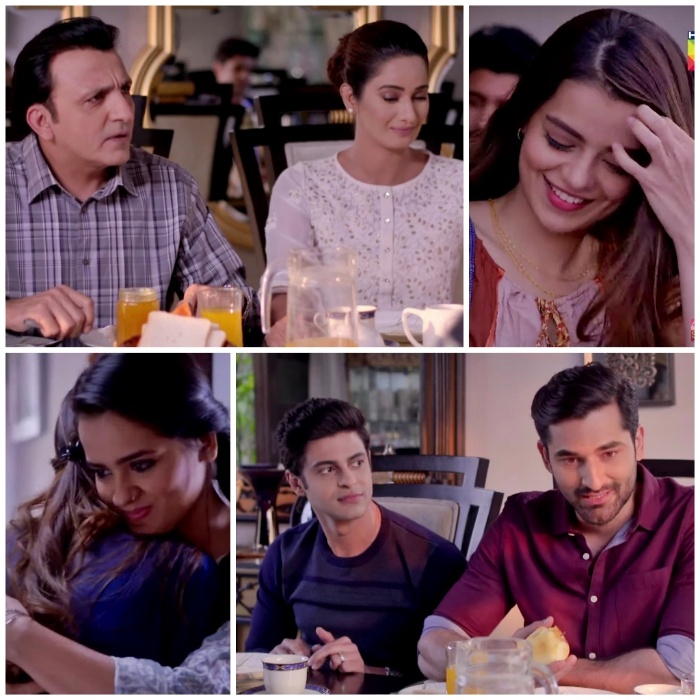 Abru said yes to Meer's proposal but sadly, Meer didn't think things through before misunderstanding Abru yet again. I actually feel for Meer because he is someone who tries to break free from what he has seen while growing up but subconsciously he has harboured all those complexes, insecurities & fears in his mind that he can not look past them. Meer decided to question Abru but before even doing that he had set the accusatory tone which riled Abru up. Meer was not actually questioning Abru, he was actually passing a verdict that whatever he thinks of her is what the reality is. It was unfortunate that Meer did not allow Abru the chance to explain herself. To be honest, I was actually rooting for Meer & Abru but seeing the way Meer easily misunderstands & mistrusts Abru, I think she is better suited with Saim who will not put her through this mental torture where she'd have to explain or prove herself over & over again. Meer is nice, like he is eccentric, he is different, but he most certainly has some serious trust issues. Meer hasn't realized that he does all of what he hates his father for. Even though Meer does not want to see his mother being treated that way but chances are highly likely that he will treat his wife exactly the way Ghazanfar has treated Saira all his life.
Meer decided to fix things, but being the difficult person that he is, he once again demanded an explanation, a clarification to do something for Abru. Meer can not trust Abru no matter what she will say or do, that is why he didn't even think of doing the heavy lifting without hearing the truth from her. All the things that Saim said to both Meer & Abru showed the kind of person he is. That entire confrontation was so intense & brilliantly executed where Saim decided to back out but he showed Abru what he thought of her. Saim made it very easy for Abru to make a decision because there was Meer, the love of Abru's life who was not ready to trust her & then there was Saim, who she saw as her friend but he was not only trusting her but trying to make Meer understand too that she could never do anything wrong. Meer is a victim of his own words, his anger, his emotions. At one moment I felt he will give Abru the assurance she needs & he will say that he trusts Abru but no, he wanted Abru to convince him & prove her innocence.
Closing Thoughts – Loving It So Far:
These episodes of Meer Abru were brilliantly directed & the editing was spot on too. There are no loose ends so far & all the tracks are progressing at a same decent pace. I love Abru's character & the preview showed how she will not settle for mistreatment in the name of love. Even though Saim will always be wary of Meer's feelings for Abru, but still it is Abru who gets to make the decision which is perfect. Sanam Chaudhry's styling in this drama is perfect, she always gives her characters a different treatment but I will say she has never looked this good before. Her hair, makeup & the wardrobe is perfect in Meer Abru. Noor Hassan & Zain Baig look graceful & Saad Qureshi has never looked this good before too, even though he can still rely on a little less makeup but he is doing complete justice to the character of Waleed. I am loving Meer Abru so far & can't wait to see the remaining episodes. This drama is so my cup of tea, therefore I am enjoying it like anything. Please share your thoughts about these episodes of Meer Abru.
Keep Supporting,
Cheers,
Zahra Mirza.