Opening Thoughts – Intense & Superb:
Ohkay so, these two episodes of Meer Abru were intense & superb. The story of Meer Abru overall is amazing & has been well-directed. It is the kind of drama that offers everything; a variety to the viewers & has so many tracks which are all super interesting. Meer Abru is my new favorite drama & I am so glad I gave it a go!
Love Triangle:
Saim decided that he will backtrack to allow Meer & Abru to be together but that was the moment which told Abru that she'd be making a wrong choice by rejecting Saim's proposal. Saim advocated Abru in front of Meer in such a way that made it very easy for Abru to take such a decision. Unfortunately, even after Saim clarified the misunderstanding, Meer continued to believe his version & his perspective. Meer had made up his mind about Abru that she was two-timing, because of which he could not even grasp the truth. Abru realized it then & there that Meer didn't have it in him to trust anyone that is why she chose Saim. I must say, I loved the conversation that Abru had with her father later on, I like the relationship Ahmed shares with his daughters especially Abru. I loved that Ahmed was observant enough to know that something was bothering Abru & she then confided in him which was so special. We never get to see such sort of a father-daughter relationship in our dramas therefore Ahmed & Abru's equation is so refreshing to see.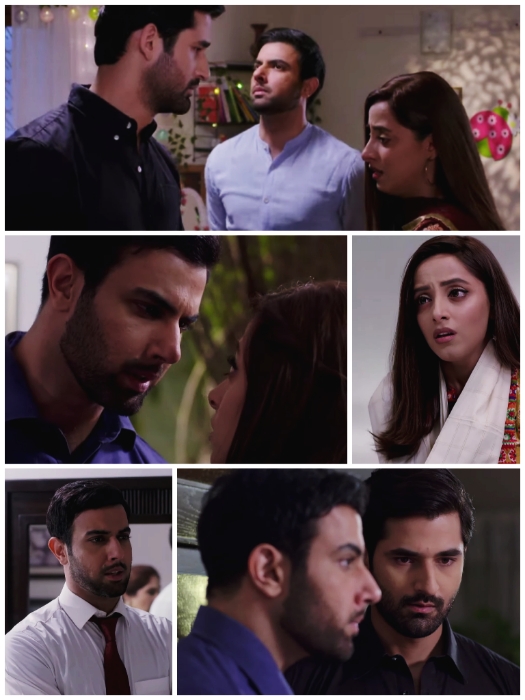 I really think they should have shown a scene or two in which Zaibi finds out about the feelings Meer has for Abru because in this entire episode & going by her behaviour, it was too obvious that she was kind of deriving pleasure out of Meer's misery & that she also knew that Meer had feelings for Abru. As far as I remember the first ever scene which was in relation to this scenario was the one in which Zaibi gave the chain to Meer telling him to gift it to the girl that he loved. May be Waleed must have told her later that he found that chain to be with Abru's sister & they might have connected the dots but I guess they should have covered such an important detail because all the teasing that Zaibi was doing was hard to decipher, but still it did suggest that she knew Meer was upset because of Abru. Zaibi's grand plan is to drift this family apart & she did say that she will use Abru as her pawn so may be she knows exactly that Meer loves Abru & she will use it to her advantage. Zaibi also spoke to Waleed & it looks like she told Waleed to tell Meer about Saim & Abru's affair even before Saim got a chance to do that. They didn't give this entire scenario the coverage that it required to clarify everything but it does look like Zaibi as well as Waleed have also played a part in creating this misunderstanding between Saim & Meer.
Abru immediately realized that things were going to get awkward for her & she won't find an escape easily therefore she decided to resign from the job. Another thing that I liked was the way Saim & Abru openly discussed about Meer & his attitude towards Abru. It is like Saim exactly knows how Meer is going to react that is why he decided to be supportive of Abru even more to put her mind to ease. It was nice to see that after every discussion with Saim, Abru felt relieved & she knew she had a strong support system to make things easy for her!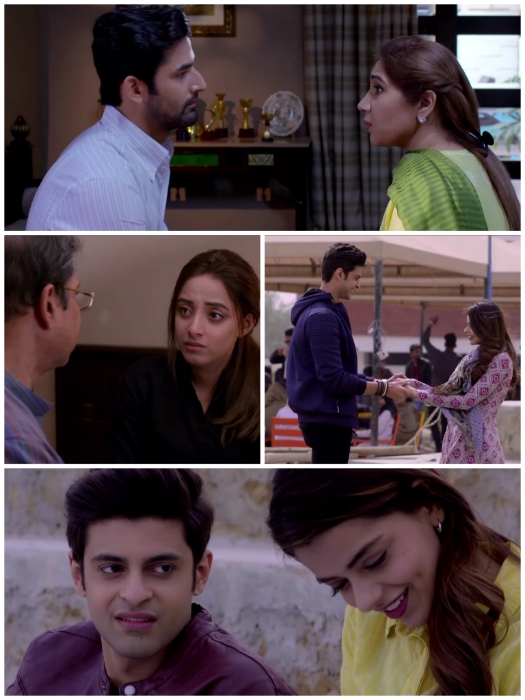 Sana has pretty much understood Waleed's game plan & also because she respects Abru, she decided to call it quits with Waleed but sadly, Haya doesn't really realize. The only thing I find a little unconvincing is the fact that both Waleed & Haya twirl & hug each other in front of the entire university, yet they claim to have kept their relationship a secret. Everyone in the university also knows that Haya happens to be Prof. Ahmed's daughter, still no one has reported it to him or even her sister Sana that Haya is hanging out with Waleed all the time? I think they should have shown that they both were meeting outside the university to make their secret affair believable.
Meer was struggling but still, he didn't even for a second think that he might be misunderstanding the entire situation. Meer has made up his mind about Abru, he thinks she cheated on him & he also thinks Saim lied to him, therefore he is making things difficult for both of them. Meer is going to haunt Abru & even though Saim is standing by her side, all of this will obviously test his patience too. Saim knew exactly that Meer must have dragged Abru in his room that is why he ignored it all & trusted Abru but it does look like Meer is not going to stop. I loved the conversation Meer had with his mother Saira. Saira did give him a reality check that Meer didn't know how to express his love & in fact he didn't know how to love someone, that is why she dreaded that Meer might hurt himself. Slowly & steadily everyone has started to find out the truth about the love triangle that exists between Saim, Abru & Meer so I am guessing Zaibi will make the most of it to push her agenda plus she'll have full support of Waleed too who already hates Abru!
I must admit, we see so many females getting slapped that all the time so whenever Abru slaps a guy in this drama, I cheer for her. Abru slapped Waleed's friend who misbehaved with her & now, she slapped Waleed who she knows is playing with her sister's feelings. You go girl! Haya is innocent, she really has no idea what Waleed is upto but I so wish she believes Abru or even Sana & parts ways with Waleed. I must say I chuckle every time Waleed gives those mean expressions when Haya is not looking at him, lol!
Closing Thoughts – Such An Impressive Drama:
Overall, these two episodes of Meer Abru were superb. The direction is phenomenal & so is the acting. Noor Hassan & Sanam Chaudhry's chemistry is beyond brilliant & makes me low-key root for them even though I know Meer is not in the right state of mind as of now. Noor Hassan really has done wonders & even though he has come back after a bit of a break, I think he really has come back stronger as an actor. Sanam Chauhdry never fails to impress with her flawless acting. Mirza Zain Baig is doing full justice to the nicest character of Saim. Saad Qureshi has also given a perfect treatment to Waleed. I wish to see more of Sana & Haya, like more of them apart from them being just university students or girls who are involved with Waleed because their equation with Abru is super enjoyable to watch. The promo of the next episode is already making it hard for me to wait for it the whole week. I so hope Haya is able to protect herself from Waleed though. I am officially in love with Meer Abru. Please share your thoughts about these two episodes of Meer Abru.
Keep Supporting,
Cheers,
Zahra Mirza.
Ps: A lot of readers have already made a point that the story of Meer Abru is lifted from some Star Plus drama, but as I have said before, I haven't watched it & I'm sure quite a lot of viewers must not have watched it either, so I request everyone to please stop mentioning it again & again. Also, since you guys know the story, I will appreciate if the unsolicited spoiler alerts are not handed out & let me & those viewers enjoy this drama who haven't seen the Star Plus version. Thanks!