Opening Thoughts – Simply Perfect:
Ohkay so, even though I am really happy with the ending that Meer Abru got, like it was a beautiful ending but I am still writing this review with a heavy heart. I so wish it hadn't ended. It is like after ages we got to see a quality drama which had so much to offer. Meer Abru will remain one of my favorite dramas & I am definitely going to watch it again. I will congratulate the entire team of Meer Abru for the success of this drama & most importantly for making such a brilliant drama. If I had to describe the entire journey & drama of Meer Abru in one word, I'd simply say it was 'perfect' & yes, I am sad that this drama has ended.
Grab Your Tissues Please:
So, now everyone from Murad family was adamant to get Meer & Abru married. Jamal thought they both had a great understanding & that they both were compatible with each other. It was interesting that all this while, it were only Saira & then Zaibi who knew that Meer loved Abru but the rest of the family members didn't know. Jamal only suggested their marriage because he felt Meer would make a good husband to Abru, who was Saim's widow. Jamal had seen the way Meer cared for Abru but he didn't once feel that may be Meer was in love with her. Abru did reject the proposal but then it did weigh her heart down, she couldn't really get over Meer. Yes, she was loyal to Saim but then Meer was always going to be her first love.
Maha came as a blessing for Abru. When she entered the picture before, she tried to ruin everything that Abru had but now, she was trying to do the damage control because she knew she was in the wrong. Haya & Waleed apologized to Abru & that was one emotional scene, especially when Waleed handed over his baby to Abru. It was beautiful how everyone slowly & steadily started seeing the good in Abru & they realized that she never wished ill for anyone, rather she herself was a victim of scheming & plotting. Just when Haya said that she was unforgivable, I couldn't stop nodding my head but that is one thing I still stand by, she shouldn't have gotten away so easily but then it is good that things wrapped up decently without much drama anyways.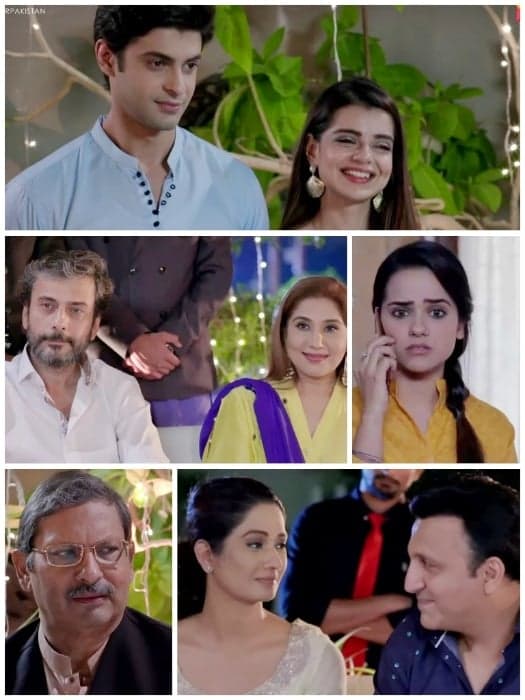 Meer said yes to Maha's proposal. At that point I did feel may be Saira was suggesting this to rekindle Abru's feelings for Meer but she wasn't the one who planned this. Saira eagerly wanted Meer to settle down & move on from the one-sided love that he had for Abru. I loved the way Sana called Meer immediately to confirm the news & then told him that she needed some time to convince Abru. That was the moment when Abru started feeling a little uneasy. That was the moment she recalled everything that both she & Meer had shared. Abru couldn't take her mind off the things Meer had said to her, the way he confessed his love to her & the way he promised to be by her side. Abru knew it was too late & that was the first time she actually admitted that the news of Meer & Maha's Nikkah made her lose hope.
Meer was struggling, he knew what was happening was wrong but then he also knew that this was the only way to prove himself yet again that he never wished ill or didn't want to snatch Abru by planning or plotting. Meer just gave up trying & this is why he told Waleed that Abru hated him, therefore he stood no chance. It was nice to see Waleed being a voice of reason for once, I wish they had shown his transition in a detailed manner, like it was only shown that the birth of his son did bring some change in him but what actually opened his eyes was Maha's confession. However, they should've shown him reflecting on his own a bit too, but then he did what was right, so it's all good!
Then came the showdown, Zaibi once again tried to tarnish Abru's reputation but she was hit with reality checks. The best two things that happened in that scene was Meer refusing to get married to Maha & then Abru speaking up for herself for the first time. I loved the fact that they just didn't show that circumstances turned into Meer & Abru's favor & without saying anything they were brought together. Meer's refusal showed it to Abru that he just couldn't do that & he couldn't live without her. Abru speaking up to Zaibi was again much needed because it showed that Abru was done taking the blame for things she never was responsible for. Abru had to speak up & I am so glad she did. This is why I have always loved Abru's character, even though things were not in her favor for the longest time but she never once was a bechari, rather she kept on dealing with everything by putting up a brave face. It was beautifully shown that because Abru never did anybody wrong, things slowly & steadily started shaping up in her favor. Abru's journey was a perfect example of doing good & the good following you, this is what summed up her journey. Waleed & Maha did take the responsibility for putting up an act but then I am glad they weren't the ones who overshadowed it, rather it was made clear that this time around, both Meer & Abru took charge of the situation. Zaibi got away with everything a bit too easily, like she wasn't humiliated but it's all well when it ends well but I so wanted Jamal Uncle to give her a piece of his mind at least once but chalo, may be he pitied her for being miserable.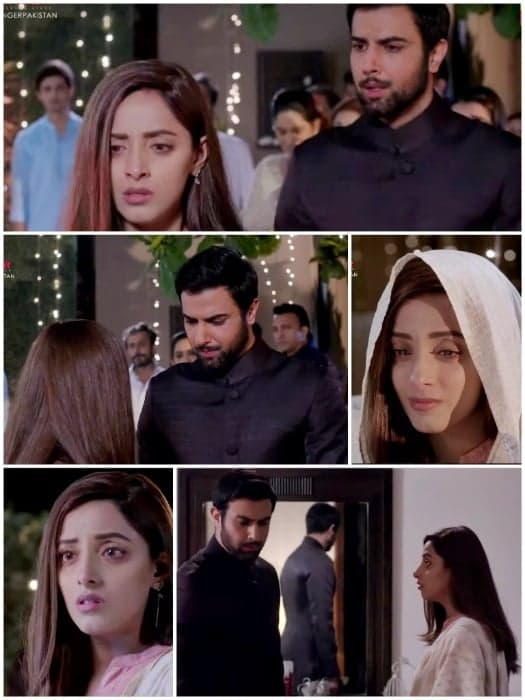 So, finally came the proposal, it was beautiful how before saying anything, Meer remembered Saim & gave Abru his reference, it was like even though Saim was not a part of their lives anymore but he had never left. I can not begin to explain how beautiful everything was & how perfect their minute expressions were. By the way, I do sob a little every now & then while watching different dramas but with this one, I was bawling my eyes out & had to rely on tissues, it just showed me that I was soooo in love with all these characters. I even cried when Waleed told Zaibi to stop & she apologized to Abru, like everything was just so beautiful. Abru & Meer's teary eyes was just too much to handle. I loveeeeeeed every bit of this drama & then the last episode & then the last scene!!!
Closing Thoughts – Will Always Be My Favorite:
Meer Abru was such a beautiful journey. I am falling short of words & don't really know where to begin but I will try. Firstly the best best best thing about Meer Abru was the pace, all the episodes were so happening & always covered one chapter of their lives. I wish all our dramas take lead from Meer Abru, like now that it has ended, I didn't want it to end, this is how good this drama was. I never once felt bored rather I found myself waiting for the episodes every week. The characters were brilliant too, every character had so much to offer & they all were such dynamic & complete personalities. All the characters contributed in making this drama a complete package. Also, both the generations shown in this drama were just brilliant & had unique personalities. Be it Jamal, Ghazanfar, Zaibi, Saira or Ahmad, they were always there for their children and guided them perfectly. I wish they had shown Ghazanfar apologizing to Saira for his rude behavior but then he had changed too after Saim's death so it is all good. I guess they didn't go too much into the detailing which was good but then I am asking for all these scenes because it would've guaranteed a few more episodes. I loved Ahmad's character too, he was such a good father figure to Abru & to all of his daughters. I was just fuming after seeing Faraz's character in Khaas last night so Ahmad's fatherly figure came as a breath of fresh air. He was always there to guide his daughters but never once imposed his decisions on them. He made them strong enough to fight their battles & make their own decisions. I always enjoyed his conversations with Abru, where he'd always uplift Abru, it was very sweet,
Now coming to the younger lot, each & every one of them was just so special & perfect in their own way. Saim was such a beautiful character. Haya & Sana were like typical younger sisters where one of them was rebellious & the other one was wise & compassionate. Waleed was a spoiled brat but then he realized his mistakes & overcame his shortcomings after Saim's death. Meer was always a difficult character but then he also had his calling & he was changed for the good. Abru's love made Meer go through all sorts of emotions, he experienced hatred, jealousy, envy, anger, but then, he came to realize that one thing that always stayed constant was his love for her. Abru, I am sure I won't be able to do justice to this character so I will just say that she was simply perfect. We never really get to see characters like these who are so strong-willed & just right, no matter what they do. I must say this was another beautiful dimension added to Abru's character that because she raised her sisters like a mother figure, it was like she matured a bit too early after losing a mother. May be that's why Abru's character was shown to be this way where she knew she had to be a role model to her sisters, she had to be strong for them that is why she had trained herself to be just right all the time. I so wish they had shown Sana in the last scene too, like she was there for both Meer & Abru & she was the first one to know that Meer loved Abru so much, so I actually missed her presence in the last scene especially.
Mirza Zain Baig, Srha Asghar, Rabya Kulsoom, Saad Qureshi, Jia Ali and all the actors were simply brilliant in Meer Abru. Now coming to the show-stoppers of Meer Abru – Sanam Chaudhry & Noor Hassan, I am sure they are very proud of their outstanding & phenomenal performances. They should be because they poured their heart & soul in these characters & if it wasn't for them, I am sure this drama would've never made this kind of impact. I must say Meer Abru has to be the best choice of Noor Hassan & Sanam Chaudhry's careers so far & they were beyond perfect. The director of this drama Furqan Adam should be proud of himself too & I wish he gives us another brilliantly directed drama soon. I will also talk about the background scores they have used throughout the drama, they were different & they added so much emotion & feel to every single scene, be it the instrumental music, the OST or even the Alaap, I feel these background music also made me a bit too emotional because they were used just so aptly. Ah! I am so sad this drama is over, also I am upset that the last episode was durated for 34 minutes whereas usually the episodes are 38 minutes long. I so wish they had added those extra 4 minutes to show us Meer & Abru's life after their marriage, some nice moments to make us feel warm & fuzzy, sigh! Anyways, will forever be in love with drama & congratulations team Meer Abru once again. Please share your thoughts about the last episode of Meer Abru.
Keep Supporting,
Cheers,
Zahra Mirza.