Very interesting!!! All the characters in the play are no longer the flawless people we saw on screen in the first 8 episodes and unlike the last time I enjoyed watching these changes in the characters. There are very few plays in which when characters change for the worse you have reasons to appreciate these changes because it only makes things more interesting. Sitara falling for Farhad was actually a nice twist in the story instead of Farhad pursuing her.
Farhad was like a mystery to Sitara all her life although she spent most years of her life living under the same roof with him but he never acknowledged her presence. Now that Farhad is not only acknowledging her presence but also being possessive about her Sitara finds him more attractive than ever. She has attained the unattainable and it only takes a person with a very strong character to resist such a temptation. Sitara proved today that she wasn't a strong person, she is very vulnerable and she has forgotten all the promises she made to her Baji. I honestly felt that I would hate everything about such a track but honestly speaking the way everything was shown was very convincing and it is interesting to watch Sitara proving that she really is her father's daughter! Although she vowed to prove otherwise but some things are beyond your control!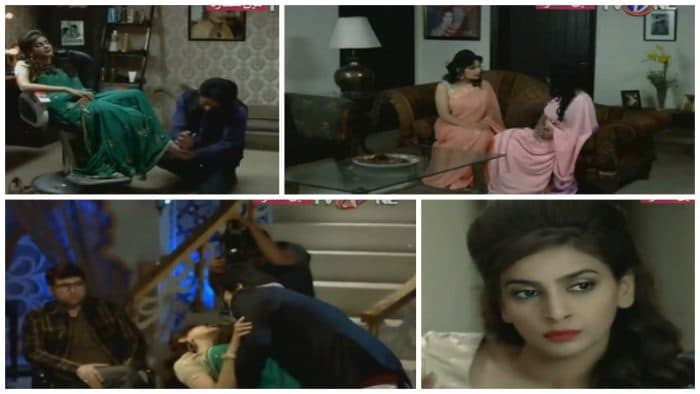 Sitara's character got a lot more appealing with this episode because there can be so many different reasons why she fell for Farhad and not Jamal. Is it because she never had a father figure in her life – someone who would want to protect her? This is the first time Farhad has fallen for one of his heroines and obviously his reasons might not be as deep rooted as that of Sitara. Sitara is young, pretty and talented and she made it quite obvious today that she too feels something for Farhad. I am waiting to find out how Sitara interacts with Jharna in the upcoming episodes. There wasn't a single scene between Sitara and Jharna in tonight's episode because Sitara is too busy on the sets and it is always easier to forget promises when someone is not there to remind you of them! Sitara it looks like is already lost in the world of films and she has left Surraya far behind. I absolutely love Pappu's character; he has a small role to play in the story but somehow he is standing out already. The perfect and effortless performance given by Adnan Shah Tipu has made all the difference.
I think it is time to say goodbye to the strong and sensible Jharna we saw in the first few episodes for good. Her character was very impressive and very well-balanced but now she is an insecure wife who feels left out all the time! There was a time when Jharna was too busy having and raising kids. She used to be too tired to wait up for her husband or give him the time and attention he wanted but even then she was always a positive influence in his life. She always supported him even when people doubted him, now that he is where he wants to be she has tons of free time on her hands and is worried sick that he will fall for one of his heroines. I still remember the few conversations between different people which hinted that Farhad married Jharna because he had some vested interests but until now Farhad was faithful to her. This new development with Sitara however might prove to be the final nail in the coffin. It would be nice to see Jharna tackling her insecurities in some other way instead of complaining all the time. Now that she has a reason to doubt her husband, her character might seem more 'reasonable' in the next episode.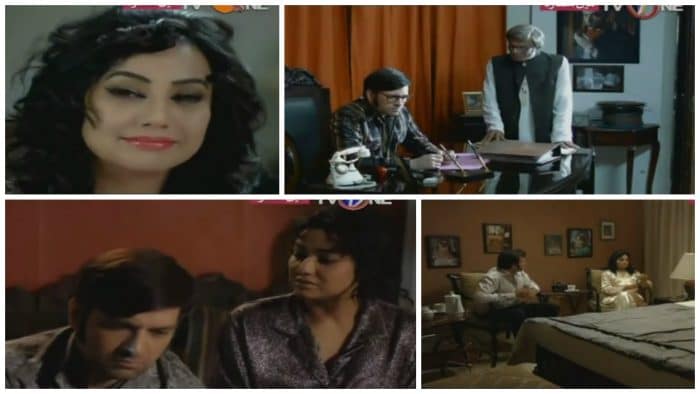 Nasim Dil Ruba is not out of the picture, which is also a nice surprise. She has not managed to bag any quality projects therefore she was seen employing different methods to get Sitara out of the film so that she could be a part of it again. This was another development in tonight's episode which gave a very realistic touch to the whole story.
This episode was beautifully directed and I found the latest developments in the story exciting which is not how I was thinking I would feel! The credit for that goes to the writer for penning down such interesting characters which are human, the director, for doing complete justice to every single scene and most certainly the actors for giving some remarkable performances. Saba Qamar is amazing as Sitara, Hassan Ahmed and Meera are picture perfect in every scene. There were times in tonight's episode when I thought Mikaal Zulfiqar's performance was not up to the mark but on the whole he has given a brilliant performance. Those people who don't get to watch this drama on the television are missing out on the experience because watching Mein Sitara on the television screen is a completely different experience. I would give full marks to the stylist and the make-up artist for giving everyone the perfect looks.
Quite contrary to my expectations, I loved this latest episode and can't wait to see what happens next!! I am sure there are many people out there who are very disappointed with Sitara but honestly speaking if Sitara did not get involved with Farhad the drama wouldn't have been this exciting!
How many of you watched this latest episode?
Do share your thoughts about it.
Fatima Awan