Right now the most amazing aspect of this drama serial is the characterization and the relationships of all the characters with each other. Mein Sitara has never been a fast paced play but things always move forward a little with every passing episode giving the viewers something to look forward to. Watching this drama is like reading your favorite novel, you want to pause after you have read a few lines so that you can enjoy every little detail.
This episode showed brilliantly how hard it is for Sitara to make a decision at this point. She vows not to take this relationship with Farhad any further but then whenever he approaches her, the temptation is too much to resist. She does not want to let Jharna down and at the same time she cannot break Farhad's heart. Tonight for the first time it seemed like Farhad was taking advantage of Sitara. At this point he is definitely the one investing all his emotions and energies into taking this relationship forward. He is not letting Sitara do what she wants to do. Although Mikaal Zulfiqar and Saba Qamar are the same age but the way their relationship has been shown right from the start has made it very easy for me at least to look at Farhad Sethi as a much older man who is taking advantage of a young girl who is probably infatuated with him – nothing more and nothing less. Saba Qamar and Mikaal Zulfiqar outdid themselves in tonight's episode. Two scenes stood out more than any other in tonight's episode; when Farhad goes and tells Sitara that he wanted to meet her alone and when Sitara sits in front of the mirror regretting what she had done. These scenes were directed so well and acted out so brilliantly that it didn't look like acting at all. They have portrayed every single emotion faultlessly on screen. Farhad is blinded by his fascination with Sitara right now and Sitara is unsure. Mikaal and Saba also played the lead in Sangat but Mein Sitara's characterization is so solid that you forget that these two have played the lead ever before too. I never feel like I am watching Mikaal Zulfiqar and Saba Qamar on screen while watching this play because they are so into their characters.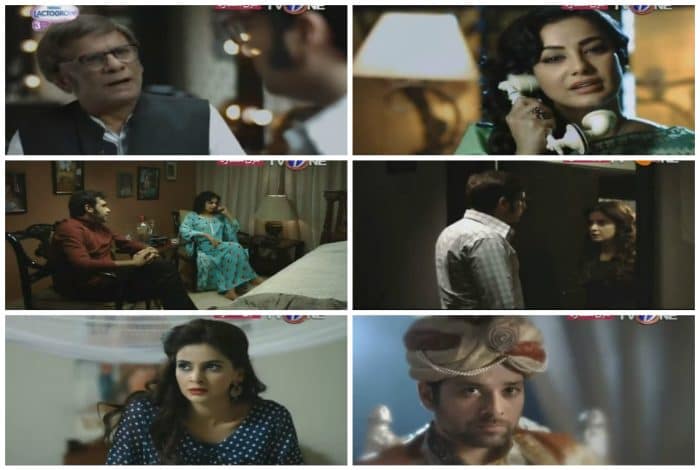 The song sequence was another addition to this episode which went to show the amount of creativity and effort that must have gone into making this play. There was absolutely no need to add this scene but adding this scene gave the viewers something different to watch, we got to hear one of the most unforgettable songs of its time and also the picturization showed the feelings of all these characters. Right now Farhad is not willing to listen to anyone. Saleem tried to tell him that he was making a mistake in very clear words but right now Farhad only wants Sitara, he does not care about his relationship with Jharna. I am hoping that the latest development in which Jharna shows up unexpectedly will serve as a wake-up call for Farhad. Farhad is just being a 'man' right now – I hate to generalize but there is no other explanation for this scenario! Sitara is young, beautiful and interested in him – he finds the temptation very appealing. Probably because it makes him feel young again. He is the only character at the moment who is not analyzing the whole situation in a practical way not even after Saleem told him that Jharna asked him about him and Sitara. The actor playing Saleem is another person who fits into his role flawlessly. Also, his relationship with Farhad has been shown impeccably.
Naseem Dil Ruba's phone call confirmed Jharna's fears although she didn't know what was going on between Sitara and Farhad for sure. Naseem's 'mole' is probably the make-up artist who keeps on giving her the information she needs. Meera's acting yet again was a pleasant surprise. Also, the make-up artist has given everyone superb makeovers. Meera has never looked this good and Saba Qamar looked very pretty particularly in the scene in which Farhad comes to see her. Also, the person incharge of the wardrobe has complimented everyone's looks to fit the era this drama is showing.
A lot of attention to detail, a brand new story and amazing team work is what makes Mein Sitara one of the most spell-binding dramas I have seen in a long time. It is unpredictable and enticing without being too over-dramatic. This drama has provided its viewers with 12 weeks of quality entertainment which is a huge accomplishment.
The preview of the next episode showed Jharna finally trying to convey her feelings to her husband without giving him a reason to walk out of the room. Will she be able to knock some sense into Farhad? It looks like nothing can stop Farhad right now not even Jharna.
How many of you watched this episode? Don't forget to share your thoughts about it.
Fatima Awan