This episode of Mein Sitara definitely gave me something to look forward to but it wasn't as impressive as I was expecting it to be. So far every episode of this drama has been very convincing and entertaining but this particular episode was slightly disappointing. Saba Qamar was exceptional in tonight's episode and Sitara's love and sincerity towards Jharna and Farhad has definitely been shown in a really good manner but for the first time Jharna's character annoyed me. Jharna is a confident and intelligent woman, instead of sitting at home and getting jealous of every heroine Farhad works with, she should be out there working with him on the sets so that there is no room to be doubtful. It would have been nice if Jharna did not start doubting her husband just now and it would have been even better if she doubted Farhad based on what she saw or felt herself instead of listening to a helper share her own point of view on the relationship between Farhad and Sitara.
This episode opened with Sitara showing her talent on the sets once again – this time she was even more confident than before. Adnan Shah Tipu's character is an interesting addition to the drama. He owned his role in this episode although he got very little screen time – I admire this man because of his talent and versatility. Right from day one the film is being shot on the same sets. Some outdoor shoots could have broken the monotony. We heard Farhad mentioning these shoots but they were not shown. I hope that the next song will be shot on either a new set or it will be shot outdoor because now it looks like they are making the whole film on one set. Sitara has finally opened up to Farhad and she clearly looks up to him because he is her mentor now. Farhad has also realized that he was very wrong about Sitara and gives her opinion and feelings more value.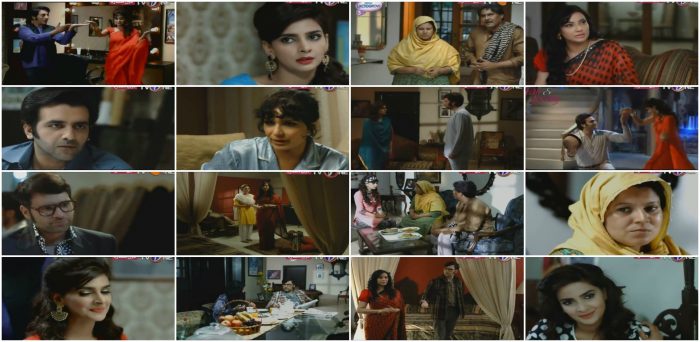 I was eagerly waiting for the meeting between Sitara and her parents, I definitely expected this union to be a little more dramatic and emotional. It was surprising to see Sitara welcoming them with open arms. She felt sorry for them and wanted to help them out. Sitara forgave her parents instantly, which was not wrong but definitely not something I was expecting. The parents still don't care about their daughter, they only want the money. Sitara knows that but even then she feels because she is in a much better position than them therefore she should help them. Although this whole situation was contrary to my expectations but it went to show that Sitara got so much love and acceptance in the house she was raised in that she was able to forgive them long before they came to visit. Sitara's conversation with Farhad also showed that she did not expect them to visit her even now!
Jharna's conversation with Sitara in which she apologizes to her for making her a part of the world of films went to show that her experience had taught her that this wasn't really the perfect life. Like I said before Jharna's insecurities are getting annoying now. For how long will she keep on doing this? The preview of the next episode suggested that Farhad is 'fascinated' by Sitara and Jharna wants her out of the picture. Also, Naseem Dil Ruba will create further misunderstandings between Jharna and Farhad. Jharna is a very gullible woman, she believes everything people say to her especially when it comes to heroines who are working with her husband. She does not trust Farhad but sadly she trusts everyone else.
The scene between Jamal and Naseem Dil Ruba was very interesting, I found the 'dafa ho jao' bit very amusing!!
This episode belonged to Saba Qamar (Sitara) yet again. Right now I am only interested in Sitara's journey. Also, I am waiting to see how Sitara responds to Farhad's 'compliments' in the next episode. How will she be able to continue working in the industry when Jharna wants to get her married? Even though Farhad's interest in Sitara was quite apparent from the preview but even then I am hoping that there will be nothing like that between these two. Mein Sitara continues to be a very intriguing play, it definitely gives me something to look forward to every week.
How many of you watched this latest episode? Please share your thoughts about it.
Fatima Awan