"Tum shadi ko buzurgu ka khel nahi samajti aur laga ke tum beti hu, rassi se bandhi hui bakri nahi ho" I love the way this drama questions the age old tradition of forced arranged marriages. Many of the dialogues in tonight's episode made it quite clear that the writer is out to prove a point! In this day and age forcing girls to marry men they are not even remotely attracted to and expecting girls to fall in love with men who are just not their kind is something which is actually expected from numerous girls in our society and many of them like Afia Begum spend a lifetime with men like Noor Mohammad. Afia Begum's conversation with Zulekha in tonight's episode revealed a side of her which we had not seen till now. All this time the viewers were made to believe that Afia was dead against Zulekha getting married to Imran Mugheez only because this marriage would have hurt her ego but that is not the case. Afia knew that her daughter couldn't possibly fall in love with someone like Imran Mugheez and she did not want Zulekha to lead the life she had been living.
Imran Abbas has been brilliant as Yousuf so far, he is very convincing and makes Yousuf's character very likeable. Yousuf's expressions when Zulekha called him and his dialogues later on in the restaurant went to show that he is an ordinary man who only has all this confidence because he is in love. Yousuf's confidence was boosted even more when he found out that Zulekha loves him as well. Yousuf's reaction when Zulekha says "hamare pass" was spot on, it was almost as if for a second he couldn't help but wonder when did Zulekha and Yousuf become "hum"! The pauses all through their conversation on the phone and Imran Abbas' expressions showed just how "heran" Yousuf was. Daa Ji and Hajra's presence in the scene made it even better. The fact that our hero and heroine have these two wonderful people in their lives who they can depend on makes everything even better. When Yousuf and Zulekha met Hajra's expressions said more about the consequences of what Zulekha was proposing than anything else. Zulekha knows that her father will never agree to the proposal but she still wants Yousuf's parents to visit just once. Yousuf and Hajra however seem to be dead against any other options. The dialogue "court mei marriage nahi hoti zillat hoti hai" pretty much summed up how Yousuf feels about that option.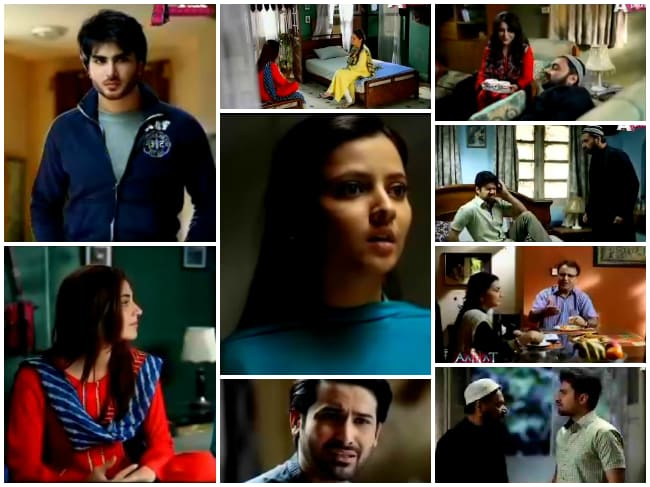 I am not a big fan of Maya Ali but I thought she acted really well in the previous episode and in this one too. I like Zulekha much more now that she is in love with Yousuf, we all know that she is not using Yousuf but really wants to be with him. Dialogues like "waise mei kisi ko takleef nahi de sakta lekin Imran Mugheez ko kidnap kiya tu laga koi sawab ka kaam krne laga hu." "jis ko mohabbat kehte hein na Zulekha vo mard ki nasl dekh kr hoti hai shakal dekh kr nahi." have Khalil-ur-Rehman Qamar written all over them. The way Imran Mugheez acted after gaining consciousness was hilarious. It is not easy to shoot such comic scenes but Mehreen Jabbar and the actors involved did complete justice to it. Afia Begum wants Ali Hamza out of the way now that he is not needed any more. The way she asked him to leave was not very polite but then I didn't expect anything different from Afia! Yousuf's step mother's character is anything but stereotypical which is very refreshing. Although Yousuf is not yet convinced if his step mother genuinely loves him but it is plain to see that she wants to see Yousuf happy.
This was another engaging episode of Mera Naam Yousuf Hai that makes you happy and sad at the same time. There were scenes that made me laugh and others which made me wonder where Zulekha and Yousuf's love story was headed. Yousuf's conversation with the policeman definitely reminded me of Khalil!
The preview of the next episode looked very interesting. I am eagerly waiting to find out how Afia and Yousuf's father are related to each other.
Do share your thoughts about tonight's episode.
Fatima Awan