This episode of Mera Naam Yousuf Hai just like all the previous ones was filled with some very interesting conversations and some brilliant performances. The relationships of all the characters with each other and the chemistry between all the actors which is probably the result of Mehreen Jabbar's direction makes every scene of this drama pure entertainment. The story has absolutely nothing new to offer but the way it has been presented on screen makes you look forward to more. The fact that there is nothing heavy duty about this drama at all till now makes it stand out.
The "war" between Noor Mohammad and Afia Begum which actually should have been Zulekha's battle seems to be headed towards a draw! Both the parties are not willing to give up on their stance. Afia will leave Noor Mohammad the day Zulekha gets married to Imran Mugheez and Noor Mohammad has a plan of his own! Noor Mohammad has not been able to live in peace ever since he found out that his wife never loved him, he wants to teach his wife a lesson by getting married to Bushra who was introduced in the most interesting manner by Afia! Afia's dialogues are hilarious! I know that I have praised her dialogues and the way Hina Bayat has translated this character on screen again and again but I think they deserve a special mention in this review as well. This woman either takes everything too seriously or she does not understand the gravity of the situation at all! Afia's dialogues went to show that she was not willing to put up with Noor Mohammad having his own way any more! It is ironic that neither Zulekha's father nor her mother cares about what their daughter wants!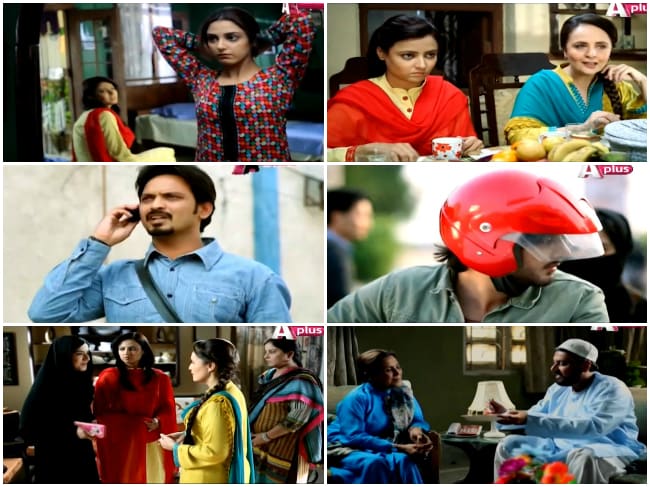 Mansha Pasha's acting was beyond brilliant in tonight's episode; she portrayed Madiha's fake enthusiasm and her real feelings in a superb way. Madiha did not play any games but went ahead and conveyed Yousuf's message just the way he wanted it to be conveyed because she does not want him to commit suicide! Zulekha does not see Yousuf as an option at all at the moment although it was quite apparent that she had not forgotten him which means that one way or the other Yousuf managed to leave an impression on her. Zulekha knows that if she doesn't get married to Imran, she will have to get married to Ali Hamza therefore she would much rather not fight her battle. All the conversations in tonight's episode just like all the previous episodes were very political in nature. My favorite one had to be about the politicians who give statements which threaten United States in any way! Those were very bold dialogue but definitely very true as well.
Yousuf decides to give up his music which probably is his life after hearing about Zulekha's wedding but his friend's idea that he can still do something to stop the wedding clicks with him instantly. It remains to be seen just what Yousuf will do but the preview of the next episode showed that we will finally see Yousuf and Zulekha together. I must say that Mehreen Jabbar has brought out the best in all the actors. Yousuf is adorable even though he doesn't have much going for him, Zulekha is cute even though Maya Ali has played this character many times before and all the side characters have a beauty of their own too. When this episode ended tonight I really wanted to see more of all the characters because all of them are interesting in their own way. MNYH is definitely entertaining and very well written. All the dialogues are brand new although the story is very old! Every episode gives you a reason to look forward to more. I am very happy with the way things are going so far and hope that this drama does not disappoint us.
Do share your thoughts about tonight's episode.
Fatima Awan