What a relief!! The dhaske ka totka was a story Shano made up to deal with the situation at that time. I am surprised that Khalil was foolish enough to fall for it! Shano locked all her emotions for Khalil in a chest and threw they key away. Will she ever open that chest again? It seemed most unlikely that she will go down that path again. Khalil's conversation with his friend clearly indicated that he knew exactly what Shano wanted from him. The way Shano conveyed her feelings about what transpired between Khalil and Humaira was exactly what many of us wanted to see and hear. Shano knew all along that there was nothing right about what had happened and I would give Mahira Khan full marks for conveying just that from her expressions in the episode in which Khalil told her what Humaira had done! Khalil was absolutely wrong in thinking that it was okay to get so close to Humaira because Shano "allowed" him to do just that. All of a sudden everyone considers Rasheeda the victim but honestly speaking I have a very hard time looking at her from Khalil or Shano's perspective. You can't change your past but you can work on a better present by letting go of the past especially when it is so ugly.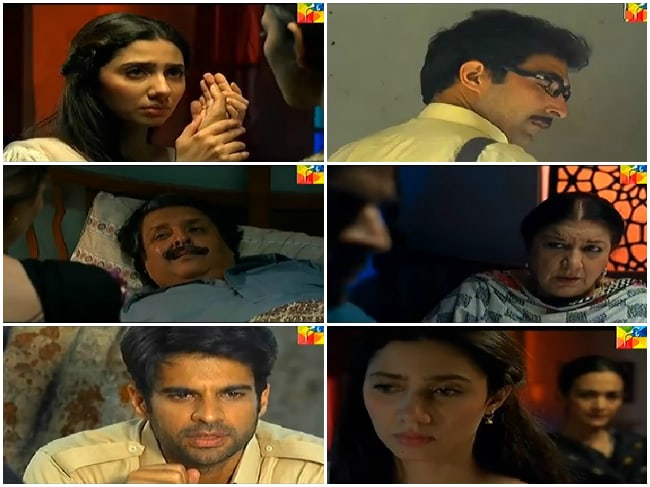 Shano's scenes with Rasheeda are always very powerful and the opening scene in tonight's episode was no different. Shano understands why Rasheeda is still stuck in the past and considers her mother a friend although she has never really been a friend to Shano. Shano understands the power of love, she does not want her mother to love Amin because she knows that is not possible but she wants her to give him respect. The sacrifice that Shano is willing to make for her father is completely in line with her character and the way she decided to tell the truth to Khalil was something one would expect from Shano too. Shano has always been shown as someone who is very fair and impartial, that is one characteristic of her personality that has stood out more than any other and it is also the most likeable part of her character.
Khalil and Shano's love story was always filled with complications due to outside forces but now the problems between them are because of what Khalil did. I am so happy that Shano held Khalil accountable for his actions. Shano is probably testing Khalil further by letting Humaira have access to his address – is this her way of proving that he really is like his father? Khalil feels embarrassed when doctor Mansoor tells him the obvious!! I guess everyone knows what measures one should take when someone is choking but it was somehow something brand new for Khalil!
The background score was too loud all through tonight's episode which made it very difficult to understand some of the dialogues. Mahira Khan was the star of the show tonight. It seems like Shano and Khalil's love story is about to end and the reason for that is not Rasheeda, Amin or Humaira but it is Khalil. Shano thinks that Khalil has let her down and rightly so too. Shano knows that Humaira has feelings for Khalil therefore she definitely did not call the Nikkah off on her recommendation.
I am waiting to see how this drama ends because right now it is very difficult to predict where the story will go from here but it is definitely time to wrap things up!
Do share your thoughts about tonight's episode.
Fatima Awan