There was absolutely nothing new about the promos of this drama, we have seen similar stories in dramas like Mere Khawab Reza Reza and lately Khasara. However, I had faith in the writer and the director in particular therefore I decided to watch this drama and review it. Another reason for tuning into this drama was that we have not seen Humayun Saeed playing a middle class man struggling to keep it all together since Doraha days. Well, I must say that this first episode reminded me of the short story 'The Necklace' by Guy de Maupassant. Anyone who has read the story will agree with me, the screenplay of this first episode was definitely inspired (not completely copied) from that short story; the entire scenario was a little too similar.
This couldn't possibly be a coincidence, I definitely did not expect Khalil-ur-Rehman Qamar to go down that lane. ARY Digital also did not do the viewers a favor by showing such detailed promos and by explaining every single character in the synopsis which they posted on their website! Most importantly, I expected better from Humayun Saeed, who is an intelligent man and someone who has been in the business for such a long time. This first episode had its good points but honestly the similarities with dramas and now a novel basically show that the writer was probably not given the creative freedom which every writer needs in order to write what they want.
Mehwish and Danish
This first episode focused entirely on the main characters, Mehwish (Ayeza Khan) and Danish (Humayun Saeed). The viewers who have watched the promos of this drama and especially those who watched the morning show in which the cast was invited already knew the basic personality traits of these characters. Having said that, the fact that Danish was willing to go to any length in order to please Mehwish was something 'new' since in every other drama, the 'sharif' husband stays true to this personality trait right till the end. Therefore, it is good to know that these characters are not going to be black and white. Also, although Mehwish wants more than she has, she wasn't shown as a negative person – this was one dominating trait of her personality but definitely not the only one. Right from the get-go, it was well established that Danish does whatever Mehwish tells him to whether it means giving an extra hundred to the rickshaw driver or taking the family out for dinner even when the budget does not allow it. Ayeza Khan played her part well, it was good to see her playing a role which isn't glamorous (at least not yet). Humayun Saeed made Danish's innocence come alive on screen more than anything else. He was absolutely brilliant as Mohid therefore I am waiting to see more of him in the upcoming weeks. The child actor is really cute and his acting was quite natural.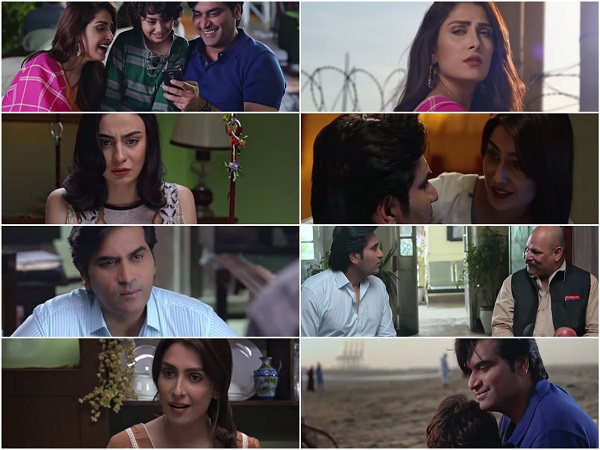 The Necklace
The necklace was used as a symbol, just like it was in the short story (how many of you attended Literature classes? LOL!!). It basically showed how Mehwish was easily lured by materialistic objects and felt that she didn't have enough or that she needed/deserved more – which obviously is okay but there was nothing 'normal' about the 'expectations' she had from Danish. Expecting him to use illegal means to earn money without thinking about the consequences clearly suggested that Mehwish didn't really mean it when she said that she was happy with what she had.
Final Remarks
The story is a little too predictable, I wish I hadn't seen the promos and especially the morning show because Hira Mani literally gave the story away! This first episode was strictly okay but also not completely disappointing since it seems like this old story might have a little twist this time around. It is however unfortunate that the producers and writers keep on recycling old scripts. After Dillagi, I was expecting something grand from Humayun Saeed and Nadeem Baig in particular. I am willing to give this one a shot but apart from wondering how Mehwish and Danish will get rid of the other necklace, I am pretty sure where the story will go from here. Nadeem Baig deserves due credit for directing this first episode really well. He used different locations, from sea view to the office, and did not compromise on that which made everything look more realistic on screen.
Did you watch the first episode of Meray Paas Tum Ho? Do share your thoughts about it.