Tonight's episode of Meray Pass Tum Ho had some pleasant surprises and the overall execution of this episode was right on point. The pace of this show continues to be slow since there are no sidetracks and it has a handful of characters therefore I do feel at times that I need a break from watching the same faces in the entire duration of the drama. The story is as simple as it gets, so simple that we still don't know much about the families of these characters. The scenes covering Danish's time in the office break the monotony and tonight's episode had quite a few interesting conversations.
Danish's Decision
The highlight of this episode was Danish's decision to give the bribe money back, this would have made so much more sense if he had not taken and spent the money initially. It was nevertheless good to see him making this decision since someone like him would never take such a risk. The opening scenes covering Danish's state of mind were written and executed well. These scenes clearly showed that for Danish this was a huge amount which meant even more discomfort for him.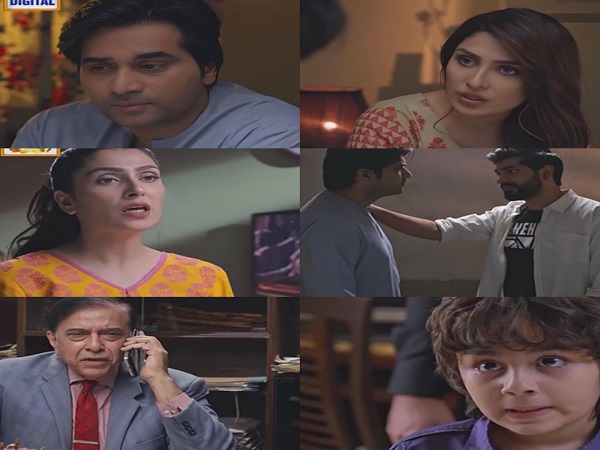 Later on, realizing what he had to do in return and finally reaching the conclusion that he was better off not taking this bribe was the best decision he has made so far. It was really good to see Danish concluding something positive based on his own wisdom as opposed to listening to what Mehwish had been telling him. His boss' reaction however made it quite obvious that he was going to pay a big price for his honesty – a scenario which was easy to connect to. We have all heard true stories about people being punished for their honesty in such work environments and this isn't something we see being highlighted in dramas often. I am glad that the writer is going to show how easy it is for a person to please the bigwigs and earn good money and how difficult it is for him to take a decision which does not suit such people. It was also good to see that Danish did not drag Aba in this conversation. Humayun Saeed's performance has been faultless throughout. Although, I don't find Danish's character appealing and his dialogues can at times be annoying but Humayun Saeed has translated this character flawlessly on screen. You understand why someone like Danish would constantly be taken for granted and why people think that he does not deserve a wife like Mehwish.
The Dinner
The grandeur of Shahwar's house and his lifestyle was shown in a detailed manner in this episode. The background score and the overall atmosphere was that of impending doom, like this meeting was going to change the way things were right now for these two individuals living a simple life. While Danish was in awe of Shahwar's confidence, there were also quite a few scenes which showed how socially awkward Danish was. There are times when Danish does not come across as simple but he is someone who cannot socialize with people like any other man his age would.
Mehwish on the other hand is clever, even though she had her reservations about how Shahwar had planned Danish's exit from the dinner table, she played along with it. She even made sure that Rumi went with Danish so she could finally find out more about Shahwar's wife and his relationship with her. Mehwish is being inquisitive, she is confused but at the same time she is 'enjoying' this entire situation and her expressions when she saw the necklace summed up why she finds Shahwar so appealing. Mehwish thinks it is alright for her to talk to Shahwar since it's not hurting anyone.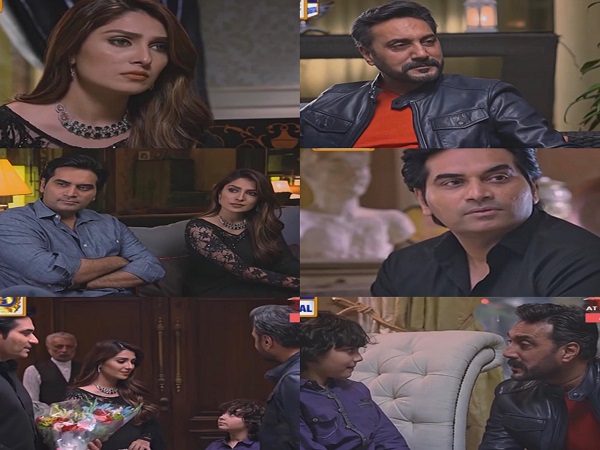 Shahwar comes from a completely different world and perhaps he is Mehwish's definition of an 'ideal man' but she is married to Danish – someone who loves her – therefore right now she is only toying with the idea of getting to know this man better. Mehwish tried to set certain 'boundaries' but she can also see that Shahwar knows how to get 'what' he wants, she also knows that she is the one he wants! That is something Danish knows too since Shahwar has never made an effort to hide his feelings. Ayeza Khan's performance has been solid throughout, she is a good actor but her overall look in this play at times doesn't go well with her character.
Final Remarks
I enjoyed watching tonight's episode of Meray Pass Tum Ho since everything was covered quite convincingly. I was however hoping once again to hear something regarding Mehwish's family when Shahwar asked about their wedding but the conversation revolved around Mehwish and Danish alone. In my opinion, the biggest drawback of this drama so far is that the characters do not have a proper backstory or relatives. It is also difficult to believe that someone like Mehwish could stay with Danish for so long. Also, Mehwish mentioned that she had saved 28000 for the necklace and they also have an extra necklace yet these two have not yet talked about how they can use this money to get Rumi into school. Mehwish finally wore the necklace tonight – hurrah!
The conversations and scenarios are limited to their relationships with each other and their personalities. Tonight's episode however gave me hope that this drama might have something more to offer in the future. Although, the story is pretty basic but tonight's episode suggested that the writer might offer something new in the upcoming episodes.
Do share your thoughts about this latest episode of Meray Pass Tum Ho.