Meray Pass Tum Ho is yet another story about unfaithful spouses but the good thing is that so far this drama does not have a commercial feel to it. Although, the production values have been grand but the locations and the situations have been kept as realistic as possible. Nadeem Baig's exceptional skills as a director show in every single scene since he has made sure that this drama doesn't get too boring. Meray Pass Tum Ho has definitely grown on me but at the same time because of the clichéd and predictable storyline it doesn't keep me at the edge of my seat. The slow pace of this drama suggests that the writer is in no rush to tell the story and he wants to explore human emotions more than anything else.
Also, unlike before the characters make much more sense now but the fact that these characters do not have a background – no proper history, definitely gives the impression that the story has started from the middle. I have given up hope of finding out where Mehwish is from, whether she has an actual family or not and what was her life like before she got married. I feel it was really important to show or tell the viewers what Mehwish's background was since that would have given her character more depth and meaning. Why is she the way she is? Right now, the viewers can only label her as greedy and selfish but there is no reason for her being this way, which makes her character just plain shallow.
Shahwar and Danish's Meeting
I absolutely loved how the writer showed the gullible side of Danish's personality. Even after making up his mind, he completely changed his opinion when Shahwar told him all those lies. Danish decided to follow his gut feeling but Shahwar was already prepared to receive him in a way which took him completely by surprise. Mehwish of course, played a major role in making sure that Shahwar was ready to deal with the situation. Danish on the other hand was caught unaware and that is why he fell for Shahwar's trap, at least for some time. It made perfect sense that someone like Danish fell for such lies since he is highly gullible. Although Danish is completely capable of critical thinking but he is also someone who gets convinced easily. He has trusted Shahwar twice until now only because he treated him well and assured him that he could be trusted.
Shahwar's confidence clearly suggested that he was a master manipulator. Shahwar's grand house and the overall atmosphere went so well with his personality. There is a mysterious air about him, the house he lives him and even the aged person who supervises everything in the house has a certain strangeness about him, like they are all hiding an ugly secret. The treatment given to this character has been superb which keeps it from being too run-of-the-mill.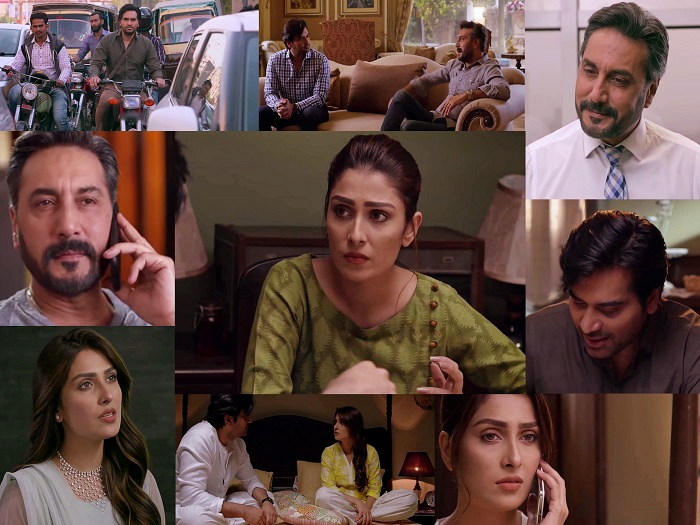 Giving In to The Temptation
Mehwish has definitely made up her mind and the way she operated today showed that she was quite capable of lying and cheating without thinking twice about it. After telling Danish to return the gifts, she called Shahwar and later on, she pretended as if she was not bothered at all about this meeting and its outcome.
Mehwish was really sneaky tonight because she kept on lying to Danish without feeling guilty about it even once. Mehwish it seems is also lying to herself, she is enjoying the excitement she feels when Shahwar praises her and she is pretty sure that she deserves everything Shahwar has given her. The way she accepted that cheque and was more than willing to do whatever her boss asked her to do, showed a completely different side of Mehwish's personality. The fact that she was doing all this with Danish's 'permission' now gave her even more confidence. Ayeza Khan's performance was brilliant throughout tonight. Everything that was shown tonight, made me wonder if Mehwish only married Danish because she was hoping that one day he could give her the life she wanted but because that never happened, she no longer 'loves' him. Once again, I felt the need to know why Mehwish married Danish and what the circumstances were.
The Performances & The Execution
Adnan Siddiqui has translated his character exceptionally well on screen and Humayun Saeed was extremely convincing in all the scenes tonight. Ayeza Khan's performance has been effortless throughout too but Mehr Bano's acting reminds me of the role she played in Balaa although this character is completely different. Tonight's episode had quite a few interesting situations and then there were other scenes which showed a shocking side of Mehwish's personality. Danish's character is gradually shaping up and he has my undivided attention. The dialogues when the accident happened made me laugh since Humayun Saeed's age is constantly being discussed on every forum on regular basis. All the scenes tonight were shot perfectly and the scenes shot outdoors were especially impressive. Mehwish has made up her mind and things will only get more complicated now. There is nothing appealing about the overall story but the director in particular has done his part really well.
Do share your thoughts about tonight's episode of Meray Pass Tum Ho.