There was a certain degree of character development in this episode of Mere Pass Tum Ho as well. Tonight's episode belonged to the director Nadeem Baig who captured every emotion with utmost precision. He has really intelligently made the most of the talented cast. Most of the times the expressions of these actors say more than their dialogues do. The writer it seems is going to keep the viewers guessing right till the end. Every character shows a different side of the picture which basically confuses the viewers even more. Some of the changes tonight were difficult to relate to but for the most part yet again team Mere Pass Tum Ho gave the viewers yet another intriguing episode. There has still not been any mention of Mehwish's family which perhaps is a surprise which the writer wants to reveal in the end. The fact that Mehwish has nowhere to go suggests that she doesn't have the option of going back to her parents, we can only wonder why at this point!
The Change In Mehwish
Until last week, Mehwish clearly came across as a manipulative person who thought she deserved to be forgiven. In this episode however, there were certain scenes which clearly suggested that she was indeed a changed person. Although the attempted suicide seemed more like a cry for help/attention and perhaps a little more manipulation but her conversation with Maham showed a different side of her. Unlike before Mehwish owned her mistakes because she said that she deserved the slap. Not only this she thanked Maham for giving her this much needed reality check. This was perhaps the first time that the viewers heard what Mehwish actually felt about this entire development. Mehwish wasn't even eager to get that cheque from Maham, which was quite unlike her. Wealth always fascinated Mehwish but now even such a big amount did not excite her at all. Even though Maham came to 'make up' for the embarrassment she caused Mehwish but few of her dialogues gave Mehwish more reality checks. She basically told Mehwish that Shehwar used her and she sold herself too cheap! Maham's dialogues also suggested that Shehwar was out of jail and she was not going to leave him.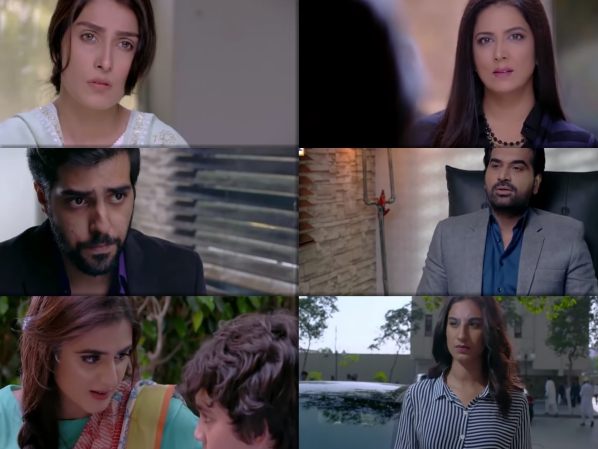 Since the business and everything else belongs to Maham, I couldn't help but wonder why she needed pocket money from her husband. Savera Nadeem's last performance in this episode was powerful. Everything about her performance was perfect from the way she looked to her cold expressions. Ayeza Khan has also transformed her looks to suit the situation she is in. The scenes at the hospital suggested that Mehwish missed Danish's love and attention. She obviously wants Danish to love her the same. It is interesting how she remembers the way Danish looked out for her when she talks about her past and not once has she thought or talked about how much she loved him. This aspect of Mehwish's characters makes her comes across as someone who would expect her man to shower her with love but would she do the same in return? The writer has shown different sides of Mehwish's personality because he perhaps did not want her to come across as a bechari after all!
Danish, Mehwish and Hania
The mental turmoil Danish is going through was represented brilliantly. Some of his dialogues were exceptional. Danish's first scene in this episode clearly showed that he still had a soft spot for Mehwish but Mehwish had lost her value in his life. The damage Mehwish had done was irreversible in his eyes. Although last week he said that he had forgiven Mehwish when Salman talked to him in the office but clearly he cannot forgive Mehwish. Danish still remembers and lives the hurt Mehwish caused therefore he cannot just forgive her move on. Humayun Saeed's outstanding performance throughout has made Danish's character easier to relate to and feel for. Did Mehwish attempt suicide so that Danish would come see her? It seems like Mehwish knows only too well that if and when Danish meets her, he will automatically forgive and forget everything she did. Danish too is doing everything in his power to avoid meeting or seeing Mehwish. In this way, the writer is keeping the viewers on the edge – making us wonder what is going to happen when they meet eventually.
Danish's visit to Hania's house and everything he said came right after Mehwish left that note on Danish's car. Ayesha read that note but the viewers were not shown how Danish reacted when he read the note. The conversation at Hania's place showed how honest and confused Danish was. The highlight of this entire development however was what Hania said when Danish was leaving. This was the first time that Hania confessed in front of Danish that she had feelings for him. Hania's sister kept on reminding her that she was constantly talking about Rumi and Danish. Danish did think about what Hania said to him but it doesn't seem like he feels that way about her. Hania's dialogue about what Danish was looking for in a woman right now were brilliant! When Danish recalled Hania's dialogues at that time he also thought about the time when he picked Mehwish from the airport – this scene was so meaningful and showed that Hania was right.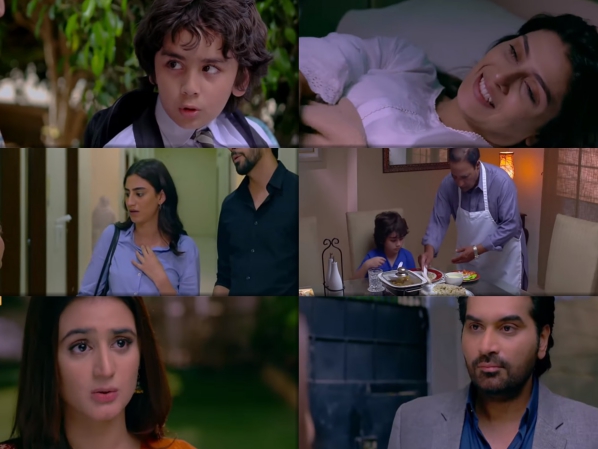 Other Characters
Rumi wants his father to forgive his mother and he wanted to spend more time with her too. I liked this latest development because it made perfect sense. Before, when Rumi did not even want to meet his mother, he was scared of being rejected once again. Now he can see that Mehwish is back for good and she needs him therefore he is not only willing to be with her but also pleads her case in front of his father. The change in Ayesha's attitude was another realistic and interesting development. Salman and Ayesha are great friends, sometimes a little too good to be true but they are nevertheless interesting addition to the show.
Final Remarks
The preview of the next episode was brilliantly put together. On the one hand everyone was pressurizing Danish to forgive Mehwish and on the other hand Rumi proposed Hania on his father's behalf! Right now the biggest question is that whether Danish will forgive Mehwish or not? Even if he forgives her it is highly unlikely that they will have a future together. What do you think will happen next? Share your thoughts.