This was another amazing episode of Meri Gurya which was poignant, disturbing as well as inspiring. It covered everything from the pressure Shehnaz and Safina faced to the affect the latest developments had on Dabeer. Meri Guriya is improving with every passing episode and this particular episode was one of my favorites. Sania Saeed, Mohsin Abbas Haider and Sonya Hussyn have outdone themselves in this drama. Sania Saeed has been part of a lot of powerful dramas in the past too and she always gives every role she chooses to play her best but this character in particular is truly inspiring for so many reasons. Sonya Hussyn played the role of a victim in drama serial Aisi Hei Tanhai but in this play she is the fighter who is the main reason why Shehnaz and all other mothers like her mustered up the courage to take a stand for their daughters. Mohsin Abbas Haider was beyond impressive yet again in this episode. His expressions when Safina was packing up to leave and when his mother knocked on the door were priceless. His character and acting shows the real face of a cold-blooded murderer.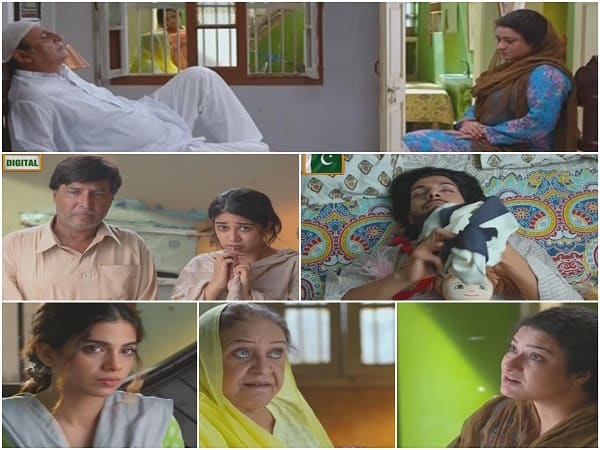 The writer has shown how a man who is mocked because he isn't confident enough has turned into a psychopath and feels in control and powerful by raping and killing young girls. The way he wrapped Abida's duppata around his face when he was alone showed he had absolutely no remorse but was actually rejoicing the fact that he got away with another murder. Dabeer got more confident and happy when he saw everyone rallying against Safina and Shehnaz. Watching Safina pack up and give up was the happiest moment for Dabeer tonight. Finding out that she was back and willing to fight back once again was the scariest moment for him. The writer has effectively shown what scares a criminal which is why no matter how difficult it is to stand for what is right, one must not give up.
At the beginning of these episodes Safina felt dejected and lost because of the criticism she faced after the video went viral. At that time she had no idea what impact this video was going to have. Once she and Dabeer's family members found out that the step she had taken had not gone in vain, the tables were turned. This is when Shahmir too felt that he needed to support his wife which changed everything for Shehnaz too. I miss Shehnaz's scenes with her daughters, it would have been good if the girls were not out of the picture. Dabeer started making mistakes the second he realized that Safina was back and later on when the police drew a sketch of the murderer and was looking for him more aggressively now. He felt the need to get rid of the evidence and while doing so he was not as careful as he should have been. This aspect of the latest developments couldn't have been more real because many serial killers tend to lose control and make mistakes when they feel they might be caught. It seems like Dabeer's sister will be the first one to notice her brother's strange behaviour and perhaps his link to these murders too.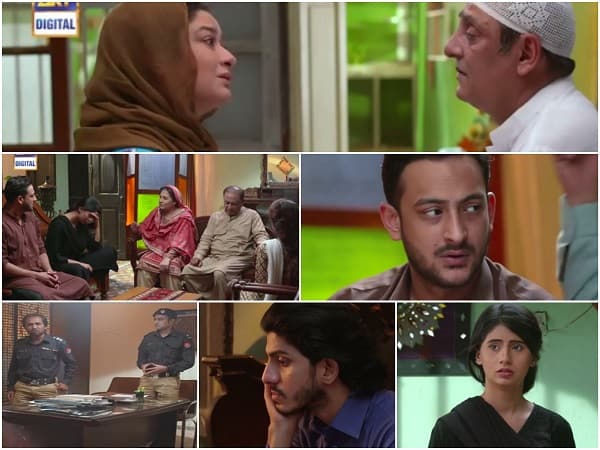 Tonight, the writer aptly highlighted the kind of criticism a woman would face when she decides to leave her "char dewari" and do what needs to be done! I absolutely loved Safina and Shehnaz's dialogues tonight about the kind of comments some people made under their video, how some people couldn't see beyond their facial features and few other who thought that they were crossing their limits! The whole concept of ghairat and how it is used for all the wrong reasons was also explored in this episode. The shift in Shahmir's character was a pleasant development. The role played by the higher authorities too unfortunately showed the real face of such people. This drama shows how important it is for the victim's family to raise their voices and fight to get justice. It also shows that while there will be people who will do whatever they can in order to silence such voices, there will also be plenty of people who will come forward and help.
Meri Guriya has definitely taken off and has tons to offer. The only problem I have with this play is that there was absolutely no need to take inspiration from real life events because that must be really painful for the families of the victims. Other than that, this drama has tons to offer and continues to impress.