These two episodes of Meri Gurya covered the tragedy which was bound to happen but definitely not one which the viewers were looking forward to. Tonight's episode opened with Dabeer telling his mother that Safina was the one who gave Samreen poison. His mother would have fallen for this lie if Samreen didn't tell her that she took the poison herself. It was difficult to believe that someone like Safina had fallen in love with Dabeer so much that she would brush something as big as this under the carpet. This recent development in the story was unconvincing as well as disappointing. While I understand why someone like Safina would be interested in fixing a man like Dabeer, it is difficult to relate to the fact that she is still willing to live with him knowing that he is capable of killing her. The reason she gave was that she wanted to find out why he did not want to stay with her and it wasn't convincing enough! Shehnaz and Shahmir's conversation however was well written and brilliantly acted out. Shehnaz is an intelligent woman who refused to fall for the "blackmail" and tried to do whatever she could to stop this marriage from taking place.
Abida was a sweet and innocent girl whose mother did everything she could to protect her but the second Shehnaz was a little distracted because of her own troubles, Dabeer the monster took advantage of the situation. This basically goes to show that you just cannot protect your children enough especially when the monster who kidnaps and kills children might be a seemingly harmless neighbor who doesn't have to try very hard to harm your child. This entire incident was covered in a painfully realistic manner. Dabeer had been planning this for a long time now therefore all he needed was an opportunity which he got when Abida's father was busy getting married to a girl old enough to be his daughter.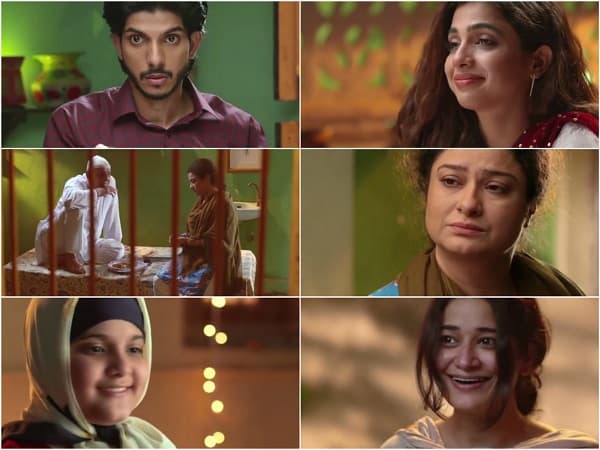 The scene which covered Shehnaz's frame of mind once she found out that her daughter was missing was truly distressing. Sania Saeed is a remarkable actress who did complete justice to these scenes. The desperation with which Shehnaz looked for her daughter and her condition when she found out that Abida really was gone was extremely heart-wrenching. While watching all these scenes the reality hit home that it takes only a few seconds for something like this to happen. Mohsin Abbas Haider yet again performed brilliantly throughout. Dabeer knows only too well how to cover his tracks. Shehnaz's mother in law's attitude while she was desperately looking for her daughter went to show that she couldn't care less. Right now, for her the most important thing was to get her son married so that he could give her a grandson. Safina did whatever she could to help Shehnaz not knowing that the person she was married to and sympathized with was the culprit. The callous attitude of the police was also covered in this episode, another aspect of our society we are a little too familiar with.
This was one of the most upsetting episodes of Meri Gurya so far. The preview of the next episode suggested that Abida will meet an end similar to that of her friend. Shehnaz is surely not the kind of person who will let someone get away with something like this therefore I am surely looking forward to how she will fight for her daughter. Shehnaz's character is extremely likeable and Sania Saeed's performance is impressive as usual. The drama will only get better once the focus is entirely on the three central characters. Mohsin Abbas Haider and Sania Saeed owned their characters completely tonight and their performances were outstanding.
How many of you watched this recent episode? Do share your thoughts about it.