This latest episode was much better than the ones we have seen in the past few weeks. It was actually good to see that Zeeshan did not have a sudden change of heart. His attitude towards Romaissa did not change at all after the injury. The fact that his family has no time for him will serve as a reality check for Zeeshan. They obviously don't care enough to take time out of their busy schedules to give Zeeshan company, that is another duty that has been allocated to Romaissa. I was surprised to see them concerned even initially!
The nervousness and uneasiness which Romaissa feels when she is around Zeeshan was portrayed brilliantly by Sanam Jung. Some of the scenes however were a repetition of what we have already seen in the last few episodes. The scene in which Bushra tells Romaissa that Maham takes after her father was one of the best scenes in tonight's episode. Zeeshan treats Romaissa like a punching bag which he uses without thinking twice to let out his frustration.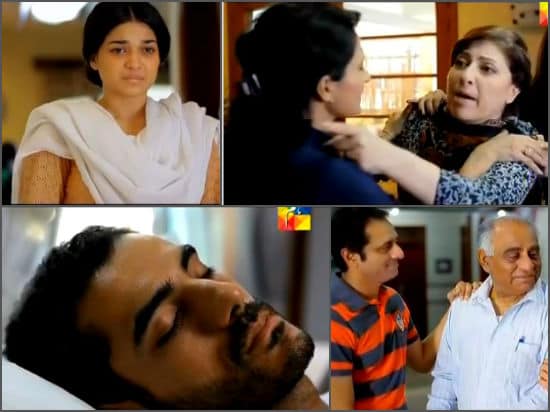 The child star playing Maham is adorable but the person responsible for her styling could have done a much better job. Most of the times it looks like the poor kid is wearing a hair piece. This episode could have been far better if Romaissa's mazloomiyat wasn't forced upon the viewers over and over again. I could relate to her feelings more when she couldn't go to see Zeeshan although she is technically his wife and also when Zeeshan mistreated her. But the scenes in which she was tagged as manhoos by Zeeshan's mother and of course Bushra seemed forced.
Walid has finally decided to run the business and it seems like he is doing really well too. Maybe that is the reason why Zeeshan is not needed any more and because of that his father does not give him the attention like he used to before.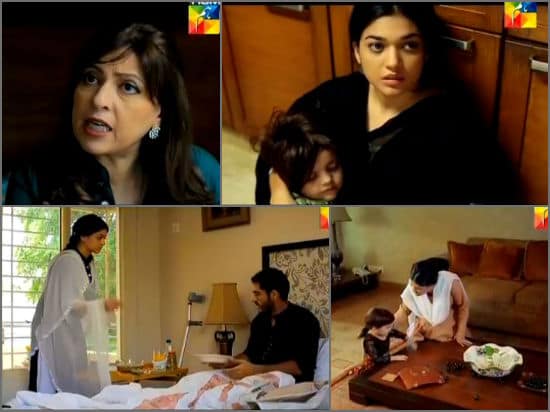 The preview of the next episode looked promising; Zeeshan will finally start looking at Romaissa as a living entity! I hope it is love and not sympathy which draws him closer to Romaissa. The play really should pick up pace now so that we at least have some happy memories of the last few episodes. I must say that Adeel Hussein and Sanam Jung look good together and I really want Romaissa to have a happy ending. Like many other viewers, I also want to see Nabeel's family paying for everything that they have done till now.
For once, I am really looking forward to the next episode. I hope I am not disappointed.
Fatima Awan