After tonight's brilliant episode, it would be safe to say that Mohabbat Tumse Nafrat Hai has finally taken off! The character development and the turns in the story in the previous episode and this one have shifted the story to a completely new direction. Two weeks back if someone told me that I will be able to relate to the characters, feel for them at some point, and would actually be interested in the drama, I wouldn't have believed them but surprisingly enough even though the direction of the drama still isn't flawless but the story and the characters definitely have me totally hooked. A big reason for this is that the story is finally moving forward and for a change the focus is on the main leads. The viewers already know only too well what is at stake here therefore watching Maheen gradually coming into terms with her feelings, Waqar admitting how he feels about Maheen openly and Gulrez believing that Maheen is meant to be with him, has given rise to a no-win situation which keeps you at the edge of your seat! Jia's track which seemed completely useless few weeks back is also turning out to be interesting. Jia was always shown as a friend who kept you guessing and not someone who gave negative vibes therefore I am wondering what she will do next.
A great deal changed in tonight's episode and it was good to see all the characters showing their real feelings instead of keeping the viewers guessing. Maheen thought she was hurting Waqar by getting engaged to Gulrez but she has realized that she couldn't have been more wrong – she isn't only hurting Waqar but she is also losing him and she is not ready for that. Maheen has always been shown as someone who would want to be in control, someone who would like to have the last word and that was the only reason why Maheen initially made her decision but this time around she is finding it really hard to stick to her decision. Maheen choosing the blue dress even though Fajr informed her why her mother rejected it said a great deal about her frame of mind. Ayeza Khan's performance was up to the mark in tonight's episode; she translated all the emotions impeccably.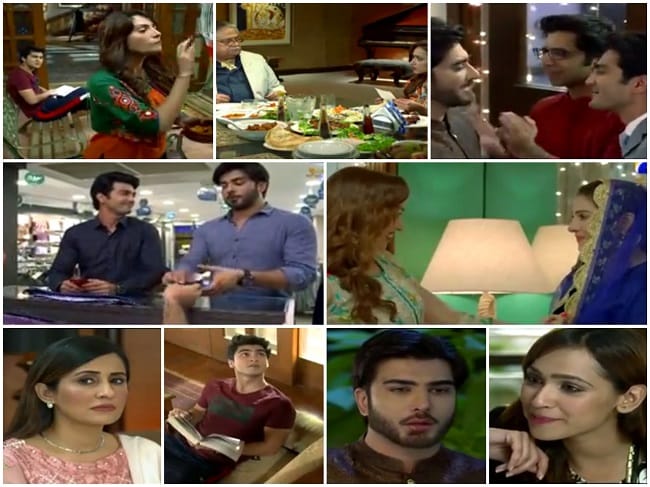 Waqar has always been one character which was easy to connect to (with the exception of those 2 episodes in which he got slapped & afterwards) and also someone we have all been rooting for therefore feeling for his character comes naturally and makes you wonder why he was treated so badly by everyone in the opening episode of the drama. No one plays the love struck but heartbroken hero like Imran Abbas. He is always convincing in such roles therefore I have to say that this episode belonged to him. Kinza Hashmi has also been doing complete justice to the role assigned to her. Fajr's character has also been the most likeable character in the drama even when the drama as a whole had didn't have a lot to offer.
Even though the ever-present background score could have proven to be a huge distraction in this episode but the scenes were so well written and the actors did their work so well that all the scenes had an impact. Also, Maheen wasn't wearing the same outfit which she chose for the engagement. Despite of these minor glitches here and there, the episode as a whole was powerful; the dialogues, development in the story and the performances were right on point. The only confusion right now is that Waqar's parents were also in the same car which had an accident therefore I am wondering howcome Jia's mother was with them too.
Overall, the drama is definitely much more interesting now than it was two weeks back therefore anyone who completely gave up on this drama should tune into it now.
How many of you watched this episode? Do share your thoughts about it.