"Yehi tu burai hai tum logo mein, khushi mile tu chuti kr lete ho, ghum mile tu bhi chutti kr lete ho. yeh tu ghum k samnay ghutne tekne wali baat ho gaye na!!"
This had to be my favorite dialogue in tonight's episode. I have to admit that after watching a few episodes of this drama which won me over completely, I had huge expectations from this one as well. Although the story moved forward considerably in this episode but the dialogue delivery by some of the actors and the scenes in general could have been a lot better if they weren't so slow! The story has definitely taken off but the way this drama has been directed is flawed in more ways than one. " lrkiya phansne k angrezi tareeqe" was the funniest dialogue in tonight's episode.
Maheen decided to finally meet Gulrez so that she could talk to him about the decision she took. This conversation was completely in line with Maheen and Gulrez's character. Maheen took the lead and Gulrez wasn't left with a lot of choice. It was good to see these two finally face to face since they have hardly had any scenes together since the first episode. Maheen is still not confessing her love for Waqar but she is very sure that she does not want to get married to Gulrez. Just like always the actress playing Maheen's mother's role went completely overboard and ruined the scene in which she tells Maheen off! Ayeza Khan however performed brilliantly in tonight's episode.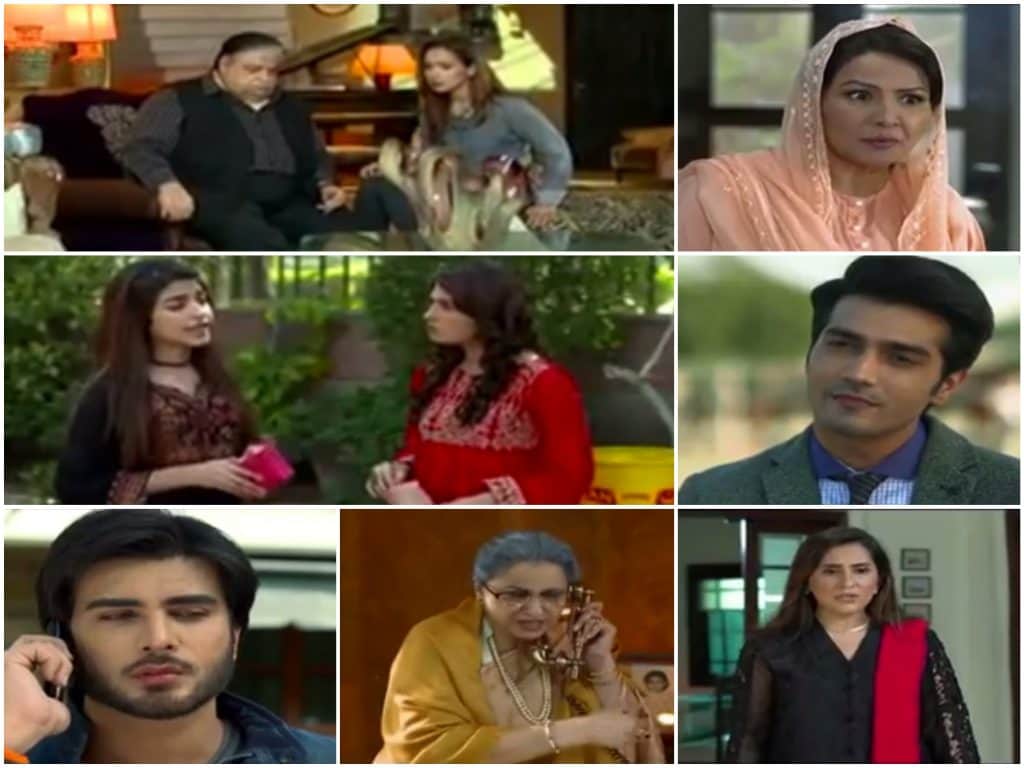 Jia's track took an interesting turn with this episode but I am still wondering where Jia's father got this cassette from after all this time!! Also, the way Jia's mother's story was told was too slow and the dialogue delivery was quite average. The story however was another interesting twist in the story. It gave Jia an even bigger reason to do something to hurt Maheen. Her conversation with Waqar showed that she was going to take her "revenge" by doing whatever she could to ensure that Maheen and Waqar did not get married. Jia and Waqar have not talked to each other since he told her that he did not want to get married to her. Their relationship with each other sort of ended with that conversation they had and Waqar never really apologized to her the way Maheen did to Gulrez therefore I am definitely wondering how these two are still such good friends! Also, how could Waqar be talking about his love life with someone he was about to get married to? I think the writer should have covered this aspect of Waqar and Jia's track before showing that Waqar was turning to Jia for advice.
Ami Begum continued to blame Waqar entirely and the rest of the family concluded that this was because she was missing him!! I have to say that this side of Ami Begum's personality is very difficult to like. It sounds belittling whenever these grown ups use insulting words for the youngsters. After a long time I felt for Gulrez's character especially when Maheen did not even give him the choice to decide whether he wanted to listen to her apology or not.
Overall, this episode was alright, I expected it to be better. The story however has taken an interesting turn and I am waiting to find out how it unfolds in the upcoming episodes. Do share your thoughts about this episode.