Ohkay so, the writing of Saji Gul, direction of Kashif Nisar & the production of Moomal Entertainment; O Rangreza aired tonight for the first time with a bang. The first episode was not only promising but had so much to offer especially when it came to the characters & what's commendable is how effortlessly the dynamics of Khayyam's family were elaborated. The promos of this drama did promise a lot & to be honest, I had high expectations when I tuned to this episode & it is definitely safe to say that the first episode met my expectations & I can't wait to see what the team of O Rungreza has in store for the viewers!
So, it is a story of Abdul Khayyam Sani's (Noman Ejaz) family, who is married to Mumtaz (Irsa Ghazal) & have a daughter who Khayyam being a poet has named Sassi (Sajal Ali). Mumtaz's sister & brother in law passed away leaving their only child Qasim (Bilal Abbas Khan) behind, therefore he lives with his Aunt who he calls Mammo. Qasim is a student & he also runs a Fabric Dyeing Shop which Khayyam has financed. There's also Kareemi Bua who lives with them, who usually takes care of the household chores.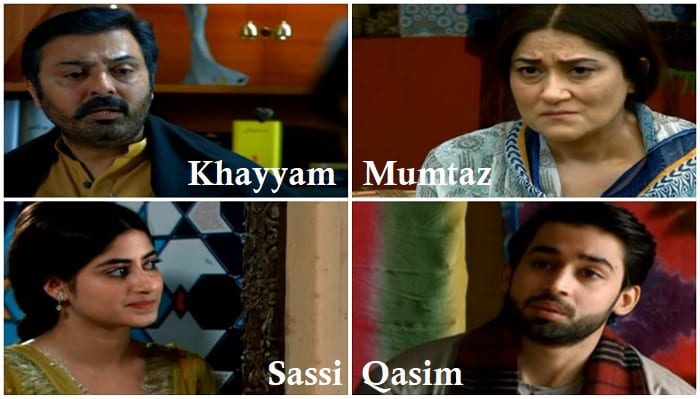 Khayyam is Sassi's ideal & she sees him as a perfect man. For Sassi, her father can never do anything wrong & that is the reason why she doesn't see anything wrong with the way he mistreats her mother. Sassi thinks she knows what her father's ideology is & to some extent she is right, because she understands him. Just because Sassi has allowed her father to influence her & her attitude so much, she doesn't see the pain & suffering of her mother as she believes her mother doesn't match her father's caliber & standards, therefore Khayyam is entitled to treat Mumtaz like a doormat.
Even though it wasn't revealed yet but it was interesting to see that Sassi was aware of the fact that Khayyam idealized Sonia Jahan & just because she sees the world through his eyes, in her own mind she has formed this picture of Sonia Jahan where she is this perfect ideal woman who even Sassi strives to be like. I am sure this will definitely turn out to be the reason where Sassi & Khayyam will stand against each other, because Sassi has seen her father being in awe of Sonia Jahan so may be when she will try to be like her, Khayyam wouldn't condone her choices & that's where Sassi will have issues with him because she would struggle to understand why Khayyam has different standards, for the woman he idealized all his life & for how & who he would want his daughter to be!