Ohkay so, the writing of Saji Gul, direction of Kashif Nisar & the production of Moomal Entertainment; O Rangreza aired tonight for the first time with a bang. The first episode was not only promising but had so much to offer especially when it came to the characters & what's commendable is how effortlessly the dynamics of Khayyam's family were elaborated. The promos of this drama did promise a lot & to be honest, I had high expectations when I tuned to this episode & it is definitely safe to say that the first episode met my expectations & I can't wait to see what the team of O Rungreza has in store for the viewers!
So, it is a story of Abdul Khayyam Sani's (Noman Ejaz) family, who is married to Mumtaz (Irsa Ghazal) & have a daughter who Khayyam being a poet has named Sassi (Sajal Ali). Mumtaz's sister & brother in law passed away leaving their only child Qasim (Bilal Abbas Khan) behind, therefore he lives with his Aunt who he calls Mammo. Qasim is a student & he also runs a Fabric Dyeing Shop which Khayyam has financed. There's also Kareemi Bua who lives with them, who usually takes care of the household chores.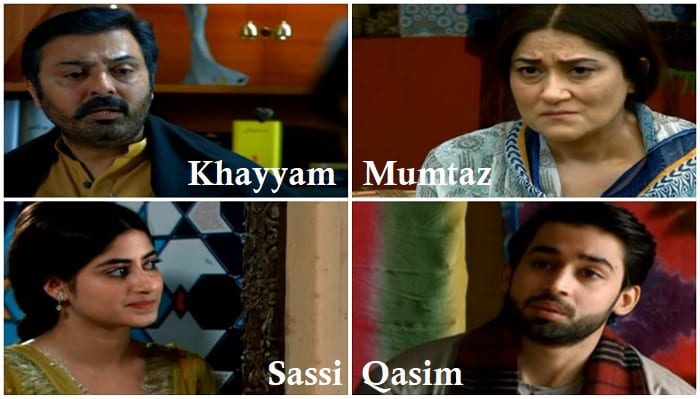 Khayyam is Sassi's ideal & she sees him as a perfect man. For Sassi, her father can never do anything wrong & that is the reason why she doesn't see anything wrong with the way he mistreats her mother. Sassi thinks she knows what her father's ideology is & to some extent she is right, because she understands him. Just because Sassi has allowed her father to influence her & her attitude so much, she doesn't see the pain & suffering of her mother as she believes her mother doesn't match her father's caliber & standards, therefore Khayyam is entitled to treat Mumtaz like a doormat.
Even though it wasn't revealed yet but it was interesting to see that Sassi was aware of the fact that Khayyam idealized Sonia Jahan & just because she sees the world through his eyes, in her own mind she has formed this picture of Sonia Jahan where she is this perfect ideal woman who even Sassi strives to be like. I am sure this will definitely turn out to be the reason where Sassi & Khayyam will stand against each other, because Sassi has seen her father being in awe of Sonia Jahan so may be when she will try to be like her, Khayyam wouldn't condone her choices & that's where Sassi will have issues with him because she would struggle to understand why Khayyam has different standards, for the woman he idealized all his life & for how & who he would want his daughter to be!
Qasim is an unconventional sort of a guy, who is different from most of the men. Qasim believes in solving matters by reasoning & not by showcasing unnecessary rage & may be that's the reason why Sassi doesn't see him worthy of being treated with respect. I found it amusing how every single time Sassi manipulated Qasim & he happily allowed her to do that because he is so nice to say no to Sassi especially. The only person who feels for Mumtaz is Qasim because he can totally see how her husband Khayyam treats her like a punching bag & a doormat whereas she tries really hard to please him. Qasim even voices his opinion on this matter in front of Sassi but since she is so blinded by the idea that her father is a perfect man, she doesn't get Qasim's point. I liked how they showed similarities between Khayyam Sassi & Qasim Mumtaz, it really highlighted the fact that they belong to same set of families.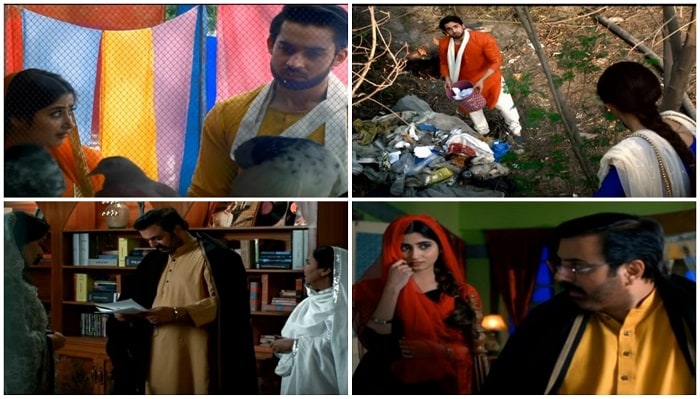 Khayyam & Mumtaz are two different people. Khayyam being a poet had this different idea of a life partner that he wanted but Mumtaz is completely opposite to his dreams. She is a simpleton, a conservative housewife who believes in fulfilling her wifely duties without faltering & just because she puts up with everything that Khayyam directs at her, he has developed this habit of insulting her casually because he thinks that's the only way to converse with her. All the things that Mumtaz tries to instill in her daughter Sassi do tell the tale of the sort of upbringing she got where girls were told to be subdued & probably never have an opinion or freedom to make some decisions in their life for themselves & this is exactly why she keeps on guiding Sassi to be like her!
I must say the direction was flawless throughout the episode, it did feel like the director extracted the best acting out of all the actors, that is why in the last scene where Khayyam laughs at his wife & she feels insulted, it was so amazing that without any dialogues, such intense emotions were conveyed. At that moment I thought may be Sassi felt for her mother & wanted to make her feel special that is why she took interest in what she wanted but then I realized that Sassi only did that to make her father happy because she is someone who can go to such extremes like getting someone explore the rubbish bin for her father's sake. I so wish to see if there will ever come a moment in Sassi's life where she will realize her father's mistakes & will feel her mother's pain? Will Sassi be ever able to see the emotional sufferings of her mother? I liked how it was shown that in a household where everything looked perfect from the surface or from the distance, things were far more messier & complicated when magnified. I really liked the equation that Sassi & Qasim shared, like Qasim always seemed cautious in front of Sassi yet he shared this much of comfort level with her that he could speak his mind to her, though Sassi may not be interested in what he has to say but at least he felt heard!
Overall, this episode was epic. I thoroughly enjoyed it. The writing, the direction, the art direction, everything was perfect. I enjoyed the dialogues a lot too especially the Sassi & Mumtaz reference, like the conversations had so much of wit that it sparked the perfect amount of comedy which made things quite interesting. I must say all the actors nailed their characters, Bilal Abbas Khan was perfect as simple Qasim, Irsa Ghazal did really well as a suppressed wife & I must say I am impressed with the change in her dialogue delivery & her voice modulation as well, like she really portrayed that 'bechari biwi' character perfectly because it was evident in each & every expression of hers. Noman Ejaz was in his element but then that's given, considering he is Noman Ejaz, the one who nails every single character that is assigned to him. Now coming to the star of this episode, hands down it was Sajal Ali for me, not even for a second I felt that she went overboard & in fact after seeing her in heavy-duty dramas where she is the one doing most of the emotional heavy lifting, it was so refreshing to see her in a character like Sassi who has so many shades to her, like she is carefree, she is boisterous, she is manipulative, she is also someone who understands emotions, she can be snappy but she can be sweet too, so much to offer & every single thing conveyed perfectly by Sajal. I enjoyed all the scenes where Sassi teased her cousin Qasim & treated him like that 'chota' of the family. Her hand gesture & expression in that particular moment where she says 'ye tum mujhe tartay kya rehte ho' was so natural & amazing that it literally made me laugh out loud. I am sure she is going to do justice to this complex character of Sassi who has so many shades. I loved the vibrancy of this episode & I also enjoyed the soundtrack. Really really impressed & totally recommending this drama to those who are still on the fence about it. Please share your thoughts about this episode of O Rangreza!
Keep Supporting,
Cheers,
Zahra Mirza.