Thankfully, the foxy did not get all the attention it got in the previous two episodes and this episode focused more on Waqar than any other character. It also gave the viewers more of an insight into the relationship between Maheen and Waqar. Waqar apparently does not like the fact that Maheen gets so much attention from everyone therefore he does whatever he can to make her miserable and ultimately faked a fracture in this episode because he knew that he won't be spared this time around. Honestly speaking, I really enjoyed watching Imran Abbas play such a character because his character in Tum Kon Piya was very mature and practical.
There were a lot of scenarios in tonight's episode which came across as a good surprise; from the I hate you scene to the one in which Maheen and Waqar bumped into one another, everything had a fresh feel to it. In any other love story these two would have fallen in love already but this was most certainly not the case here. Maheen didn't really faint when she bumped into Waqar but she too wanted everyone to think that the intensity of this accident was much more than it actually was. Instead of feeling for Maheen and apologizing to her, Waqar went looking for a cover up, in fact something which will take the attention away from Maheen! I loved the way this entire track was handled, right now these two people cannot even stand one another therefore I am waiting to find out how their relationship evolves in the future.
Jia and Maheen's meeting didn't work for me at all, the word "mar janiye" sounded really weird and the fact that the entire conversation was about Waqar was rather strange too. Right now, Jia's character is the only one which isn't appealing to me at all. It didn't seem like she liked Waqar before in that way but once she knew he wasn't there to get engaged to Maheen, she wanted more from this relationship. Not just this, all of the conversations between Waqar, Fajr and Ali too were about Maheen. Also, there wasn't a single scene of Maheen with her "gang members". It is also strange that none of the family members, other than Neelam and Gulrez talked about the proposal after the birthday.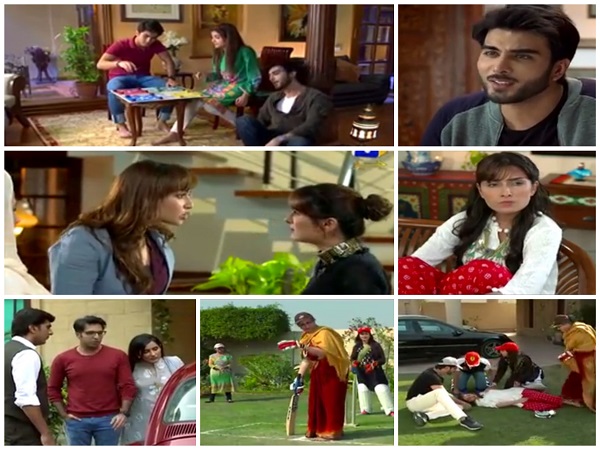 Wali's character is also turning out to be an interesting one mainly because of the fact that although he is Gulrez's brother in law but he looks out for him and understands him more than his sister. Neelam's conversations with Gulrez are frank and show how close these two are to each other but Wali is the one who knows Gulrez inside out. Neelam's conversation with Gulrez tonight showed that he will never go and ask Maheen what her answer was going to be or why she reacted like that to the proposal because he does not have the confidence to do that.
The second half of the episode was much better than the first one but if I had to compare, I would say that the first episode was the best. I am enjoying this show and I am also curious to find out what happens next but this entire show would have been so much better if all the tracks got a certain amount of screen time in every episode instead of focusing on different characters and tracks more than others in every episode. Sammi is one such drama in which there are multiple tracks but all these tracks get plenty of screen time in every episode.
How many of you watched this episode? Do share your thoughts about it.