This episode was thoroughly entertaining but the recent turn in the story could have been very shocking as well if the main twist wasn't given away first in the preview of this episode and then in the short clip during this episode, which showed what was coming next. I never had trouble relating to all the characters in this play and although the story is simple but I still feel that the writer has shown realistically how one person like Nayla can ruin everything for a family which had always been happy. Although Ahmed's parents appear to be too good to be true sometimes but the writer through different dialogues and scenarios has made it quite clear that they are the kind of people who will do anything to keep a relationship intact therefore I see them more as decent individuals who have worked hard to get where they are today and never felt the need to play games especially in the family. Amir's character is also a balancing factor in this whole equation. He always confronts Nayla and never had a high opinion of her. He showed his good upbringing by giving her respect when she became part of the family but later on changed his attitude towards her completely when she showed her true colors. Also, Ahmed is clearly fed up of Nayla and does not trust her anymore. That is why Nayla told his parents not to tell him what they were planning to do.
What Nayla did today was completely in line with her character. She has always been shown as someone who is stubborn and believes in manipulating people who love her. This drama also shows why it is so important to teach your children to compromise. Nayla always got away with everything one way or the other therefore she never had to compromise. Right now, she has absolutely no problems in Ahmed's house but even then she moved out only because she wants to be in control, she wants to show them that she will do what she wants no matter what anyone says. For the first time, I am actually enjoying the performance and presence of a negative character in a lead role. Nayla is always the star of the show. Even with everything she has done so far, somehow she always come across as someone who just does not know better. The way she gave everyone a treat and sat in front of everyone while she "checked" the papers clearly showed that she thought she was doing the right thing. I have praised Hania Amir's performance a lot in every single review and I just want to praise her more every time I see a new episode of Titlee. She is truly talented and is the kind of actress who knows exactly what is expected from her. I am sure this character wouldn't have been so grey if some other actress was playing the role.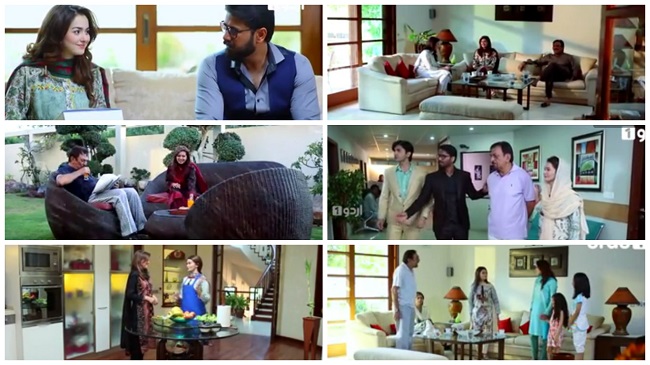 The first half of the episode gave the impression that Nayla had changed for good and even though the surprise factor was completely missing from this episode, it was still interesting watching how she went about executing her plan. Ahmed's mother's expressions when Nayla suggested that her father in law should help her buy an apartment for her girls were right on point. She wasn't sure if this was a good idea but when her husband was more than willing to help Nayla, she also agreed with him. Seemi Pasha is elegant and graceful; she was the perfect choice for playing this role. The actor playing Amir's role is also getting better with every passing episode. Titlee is turning out to be an interesting play which keeps me looking forward to more. Apart from Ahmed's hairstyle and beard which changed a few times in this episode, everything else about this episode was picture perfect. The previews of the upcoming episodes however should not reveal so much.
If you are looking for a fast paced play which doesn't have anything grand to offer but will definitely keep you entertained then do tune into Titlee.
How many of you watched this episode? Do share your thoughts about it.