Mohabbat Tumse Nafrat Hei nowadays is the kind of drama you wait for the entire week and every new episode makes you look forward to the next one. I don't ever remember watching a drama I completely gave up on and ended up looking forward to so eagerly in the last few weeks! The story has taken such a turn that every episode reveals something new about the past and each episode has a surprise in store. Also, the fact that the writer is taking his time in revealing all the details about the past also builds up the curiosity. Right now, not only do the viewers want to find out what happened in the past after Waqar left but they also want to see what the future has in store. Imran Abbas was absolutely brilliant in tonight's episode, he completely stole the show with his effortless portrayal of a man who in reality is clueless but thinks he knows everything. The way the scenes from the past and present were blended together gave this episode a different feel. These few episodes reminded me of the reasons why I had so many expectations from this play after watching the first episode.
This episode opened with Maheen's reaction after she read the letter. She went from being in denial to realizing that Waqar was never coming back. Maheen's reaction was anything but typical; she did not cry and she did not shut herself from the world. On the contrary, she was the one who told everyone what had happened. She was also the one who decided there was still something she could do to take control of the situation. Maheen has always been shown as someone who wants to be in control of things therefore when she asked Gulrez to marry her I felt like this was her way of taking over a situation which she otherwise had no control over. I felt for Gulrez tonight more than ever, although he always wanted to marry Maheen but the way this marriage took place was just plain sad. He had absolutely no say in it – no one asked him how he felt about the situation. He went ahead with the nikkah because he had no choice. Someone like Gulrez who had tons of self-respect couldn't have been entirely satisfied with this situation. I hope we get to see how the relationship between them was after they got married and what exactly happened to Gulrez.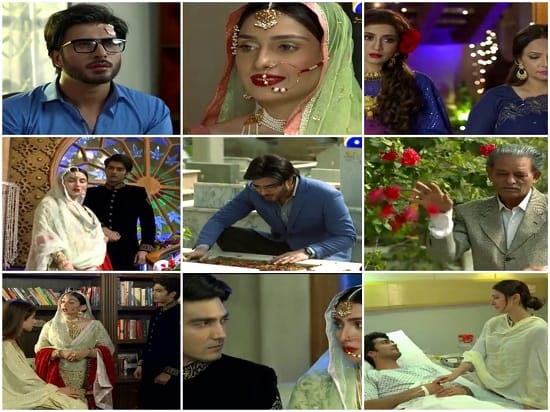 The best scene of tonight's episode was the one in which Munshi Alam told Waqar that Gulrez and Maheen ultimately got married that night. Waqar's reaction at that time and later on when he found out that Gulrez was dead was translated on screen brilliantly. There was however a blooper in the previous episode, the diary was still on table when Waqar left. I remember looking for it especially when Gulrez picked up the letter from the bed and saw it on the writing table. I was wondering if Jia would get rid of the diary but apparently it was a blooper and the diary shouldn't have been there. The fact that Waqar took the diary with him makes the whole situation even more interesting because he has proof now. Had Jia taken the diary with her, no one would have believed him. Also, Maheen's bridal duppata changed by the time she went down the stairs. Apart from these minor bloopers everything else about this episode was picture perfect. The story is so enticing right now that you can easily ignore such minor flaws.
Those of you who gave up on this drama should definitely catch up because the story is more interesting now than it ever was!! There is still so much which needs to be shown therefore this drama can go on for another 4 weeks and at this point I don't mind that at all! Right now, I am looking forward to the final showdown – when Waqar shows Ami Begum the diary and explains what happened that night.
How many of you watched this latest episode? Do share your thoughts about it.