I have to say that this play is turning out to be a breath of fresh air and I loved watching the latest episode! Emaan and Sheheryaar's scenes were definitely the highlights of the episode but what I found tremendously impressive was Sajal's reaction- loved every bit of it!
Sawaal tou tab kia jata hai jab yaqeen na ho. The fact that Sheheryaar's parents left the night the wedding took place doesn't worry Emaan and I am glad that instead of making an issue out of this and fretting about the cold attitude of Sheheryaar's parents, she chose not pry because as long as Sheheryaar is by her side, nothing else matters to her. Emaan's faith in this newly established relationship or should I say, her faith in Sheheryaar is definitely something I admire. Sheheryaar had the foresight to know that Emaan is a person of his caliber,and now, seeing how understanding and supportive she is, he is convinced of the fact that his decision, which may have seemed hasty at first, was on point and he wouldn't have to put up with any regrets because Emaan is definitely someone he can spend the rest of his life with.
The darya ki sair, baansri nawaaz, Rumi ki shayri- I thoroughly enjoyed every bit of it and I have to say that the outdoor scenes by the river are beautifully shot and captured by the director. I always found Naveen Waqar and Faisal Qureshi's couple nice and unique but I still had some reservations about their onscreen chemistry. However, after watching this episode, I am totally convinced because the two looked lovely as newly weds and not even once did they sound artificial or fake. Emaan and Sheheryaar are two intellectual and levelheaded people, the two always have an opinion of their own and they may not be alike in many ways but they can connect to each other on a different level. What I like about their conversations is the fact that they are neither too shallow nor too philosophical, and Sheheryaar's comment, 'ab kia hum itni mushkil baatain karain gay' was so natural- I couldn't stifle a smile! On a side note, I love how they greet each other- subah bakhair!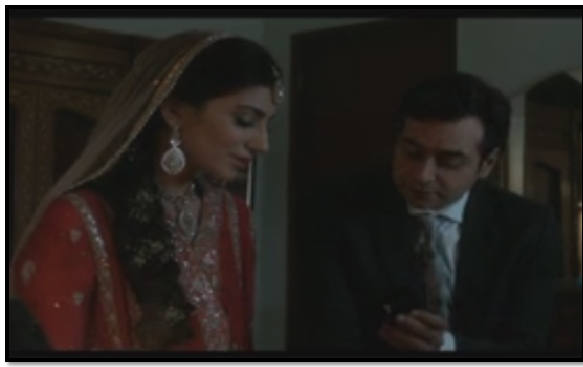 Murad's reaction didn't surprise me at all and I felt that it was only natural for him to react this way because he feels cheated; he always thought the world of his brother and viewed him as a man of his word. I think it was highly insensitive of Hajra to say, 'yeh kapray Sheheryaar kay susraal waalon nay aap logon kay liye bhejen hain'– this was no way to break the news to Sajal's parents. But then again, Sajal and her parents had it coming because that's exactly what happens when you don't bother to make sure if the guy in question is willing. Murad and Humayun were very close to each other but it's sad how people put their existing relationships on stake in hopes of building new ones.
And about Sajal's reaction, I have to say that the writer deserves a round of applause here! Sajal's dialogues should be recorded and sent to all the desperate and obsessed vamps ruling our screens- see, that's how you get OVER your bachpan ki mangni! Sajal is shattered and heartbroken because she was in love with Sheheryaar but instead of turning into a vamp and vowing to destroy the life of Sheheryaar's wife, I am super glad that Sajal is thinking about moving on and is making an effort to do so. And what kind of mother Zareena is? It almost felt like she wanted her daughter to wallow in self pity! Aap kay liye yeh mangni thi Ammi, magar kia kabhi Sheheryaar nay kaha kay woh iss mangni par amaada hain- that's the point most people miss but I am all praises for Sajal that she not only came to realize that her parents were at fault for making assumptions about Sheheryaar but also explained to her mother that there's no use cutting off ties. Here's hoping that Sajal's character stays that way and doesn't take a 360 degree turn! (snappywap.com)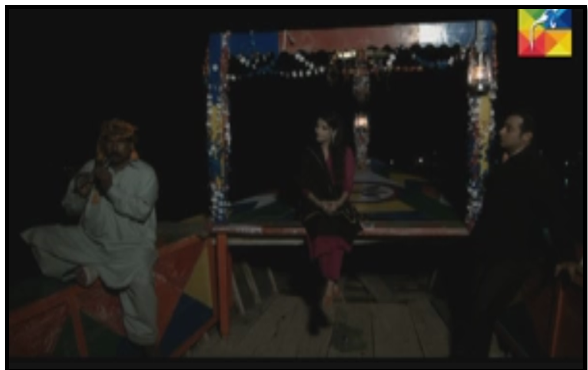 The fact that Sheheryaar's parents didn't attend the Valima was of much gravity so I was expecting Emaan's parents to take their absence very seriously but seems like they didn't find it very appalling and Emaan's mother's comment, yeh un kay ghar ka maamla hai showed that they are taking it a little too lightly, which honestly doesn't seem natural to me.
One thing that put me me off though was the way Sheheryaar responded to Emaan's wish to rejoin her school. Even though what he said later on, when he was in a 'good' mood did comfort me a little, I can't overlook his initial reaction because that tells us a lot about Sheheryaar as a person. I can't help but wonder: is Sheheryaar a chauvinist after all? I liked Sheheryaar's character because he always came across as a gentleman to me. I thought he developed a liking for Emaan because she was confident, honest and headstrong but the way he flinched at the mention of Emaan rejoining her school kind of makes me think that Sheheryaar's mindset is not entirely that of a refined, enlightened man. The promo for next week's episode also suggests that there are a lot more shades to Sheheryaar's character so let's see what they have in store for us.
How many of you are watching Mol? What do you think of the latest episode? Voice your views!
Maryam Mehdi