Mor Maharan continues to be an interesting drama even though the treatment given to the script fails to impress at times. Mor Maharan's script and most of the performances continue to be its strengths. The overall setting of the drama is definitely another plus. Production values and editing have to be two of its weakest elements. So far, Rohi is the star of the show. She is the most progressive female lead we have seen in recent times. That could also be the reason why one of the leading channels refused to invest their money in the drama! Right now, the leading channels are banking on the bechari aurat more than ever and Rohi is anything but that! Apart from Rohi's character, Gardezi's character development has my undivided attention as well, particularly after the latest episode. Sonya Hussyn and Zahid Ahmed deserve tons of appreciation for doing justice to their respective characters. Rohi and Sikandar's track has been written down in a non-desi way and is refreshing; Mustafa Changazi's shaky performance however is taking away the charm. I want to take Sikandar seriously since this character has so much going for it but the unimpressive performance makes it impossible to do so.
The Love Triangle
Rohi, Sikandar, and Gardezi's love triangle is finally shaping up. Rohi has Gardezi's attention; I liked the way this track was taken forward. Gardezi had the tendency to be one of those done-to-death characters who are powerful and self-obsessed but he is not showing such tendencies as of now. He does not see Rohi as a trophy that he wants to win and he did not perceive Rohi's defiance as a challenge. At first, he was confused about his current state of mind, and then after getting some clarity, he decided to follow his heart. The great thing is that following his heart didn't mean using all his resources to "own" Rohi but it meant paying heed to the advice given to him by Rohi. This came subconsciously and it made good sense because Rohi's stance was logical. Their interactions have so far been really powerful. These scenes have been well written and translated on screen brilliantly. Although Sikandar and Rohi's track gets more screen time, Gardezi and Rohi leave a lot more impact. I was waiting to see Gardezi's reaction once he found out who Rohi was and I must say that this was also handled well. The way he found out and the manner in which he reacted, both were pleasant surprises. He did not go around asking other people about Rohi but asked her directly and got a direct answer as well. The character development in this regard has been done unexpectedly well. On the other hand, Sikandar has been confessing his love for Rohi repeatedly and is not happy with the fact that she is not reciprocating.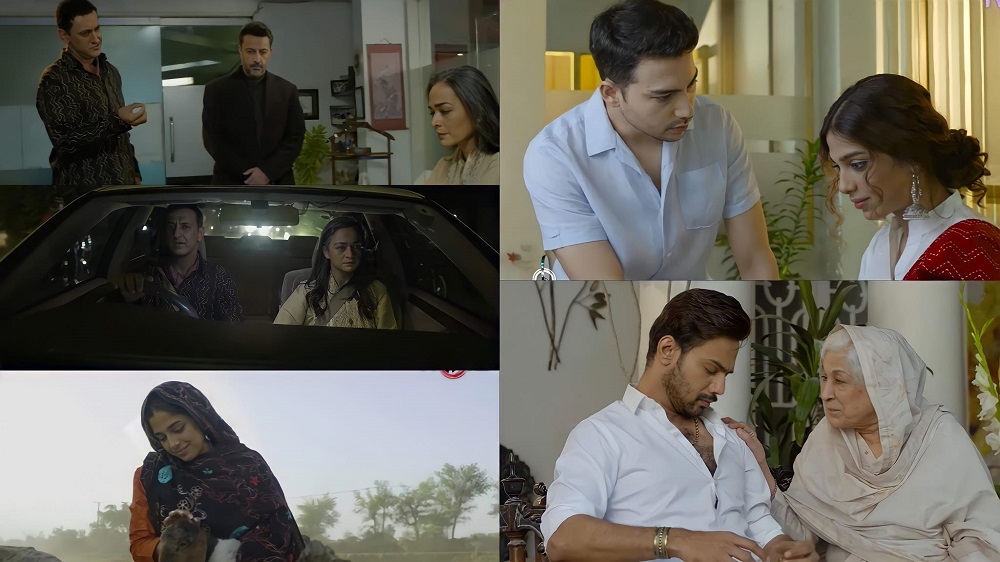 Sikandar's style is non-desi and goes well with his character. Mustafa Changazi's performance was relatively better in a few of the scenes but he falls short miserably while translating intense emotions on screen. Sikandar's dysfunctional relationship with his mother is one of the most important aspects of his character but Mustafa's performance undermines the intensity of such scenes. Also, it is slightly frustrating watching Almas not being able to communicate with her son properly even though they are living under the same roof. Nawab Feroze's character helps the viewers understand why Sikandar is so bitter and perhaps selfish too! When he "needed" something from his mother, he was nice to her but now that his father is there he does not even give her the respect she deserves. Even though Rohi has not confessed her love for Sikandar but it is quite obvious that she also has feelings for him. In these 2 episodes, she rejected his proposal twice which basically means that she is not ready to get married just yet. It is interesting watching such a romantic track in a Pakistani drama. Rohi is aware of her feelings for Sikandar but she also knows that she is not ready for a commitment yet. Sikandar also knows that Rohi is not willing to make such a commitment, yet he is not angry and does not hold her decision against her in any way. It is definitely a well-written track.
Toxic Relationship
Almas and Feroze's toxic relationship also got a lot of screen time in these two episodes. Feroze is obviously the one responsible since he is not just a selfish person with no morals but he particularly enjoys watching Almas suffer. Adnan Jaffar has done an outstanding job translating this character on screen since I hated watching this character in these 2 episodes. He made me as uncomfortable as Almas felt around him because the performance was so on point. He is greedy as well, which is probably why he has Sikandar wrapped around his finger. Sammiya Mumtaz also continues to impress in this role. I love her wardrobe and makeover as well. It gives her a graceful vibe which is one of the essential elements of the character. This graceful woman has a traumatic past and an ex who plays mind games, she cannot help falling for. But she picks herself up every time and does not let all that break her.
We also found out a little bit more about Sher Alam's character and his relationship with Almas. "The driver" always came across as someone important, he piqued my curiosity right from the get-go. Feroze and Sikandar's accusations are obviously made up but there is more to Sher Alam's story for sure. One thing which is clearer than ever is that he has immense respect for Almas. What is the reason for that? I am really waiting to find out.
Malook Shah's brief appearances in these episodes were meaningful. He is an intelligent and insightful man. There is also something about him that makes me wonder if he has a dark side as well. This is one of the best roles Firdous Jamal has played in a long time. It is good to see him in a role that brings out the best in him.
Final Remarks
Mor Maharan has a brilliantly penned-down script and quite a few impressive performances. Since it is more of an artsy drama, it grows on you gradually. It is one of those few dramas nowadays that I personally find meaningful and engaging. This drama could have been a complete package if the editing was smoother and the background music was not so confusing at times. I also think that casting Mustafa Changazi was a big mistake since his performance is sticking out like a sore thumb. Overall however I would choose Mor Maharan over many of the other plays on air nowadays, any day of the week.
Are you watching Mor Maharan? Share your views.