Muhabbat ab nahi hogi-1st episode review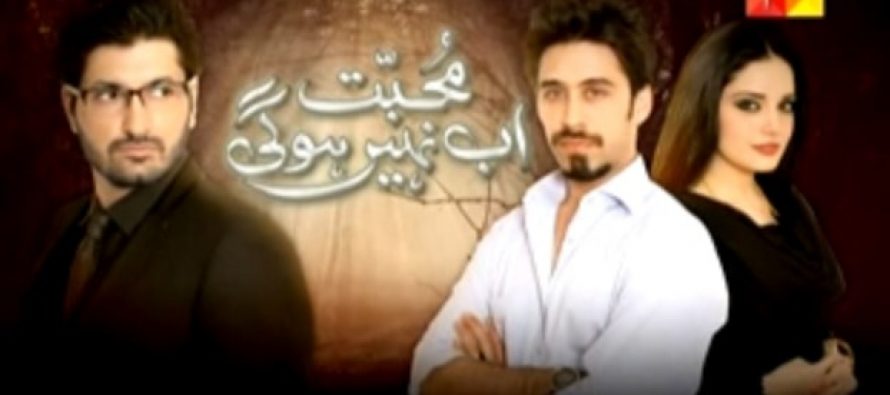 Today,marked the beginning of another new serial on Hum TV "Muhabbat ab nahe hogi". It has been directed by Shaqielle Khan and written by Saima Akram Chudhery. So what forced me to tune into this 9 o'clock drama?Firstly because I was tired and getting bored.Secondly,I got a glimpse of the Khans.Yup thats right, Ali Rehman Khan who is mightly handsome and whose good looks got utterly wasted in the awful "Rishte Kuch Adhoore Se".He was in the movie "Slackistan" costarring Osman Khalid Butt,Shahbaz Shigri and others but that got apparantly banned in Pakistan.Then there is Armeena Rana Khan who was last seen in "Shab-e-Arzoo ka Aalam" but that one too got mixed to negative acceptance. These two people are extremely beautiful,combine them with the jaw-dropping magnificent sceneries of Islamabad,what more can we ask for?Well,a story maybe? Whenever I see two eligible girls in the promos of a coming soon drama,I just hope and pray that they are not sisters and cousins.But alas! All my hopes are shattered everytime! Stupid me!
Anyhow,back to the story,so ya the story starts just like any other Pakistani drama,where by the wedding bells are about to ring.The "rishta walas" are coming to see our sweet,pagli si,filmy,dreamy,silly,innocent but very pretty heroin.Who by the way lives somewhere far in a village-like place with her mother,father and sisteerrr..yay! No surprises there?Mother is concerned to get her married as soon as possible,she does'nt know how to cook,she failed in her exams,cannot do simple household chores,but seriously?Does that even matter?She is beautiful and innocent and that is more than enough.Her pre-marriage life:Nook jook with sister(obviously only till the day of wedding), watching Humsafar,deep sighs on the sight of Fawad Khan,the thoughts of a romantic future husband,long drive,ice-cream,other bolly stuff,etc.Read on…so the rishta walas comprise of the typical team! Know what a typical team is? Yea,yea you got that right.It comprise of:the mother who is eager to bring a beautiful,khandani bride of her elder,very serious,mature,boring son.The sister,the inspectious-minded,nagging sister,not happy with mama's choice,perceives something "fishy" with the first glance of her sister-in-law-to-be.And yes…the devar..I mean the brother..the fun-loving,jolly tabiyat,just chill,chill,chill type younger brother who seems more like a long-lost twin brother of the heroin as far as the nature is concerned.Yes,poles apart from his elder bro and you though only sisters can be different? Let me tell you,special care needs to taken not just of the naive saali,but the naive dewar as well.Oops i think i just spilt out more than was required.Kheir,so there is no father in this "typical team" he has passe away yearrsss back thus leaving the entire responsibily on the shoulders of the elder bro.Come on guys,don't blame him,he is mature for a reason.Ok,so I went to the kitchen to fetch a glass of water and guess what? The shaadi had taken place by then.We all know the result of this "jaldi wala kaam".(Please forgive me i did not bother to remember the names of the characters)In a state of hush hush rush rush,the wedding happens,she requests her husband to take full photos of her lehanga on their wedding night,and ohh ohh how can i forget,before that,the devar also comes and lies down on the same bed as the bride!Further complimenting her beauty(and that is not the last time he will be doing that).
Another thing,our dear hubby does NOT reside in Islamabad,he lives abroad and came in just for 15 days and the pyari dulhaniya can't go with him due to some issues in the family visa.There were some fishy,I mean seriously fishy dialogues coming out of his mouth like: "Mere baad tum ammi or Azhar ka bhot khayal rakhna,wo thora shararti he par muhabbat karne wala he" and "Zindagi ne mohlat di to le jaun ga honeymoon par bhi"…Speaking of which…whats up with the awkward title aka Muhabbat ab nahi hogi,as there have not been any "i love you confessions uptil now,lets see when and "with whom" the actual muhabbat takes place. The sister seems not to be liking the interaction between devar and bhabhi.From here starts the "shukk journey" No,no,not that one.That one had two gals and a guy,this one has two guys and a gal.What a huge difference.wow. This drama,in many ways has strangely reminded me of "Dil he chota sa". Anyone of you who might have seen will notice. But I am not going to start mentioning the comparisions,after all,we don't want to spoil the big and "unpredictable" surprises by Hum Tv who instead prefer to ruin it by their title songs. God,I hope i find something better to do next week.Fishing maybe?
P.S: Whats up with the big 3 ? Why are they constantly showing repeat dramas of the past? Don't they have anything to show? Is this reverse gear scene some sort of a new trend or competition as they like to say?
Ciao!
Samar Sajid
---