Ohkay so, Shanakht, new drama of Hum TV, written & directed by Amna Nawaz Khan is off to a good start. I thoroughly enjoyed the first episode because I didn't find any loopholes in the execution & the story so far. The story of Shanakht has touched a very sensitive topic of Hijab & the difficulties Muhajjaba's (ladies who wear Hijab) have to face. At first it might come across as a bit unpleasant to see how they have shown the derogatory remarks that people put forth about someone's choice of Hijab, but then if we look at with an open mind, they have showed it just perfectly as to how people become judgmental towards other's choices. I think this story will inspire us all in a different way & I can't wait to find out how.
The story is about households of two brothers Ahmed & Amjad (Mohsin Gillani). Ahmed & Shireen (Shamim Hilali) have a son Hashim (Noor Hassan) who happens to be interested in Quratulain/Annie (Maya Ali), who's a daughter of Amjad & Huma (Sabahat Bukhari). Annie is their first born & she has a younger sister Kashaf (Sadia Faisal). Both these families are very close-knit & they believe Hashim & Annie's marriage will further strengthen the bond between them.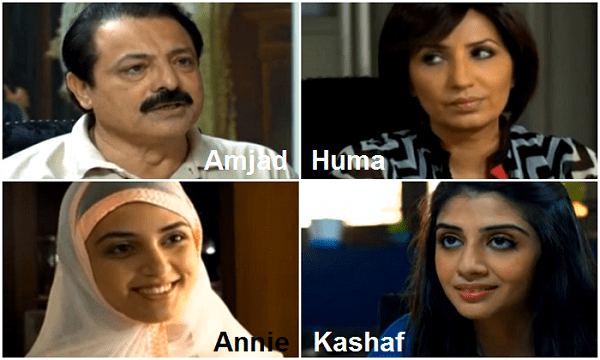 What appealed to me throughout the episode is Annie's character. Even though she is a centre of worry for her mother & people around her just because she chose a path that goes parallel to the society they move in, she is something more than that. She is talented, she is intelligent, she is wise, she's groomed, she's mature & most of all, she is trying to lead a life in a certain way which appeals to her. People around her might be judging her just because she chose an added piece of cloth to cover her head, but what I liked about her character is that despite all the objection she faces every now & then, she is sticking to her decision & that shows that she's also strong headed but rightly so.
Huma definitely blames Annie's friend Ayesha for transforming her into a 'mulani' but fortunately for Annie, her father Amjad is very supportive. Huma's perfect idea of a daughter is definitely Kashaf, a care-free teenager, who Huma might never feel ashamed of because she's just as modern & liberal as her mother. Even though Shireen loves Annie & knows that Hashim has always liked her as well but she also feels a bit sceptical thinking Annie's choices do not go in accordance to their social class & circle, but despite all that, Ahmed still believes that Annie's too precious to let go off because firstly Hashim likes her & secondly, she herself is a very nice person.

In this episode, every now & then the issue of Annie's hijab came into limelight, where it was shown that Huma accepted it the hard way that her daughter has chosen to cover to her head, she definitely gave her a tough time in the beginning. Even though Hashim has always had a soft corner for her & likes her a lot but to some extent he also doesn't respect her choices, therefore he kind of ridicules her idea of going to university on her own because she feels Hashim is still a na-mehram to her. Annie herself knows that her family will flip out because she revisits those harsh words she had to face when her mother found out about her decision of wearing a headscarf.
Finally, as for Huma & Amjad, they wanted Annie & Hashim's relation to officially begin but were kind of hesitant being a girl's parent but luckily for them, Shireen & Ahmed were thinking on those lines too & they planned that the best gift they could give to Hashim on his upcoming birthday would be an announcement of his engagement to Annie. I think for everyone, this engagement will bring in a lot of joys but for Annie, who is already struggling with the candidness Hashim shows towards her, she will face some hardships when Hashim will try to treat her like a mehram & will expect the same from her.
So far, so good. I really enjoyed the first episode & I hope the pace & the execution of the story stays the same. Even though I have no complains so far but one thing that really bothered me was Sabahat Bukhari's haircut. I think she is also becoming a 'Curious Case of Benjamin Button' where she is finding it hard to accept that the number of her age is ascending, hence the failed attempts of looking younger. I really wish she accepts the truth & starts staying true to her age, which would really suit her. Noor Hassan has acted really effortlessly & for a change, that looks really nice. Maya Ali looks sweet & I am glad she changed her dialogue delivery. She is definitely looking good as Annie. Can't wait to see more. Share your thoughts on the very first episode of Shanakht.
Keep Supporting,
Cheers,
Zahra Mirza.