The story took yet another highly unpredictable yet interesting turn with this episode. When this drama started I wasn't expecting it to be so entertaining, right from the beginning it was apparent that Mujhe Jeenay Du would have tons of powerful messages but the fact that it is so entertaining as well gives it an added advantage. Mujhe Jeenay Du has to be the most underrated dramas of this season and definitely one which is a must-watch for many reasons. The story has been logical right from the get-go and it has variety of characters as well as a solid screenplay and plot. The entire team of the play has put in a great amount of effort into presenting a realistic picture of how easily children are exploited by people who claim to love them and Naseeb's character shows that even those people who don't want to be a part of such scenarios are dragged into it and ultimately end up being extremely unjust.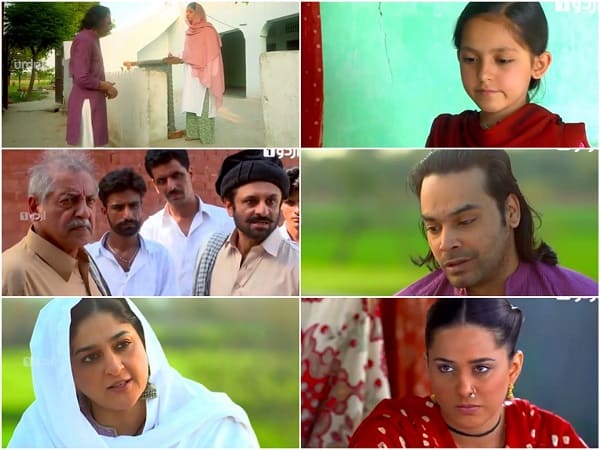 Shaheena's decision tonight came as a total surprise but this entire development was shown so convincingly. Even though Shaheena has been in a very vulnerable position herself but now that she has a chance to have a better life she does not want to think about how this decision might effect Saira. She knows only too well that Naseeb loves her and will give her the kind of life she always dreamed of therefore she went to his house right after her iddat to tell him that she was willing to marry him without any terms and conditions. Even though Yasmin has always been there for her but right from the beginning Shaheena has been shown as someone who has a mind of her own. She has also been shown as a confident and practical woman and mostly insensitive as well therefore her actions were completely in line with her personality. Mehreen Raheel has outdone herself in this role; she is beyond impressive as Shaheena.
I truly appreciate the fact that in every single episode of this drama there is a great deal of focus on showing how difficult, in fact impossible, it is for Saira to take care of Tipu. She gets frustrated and is always clueless because she cannot cope. Saira's conversation with Yasmin showed that she did not want this life and she was capable of being so much more than a "housewife"! Saira is too young to take a stand for herself and there is so much pressure on her therefore she doesn't have a choice but to continue doing what she is expected to do. She doesn't know what it means to be married and she has no clue what her "husband" is planning but unfortunately things are going to take a turn for the worse in the upcoming episodes. Murad and Saira's father's reaction was also shown on screen realistically. While everyone else in this drama is looking after their own interests, Yasmin is the only person who looks out for Saira's interests continuously with dedication. Yasmin has problems of her own and her life isn't perfect but even then she is constantly dedicating her time to help others who are definitely in a much more difficult situation. Yasmin's character is inspiring and Nadia Jamil is doing complete justice to it. She chose the perfect drama to make a comeback with.
The preview of the next episode showed how Shaheena will change once she gets married to Naseeb. The developments leading to the marriage were covered faultlessly in this episode. I am looking forward to watching how Saira's personality develops under these circumstances and whether Yasmin is able to help her in some way or not. This had to be one of the best episodes of Mujhe Jeenay Du, the latest developments in the story were surprising and interesting. It also had some amazing performances to its credit.