The past 10 episodes set the bar really high and although I was waiting for the story to move to its next phase but these two episodes turned out to be disappointing. Although Mehreen Raheal is absolutely phenomenal as Shaheena but her character got more screen time than was necessary in these two episodes. Her role as the jealous and insecure dusri biwi was well-established last week yet every single scene covering her track in this episode focused on just that! While Mehreen Raheal continues to be beyond impressive in this role and she most certainly deserves an award for stepping out of her comfort zone and nailing a character which is unlike any other she has played so far but Shaheena's character itself has turned out to be highly clichéd. Also, the fact that Yasmin has suddenly taken a back seat turned out to be highly disappointing. Yasmin was shown as fearless woman who took a stand for all those people who couldn't do so themselves yet all of a sudden she is completely out of the picture. Showing what role she had been playing in Saira's life in particular all these years was of utmost importance since her character has been one of the most inspiring characters in this drama.
Saira and Shabo's relationship hasn't changed in all these years, although these two always shared a special connection but like Shabo's friend said, they were no longer children and meeting like they were still kids was quite dangerous. I was also wondering why no one had found out about their secret meetings yet since they see each other every single day! Hania Aamir translated her character well on screen but she failed to give it the edge it needed. The fact is that Saira's role as a grown up doesn't have a lot to offer either so far. I found it hard to feel an instant connection to her in these two episodes. Her personality did not reflect the way the abuse she faced as a child affected her and her "routine" was exactly the same as it was when she was a child.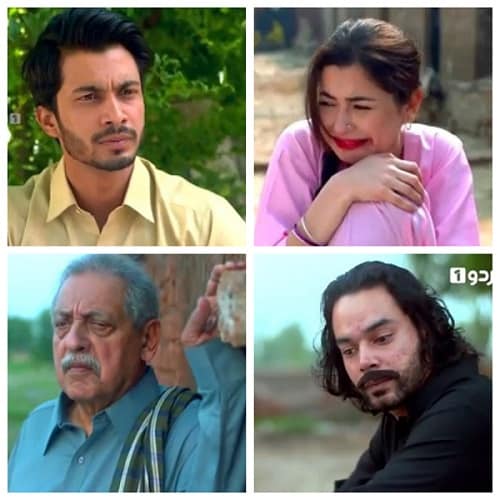 The best part of tonight's episode was Saira's father's apology and whatever he did to "secure" her financially. Although the apology was somewhat casual but it looked like he genuinely felt he had made the wrong decision because of which his daughter was constantly suffering. Saira's scenes with Naseeb showed that she liked and accepted Naseeb's love and attention whenever he gave it to her. Even though Saira is grown up but her personality and relationships with people around her are the same, this was the most disappointing part of these two episodes.
The preview of the next episode didn't reveal a lot and was intelligently put together. I hope that Yasmin makes a comeback soon and I have to say that the child stars playing Shabo and Saira's role were exceptional and they will be sorely missed. Mujhe Jeene Du was exceptional for 10 weeks, I would hate to see it go off track. Hopefully, the story will be back on track from next week.
These two episodes were directed brilliantly as usual but the story and some of the performances were not up to the mark. How many of you watched these episodes? Do share your thoughts about them.