This serial just keeps on getting better with every passing episode. Mujhe Jeenay Du has plenty of tracks which are interrelated and the variety of characters shows that the writer did not rely on clichés. So far, there has been absolutely no repetition and the story is getting more interesting. The writer and the director's focused approach till now makes this drama one of the best drama serials of this season although it is not getting the attention it deserves but it definitely fits the bill. Mehreen Raheal completely stole the show tonight although the competition was fierce since this drama has some really solid performances to its credit. Naseeb and Shaheena's interactions were the highlight of this episode. Naseeb needed a woman like Shaheena in his life and Shaheena also deserved better. Their scenes together do suggest that these two might have a future together after all but the question is how, since the situation is so complicated.
The focus of the story has moved from Saira to Shaheena and Naseeb in particular while Yasmin's track also got plenty of screen time in tonight's episode. Yasmin's reaction when her son broke the news of her husband's second marriage to her came as a complete surprise but it was completely in line with her character. She obviously did not know about this already and she was heart broken as well but she was not going to let Shabo ruin his future. It is always refreshing watching a play with women who are strong in their own way. Yasmin lives a meaningful life and she is strong enough to handle anything that comes her way therefore right now the change in Shaheena has to be the most pleasant development in this episode. There was a time when Shaheena couldn't even think about leaving her husband but tonight she vowed not to forgive him and was scared that he might come back. Working in Naseeb's house makes her feel useful and she also likes the appreciation she gets from Naseeb since Muhammadu never appreciated her. Goher Rasheed and Mehreen Raheal's scenes together were a treat to watch. Goher Rasheed makes Naseeb's character more likeable.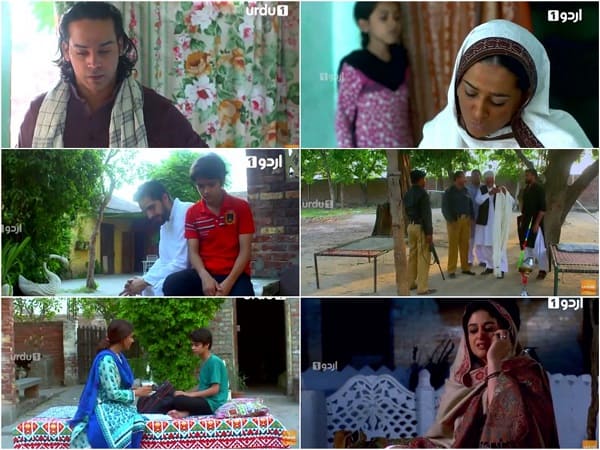 Another cliché which the writer avoided in this serial has to be the behavior of the second wife in this entire scenario. Instead of getting insecure she told her husband to go and talk to Yasmin although her advise fell on deaf ears since he never apologized but even then it is good to see that for a change the writer has not promoted the cliché that women are women's worst enemies! Most often in our dramas we are shown men who get brainwashed by their wives or mothers so at the end of the day it is some woman who is responsible for their actions. In this drama for a change, the female characters are helping each other and don't see each other as competition or as enemies! I think this precedent was set by drama serial Udaari and it is good to see another drama following that example. Even though Shabo's stepmother tried her best to win him over but he loves his mother dearly and will never allow another woman to take her place. Shabo's feelings were shown brilliantly in tonight's episode.
You can't help but feel for Saira's character every time a new episode of this drama goes on air. Saira's incapability to deal with the situation and the manner in which she keeps on reminding her "husband" that she cannot come up to his expectations because she is too young, is so touching. Once again the child star playing Saira and Ali Murad in particular gave exceptional performances. Ali Murad is such a fine actor, he nails every single role he plays. Iffat Omer is another actress who always performs brilliantly, looking forward to seeing more of her.
I highly recommend this show to anyone who is not following it. How many of you watched tonight's episode? Do share your thoughts about it.