Pareesa and Arman stole the show yet again tonight. That one scene in which Arman cried while he poured his heart out was the sort of scene which truly moves you mainly because of the situation, expressions, dialogue delivery and the way those expressions were captured. This episode had quite a few scenes which moved and impressed me but there were also one scene in particular which didn't work for me. We all know now why the viewers had to put up with Zubeida's yelling all these weeks. It was because of Zubeida's nosy and loud personality that Arman finally decided that he had to move out of the house. The poor guy has no idea that Shehnaz's best friend who is always around could easily pass as Zubeida's twin sister because of her personality traits!!
The highlight of this episode was the opening scene and the effect that session with the psychiatrist had on Arman. Everything that the psychiatrist said to Arman was put together perfectly and it showed that the right man who was willing to do everything in his power to restore a girl's faith in relationships in general and men in particular could do so. I cannot praise the writer enough for covering this painful yet beautiful journey of this unusual couple in a very convincing manner. Arman's character has been one of the most interesting characters we have seen in our dramas in recent times due to a lot of reasons. Arman never jumped at the opportunity of marrying a rich and beautiful girl, he fell in love with her simplicity and not her looks or money and although he is a simple guy but he also sensible and is committed to this relationship. His circumstances were such that he could easily choose to be the victim instead of the savior therefore watching him play the hero despite of his limited resources is endearing. I don't have the words to praise Mohsin Abbas Haider's brilliant performance. He impresses you more with his performance with every passing episode and just when you think his acting cannot get better, he proves you wrong! Kubra Khan and Mohsin Abbas Haider make the most amazing on screen couple especially given the fact that their characters and circumstances both are unusual to say the least.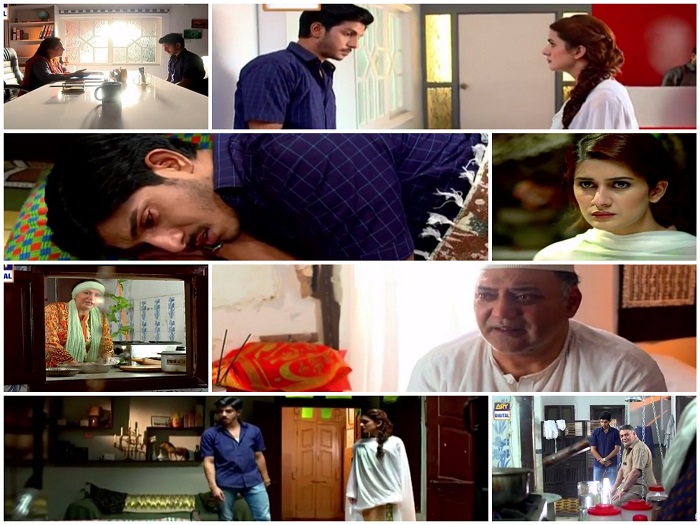 Another scene of this episode which truly impressed me was the one in which Arman announces that he was leaving the house. The way the director captured all the reactions was superb. Zubeida was shocked to hear the news, Arman was scared while announcing it and Mahmood couldn't have been happier. Sometimes the treatment given to a certain scene can change the overall impact it has altogether. It is always a treat watching Asif Raza Mir perform but in this case it is extra special because in Muqabil he plays a role very different from all the roles he has played in his long career. His acting is always effortless and extraordinary. I must say though that showing Arman tell his parents that he was going to move out of the house before the commercial break killed the surprise.
The only part of this episode which didn't work for me was the conversation between Shah Sahab and Mahmood. Can a victim really "forgive" the person who abused her? I would love to hear everyone's thoughts about it.
Arman and Pareesa will move to Pareesa's house in the next episode and I am waiting to see how their relationship evolves from here on. Muqabil has restored my faith in Big Bang Entertainment. I hope that this drama continues to be this intense and poignant in the future too.
How many of you watched this episode? Do share your thoughts about it.