This episode just like the previous few had quite a few scenes which were stretched unnecessarily but it also had a few nice surprises in store. Arman's character has taken a turn which is disappointing to say the least and I did not enjoy watching Mahmood plead Pareesa's case. If the writer is trying to show that he can "redeem" himself by saving Pareesa's marriage then it is absolutely wrong. Mahmood's wife and daughter should know what he did and so should Pareesa's mother. He should not be forgiven in the end. Pareesa's mother in particular needs to know that the person she trusted with her daughter blindly for the longest time is actually a vulture.
The good thing about this episode was watching Zubeida play a positive role for a change. The best aspect of this drama so far is Pareesa's character; the way it has been etched-out and the manner in which it is changing with every episode. Her dialogues are written in such a way that you feel an instant connection with her. You know exactly how she felt before she got to know Arman and how her feelings/state of mind changed after she got married to him. My favorite part of tonight's episode had to be the conversation Pareesa had with Arman. She explained how her mother and Arman's father destroyed her faith in people and the role Arman played in restoring her faith in relationships. Even with all her fears and inability to cope with some situations, Pareesa has ultimately turned out to be the strongest and also the most intelligent character in this play. Arman on the other hand cannot handle the truth, another visit to the psychiatrist would have helped at this point instead of adding a track which is forced. Instead of bringing Sara back in the picture, it would have been so much better if Pareesa asked her psychiatrist to help her out. I am having a very difficult time feeling for Arman although I understand his situation. Someone like him shouldn't have relied on a woman to bail him out of this situation. Also, he is a victim too, his father is the real culprit and the viewers would have enjoyed it more if he was shown suffering instead of Arman.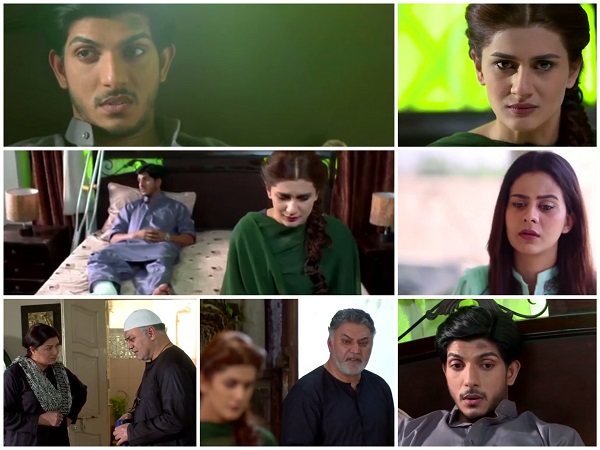 In this episode a lot of screen time was given to Arman's decision to leave Pareesa. Watching Zubeida stand by Pareesa and asking Pareesa to fight for her man was a refreshing change. Mohsin Abbas Haider's acting was flawless, like always, but these latest developments have turned out to be an unpleasant surprise. Pareesa and Arman's scenes are still as intense as they always were, the acting and direction is brilliant but right now Pareesa is the hero and not Arman. At this point things should have been getting easier for Pareesa and not more complicated. I am waiting for the showdown and hoping that those characters who deserve to suffer in the end would be the ones who will be punished. Right now it seems highly unlikely that Pareesa and Arman's track will have a happy ending.
Muqabil needs to pick up pace and deliver soon! Stretching all the tracks unnecessarily at a time when the drama should be concluding is unfair to the viewers who fell in love with this show.
How many of you watched this latest episode? Do share your thoughts about it.