Ohkay so, based on the novel with the same title Alif Allah Aur Insaan, the script of the drama is written by Qasira Hayat, it is directed by Ahson Talish & is produced by Momina Duraid Productions. Alif Allah Aur Insaan commenced tonight & will be airing at 8PM every Tuesday on Hum TV. The very first episode of Alif Allah Aur Insaan introduced us to 5 families with completely different backgrounds, with extremely different situations, lifestyles & struggles of their own. The first episode was directed perfectly & it surely set the ground for the viewers to look forward to what is yet to come.
The story of Alif Allah Aur Insaan is set in Rural Punjab, with almost all the characters linked to each other. The very first family that got introduced was of Raani (Ushna Shah), who has a father (Safie Hassan), a mother (Nargis Rashid) & a brother. Raani's family lives in a dire condition & the only means of earning money for them is begging. Despite not wanting to Raani is pushed by her father to go & make some money because that's the only way he is able to fend for their basic needs.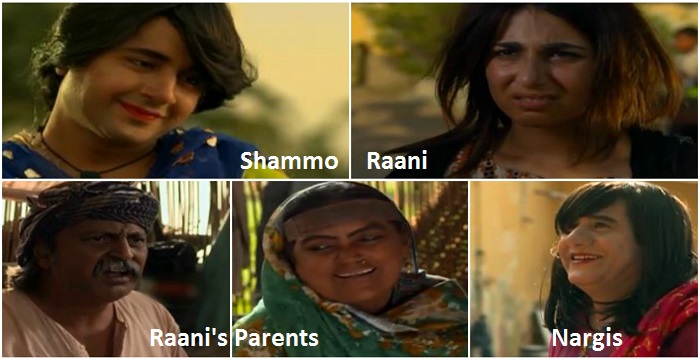 Another character that got a detailed introduction was of Shammo (Imran Ashraf), a eunuch who is tired of the life that has been prescribed for him. His master Nargis actually brought him as a male in the house when he was just an infant thinking that he will become her support system but sadly, Shammo ended up following Nargis' lifestyle & adapted everything that he saw happening in his surroundings. However, Shammo feels burdened because he fails to accept that this is the only option that is left for him to lead a life, which actually was something nice to see. The person who helped him restore this faith in himself was Raani, who was probably the first & the last person who treated him as a human being. Shammo's one-sided short-lived love for Raani was quite sweet, because he immediately mistook Raani's sympathy & courtesy as something else & assumed that she will reciprocate his feelings, which actually didn't happen!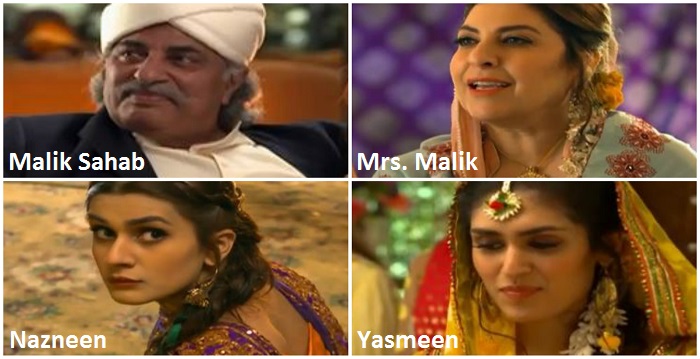 The third family that got an introduction was of Malik Sahab (Usman Peerzada), his wife (Aini Zaidi) & his two daughters Yasmin & Nazneen (Kubra Khan). Yasmin is getting married & the entire family is busy arranging this family affair. Yasmin is getting married to Suhail, who happens to be a friend of Shahzeb (Mikaal Zulfikar). Shahzeb's mother believes that he should get married as well, but Shahzeb tells her that he hasn't found his ideal partner yet. The last family that got a little coverage was of Qadir Ali (Noor Ul Hassan) who basically manages household affairs of Malik Sahab's family. Qadir Ali is very loyal & sincere to Malik Sahab, that is why without even being asked for such a any such favor, Qadir tells his son Basit (Shehzad sheikh), who is an art student studying in the city, to come to the village & take part in the arrangements of Yasmin's wedding.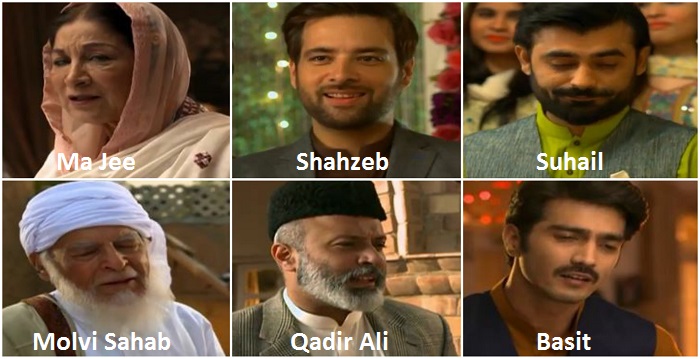 So, this episode had a lot of meaningful, deep, interesting & heart-warming conversations which helped us in understanding the characters better. The first such conversation that actually set the base for what the writer was going to show through this story was the lecture that the teacher was giving to his students, where he spoke about the difference between Allah & Insaan (human beings). In very easy words & by coming to the level of his students, he explained how Allah was Different, how He was Complete, how He was Perfect & how He was Infallible, whereas when it comes to Insaan, us human beings, everyone is a slave to their emotions & these emotions force us to commit mistakes & sins. Even though this entire conversation was covered in the form of the lecture, but it definitely highlighted the theme of this drama in a very effortless manner.
I must say, I enjoyed quite a lot of characters in the first episode but the one character that actually left a mark was of Raani. Raani is pretty straight forward, she is also least judgmental but she knows her rights & wrongs. Even though if we consider the background that she hails from, it makes her character quite unique that she has a very different perspective when it comes to life & people in general, that is why she not only protected Shammo, but treated him as an equal, despite being completely aware of her & his differences. Raani knows what is right & what is wrong, that is why just after getting comfortable with Shammo, she honestly told her that what Shammo was doing to make a living for himself wasn't right, but she also knows that being helpless can push you to certain boundaries that you might not deem suitable for yourself!
Nazneen, like her name suggests, is a pampered child who hails from a financially stable background, therefore just because her parents have raised her with such comforts, she is oblivious of the intricacies of life. Nazneen came across as someone who has a tunnel vision & believes in seeing things through her perspective which isn't based on much exposure. At this stage, one thing that can be assumed about her is that she is a spoiled youngest daughter of the family, that is why she believes in having things her way, be it her jewelry or the sort of entertainment she wants at her sister's wedding. Nazneen's interaction with Shammo & her fellows shattered them all because she not only insulted them but reminded them of their shortcomings. It took just a few seconds for Nazneen to degrade them & treat them as sub-humans because she believed they couldn't match her level as she was complete & they weren't. Obviously, Shammo left quietly but her curse won't leave Nazneen alone & she will end up facing the brunt of what she said. Nazneen has a lot to discover & she will learn such lessons in life which will teach her that every single human being is equal, irrespective of what they have & what they don't! So, Shahzeb grew interested in Nazneen because he found her unique & that was the only introduction that Shahzeb had so far. Yes, he shares a very special bond with the Molvi Sahab (Qavi Khan) & I am sure their relationship will have a lot to offer in the episodes to come.
The way Nazneen hurt Shammo's pride will definitely shape up his life. Shammo was looking for a reason to escape the life that he was living, but he always found himself bound because of Nargis, who emotionally weakened & blackmailed him, but the way Nazneen insulted Shammo, that was the final nail in the coffin & it pushed him to walk away & pursue his dreams. Shammo dreams of having a life where people will treat him with respect & he also dreams of making money after doing a lot of hard-work. It was good to see a person living in such grave situations aiming for such standards in life, it showed that all you need is a perspective & a go-getter attitude because by the end of the day, that's all that matters. What made Shammo stand out from her colleagues was his attitude because where they all sounded defeated, where they all gave up & where all of them accepted this mistreatment as their fate, Shammo chose to stand up for himself & say no to this life.
Overall, the first episode was quite interesting & it seemed like such a long episode with such in-depth scenarios that introduced the characters a great deal. At first I found the characters a little caricaturish but as the episode progressed, the mood was set & it made everything work. All the actors stood out & brought out their A-game to breathe life into their characters. Imran Asraf & Ushna Shah deserve a special mention because of their effortless & flawless performances. The OST sounds interesting too, I am glad they didn't overuse it & it was just played in the initial scenes which was enough to introduce us to the idea behind this story & the vision of the writer. The meaningful dialogues definitely elevated the level of this episode. I must say, spot on direction made this episode perfect, the usage of different locations, the choice of the sets & the right aesthetics gave this drama a very unique feel. The preview got me excited because looks like there's a new character that is going to be introduced. Even though Shehzad sheikh & Mikaal Zulfikar got limited coverage but I felt Shehzad sheikh stood out more as Basit Ali. Kubra Khan seemed to be in her element & without overdoing Nazneen's character she gave her the personality that her character required. I am quite pleased with the first episode & I can't wait to see more. Please share your thoughts about the first episode of Alif Allah Aur Insaan.
PS: The reviews of Alif Allah Aur Insaan also have the no spoiler alert policy, so please respect that, thanks!
Keep Supporting,
Cheers,
Zahra Mirza.