This episode of Muqabil was gripping as usual and the most important aspect of this episode was watching Pareesa share exactly how she felt with a family member. The response she got went to show that she was the only sensitive person in her family! Mehmood's "apology" and the way Pareesa was pushed by her mother to apologize to him was one of those scenes which give you goose bumps; this was a very disturbing scene. Although Mehmood told Pareesa that he was really "sorry" but at the same time he accused her of committing a bigger sin than he had committed! I must admit that this scene reminded me of Sangat but so far the writer has not tried to show that Mehmood truly is "sorry" for what he did. The manner in which he covered up for himself when Shehnaz came and had no qualms in mentioning the pool incident went to show that deep down he didn't think he had done anything for which he had to pay a big price. He asked Pareesa to "move on" because he had already moved on! Pareesa's conversation with her little friend after this scene showed for the first time that she wasn't sure if this was the right thing to do. Until now Pareesa was very sure that this was what she wanted to do but now after this "encounter" with Mehmood she was seen wondering if she really wanted to do this. While Asif Raza Mir owns his character completely, Shaheen Khan continues to shout throughout. Her character could have been shown as loud and annoying even without all this screaming. I was tempted to fast forward her scenes tonight.
Pareesa shared how she felt that night with her brother but he could not care less. Salman is happy with his life because even if his parents were never around he probably learned to depend on things and money to give him comfort. The way Pareesa explained how alone she was that night was extremely touching. I had not trouble connecting to her character in this scene and I could imagine how a little girl in her position would have felt in such a situation. None of her family members were there for her when she needed them the most and that is when she decided to distance herself from everyone. Kubra Khan's acting once again was absolutely superb in tonight's episode. Even though the actor playing Pareesa's brother's role gave a below average performance but Kubra Khan managed to make this scene a complete success. Also, this scene was directed really well.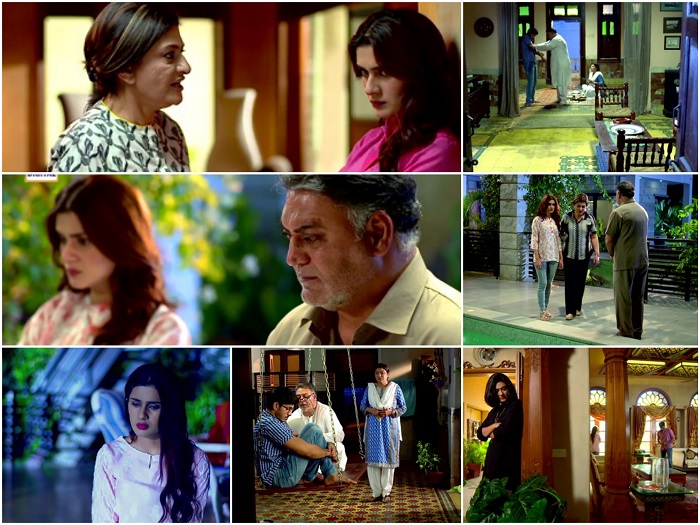 Arman and his father's scenes together were a treat to watch too particularly because of the brilliant acting by both the actors involved and the sleek direction. Mohsin Abbas' body language and expressions were beyond perfect in this particular scene. No matter how closely you observe him, you cannot find faults in his performance. His amazing and faultless performance has definitely added charm to his track and character.
It was interesting watching Mehmood blame his son and wife for everything when in fact he was the one who was truly responsible for the situation everyone was in. Arman seemed to be relatively more at ease with getting married to Pareesa after his meeting with her. I feel for him every step of the way because he has no clue what is going on and the only explanation he could come up with was that Pareesa needed someone reliable to look after her plants!
Apart from the acting, the unpredictable and enticing storyline and creative direction, the locations and picture quality of this play are amazing. After tonight's episode I am however a bit worried about how Pareesa and Mehmood's interactions might be covered in the future. Also, I am still wondering why Arman's annoying mother gets way more scream time than she deserves especially because she isn't really adding much to the story at this point. I also think that the story needs to move forward now.
How many of you watched this latest installment? Do share your thoughts about it.