The fact that time literally flies whenever I watch Muqabil proves that this drama is not just impactful but it is engrossing as well. The director Ali Hassan has made sure that all the scenes keep the interest of the viewers intact and the writer Zafar Mairaj has written an extremely sensitive story in an intelligent manner without sensationalizing whatever happens between Mahmood and Pareesa in particular. My favorite scene from tonight's episode was the one which covered the night of Pareesa and Arman's wedding. The way Arman, Pareesa and Mahmood's feelings were shown was beyond impressive. Pareesa's expressions and body language changed with every door and window Arman closed and Arman's reaction to what Pareesa told him was the most unexpected part of this scene. This scene was subtle but had great impact. The viewers saw just how messed up Pareesa was even though she pretended to be confident but she was still as effected by what happened to her so many years back as if it happened yesterday.
Although Pareesa chose Arman for different reasons but her intuition and her first impression of Arman was right. She trusted him with his flowers and knew that he was a good man, he is the kind of person who will stand by someone through thick and thin. I have always liked Arman's character because we don't see men like him in dramas very often. He is not perfect but his personality traits are different, appealing and very well defined. Mohsin Abbas Haider has owned this role completely right from the get-go. He is a natural who understands his character which is why he makes it come alive on screen almost effortlessly. Kubra Khan is another actress who gives perfect expressions every time and never goes over board. The look on her face every time she is close to the person who violated her shows how much she hates him.
Asif Raza Mir is a pro who knows his craft only too well. Mahmood is someone who thought he could move on and forget he did something so heinous if he continuously prayed. Now that the girl he raped is in his house as his bahu, he will be reminded of what he did every single day. The way Mahmood interacted with Pareesa however suggested that he wanted her to have a 'normal' relationship with him now that she was married to his son.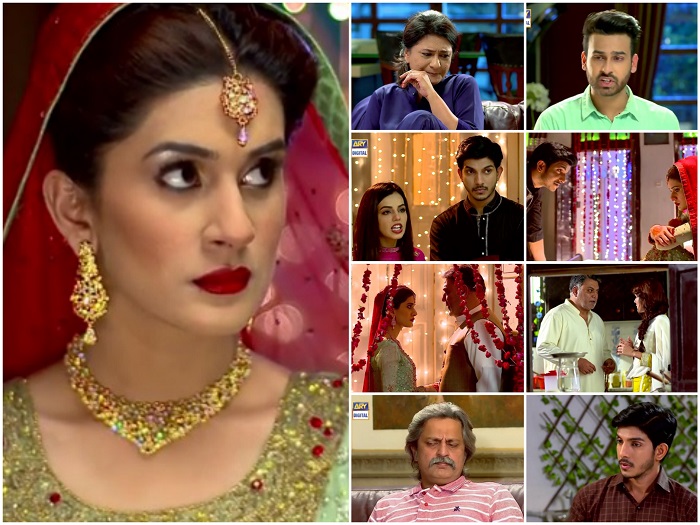 Pareesa's parent's guilt and everything their son told them was an important part of this episode and yet another aspect which was well-executed. I am glad Pareesa's mother has not been shown as one of those mothers who are incapable of feeling anything for their children. Her guilt pangs make her character more realistic. Saba Hameed made her presence felt in both the scenes and made these scenes worthwhile even though the actor playing Pareesa's brother isn't a very polished actor.
Shaheen Khan's scenes once again were the most annoying part of this episode. This episode would have been perfect if for once we did not have to hear her shouting again, not once or twice but a little too often and in every single scene! Anyone who hasn't watched this episode yet should definitely forward her scenes because they can easily be skipped.
Muqabil is one of those dramas which I eagerly wait for every week. It is very well executed and has some remarkable performance to its credit. One of the best things about this play is that the story focuses on the main leads and even without any side tracks it keeps your interest alive.
How many of you watched this latest episode? Do share your thoughts about it.