Writer: Zafar Mairaj
Director: Ali Hassan
Produced by: Big Bang Entertainment
Channel & Schedule: ARY – Every Tuesday 8pm
Although Muqabil comes with a big warning because it has been produced by Big Bang Production and written by the same writer who was behind Sangat but these first two episodes were interesting and gave me a reason to tune in to this drama next week. I felt an instant connection with Pareesa (Kubra Khan) and all the other characters in the story. Pareesa is someone who grew up with all the luxuries in the world but she was deprived of her parents' (Saba Hameed and Saife Hassan) attention and protection which she needed more than anything else. Somehow she blames her mother more than her father perhaps because she feels that it was her duty to protect her.  At the end of the first episode, the viewers find out the reason behind Pareesa's withdrawn behavior and her overprotective nature towards her flowers and her maid's daughter. Pareesa protects her flowers the way she feels she should have been protected. She is constantly judging people's motives and actions based on what might be going on in their mind while they are interacting with a little child or even her flowers. Pareesa's mother Shehnaz is a businesswoman who also runs an NGO and she relies heavily on her assistant Mehmood (Asif Raza Mir). Pareesa's parents try their best to understand their daughter but Pareesa no longer wants their time or attention because she feels that they were not able to protect her when she needed it the most. Pareesa lives in her own world which has been translated on screen in an interesting manner. Time and again everyone mentions how different Pareesa was as a child which goes to show that her personality changed completely after she was violated. Shehnaz even with all her modern ideas and outlook feels that marriage is the solution to all her daughter's problems. Shehnaz is the only clichéd character in the drama so far.
Arman's character proved to be a very interesting addition to the play. He is someone who knew Pareesa when she was a naughty and full of life little girl and even now when she is very different from who she was back then he is still the only person right now with whom Pareesa feels safe. She trusts him with her flowers and feels concerned about him. Mohsin Abbas plays the role of Arman with confidence and he is very well-suited for this role. The promos of the play however suggest that these two people won't exactly have a "normal" life together.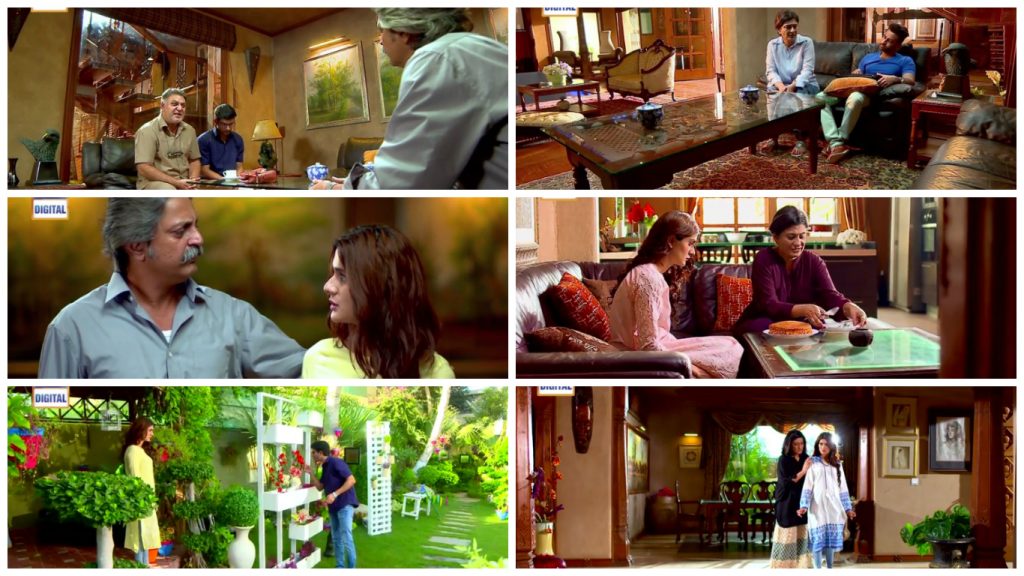 The only thing which did not quite fit in these two episodes was Kubra Khan's loud make-up especially because Pareesa's mother mentions twice how badly she needed to wear proper clothes and put on some make-up. Kubran Khan's perfectly styled hair and cakey make-up wasn't in line with her character at all. Other than that she did complete justice to her character by looking as distant, disturbed and awkward as Pareesa should have looked on screen. Pareesa and her parents' frame of mind and their past and present relationship with each other was shown clearly through different conversations and their interactions with each other. Mehmood and Arman's characters also got special attention in these two episodes.
So far the interesting cast and plot, a detailed introduction to the characters, the locations (Pareesa's house and her flower garden) and the mystery surrounding these characters makes Muqabil an interesting play. It is definitely the kind of play which makes you look forward to the next episode and manages to transport you to the world of all the characters whose stories you see unfolding on screen.
How many of you watched these first two episodes? Do share your thoughts about it.