Ohkay so, the writing of Iqbal Bano, direction of Shehrzade Sheikh & production of 7th Sky Entertainment; Muqaddar is a story of two head-strong individuals. Although 7 episodes of Muqaddar have been aired & the beginning phase of the drama shows that this is the kind of story that has been seen before, it won't be wrong to say that the kind of treatment this drama has gotten makes it seem very promising. The initial 7 episodes have laid the foundation in an excellent manner & at this stage, Muqaddar happens to be the kind of drama that doesn't disappoint the viewers who choose to tune to it.
Cast & Characters
The central character Raima (Madiha Imam) is a breath of fresh air. She is an orphan who lost her parents at a very young age but she was raised lovingly by her uncle Arshad Alvi (Saife Hassan) & aunt Bilqees (Fazila Qazi). Arshad has a son Haris (Ali Ansari) who loves Raima & they both get engaged. Raima may have lost her parents but she was raised in such an environment which she could call her own, she felt she belonged here & this beautiful home was her comfort zone. Although Arshad & his wife did everything to take care of Raima, she still became a strong & sorted individual who knew what she wanted from her life. Haris happens to be an ideal guy who Raima loves, because they both have lived together for years, they both have an undenying chemistry as well as a strong understanding of each other. The initial episodes which covered the dynamics of their relationship were a treat to watch.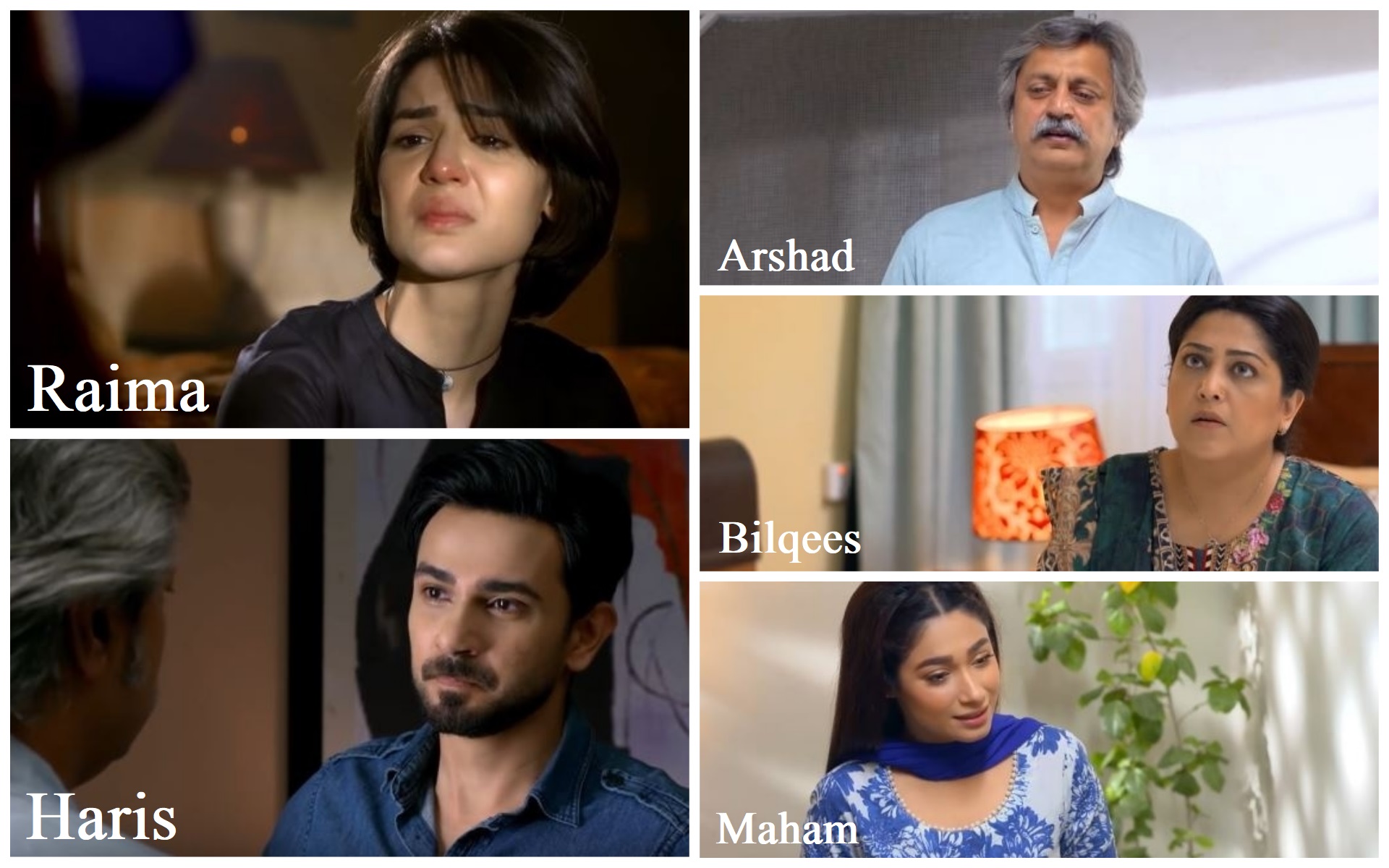 Saif ur Rehman (Faysal Qureshi) being an influential feudal lord has made a name for himself. He possesses a very typical mentality, however because he knows he has to survive in a huge city like Karachi, he has eventually forged his image in such a way where people see him as a progressive & open-minded human being. Saif ur Rehman believes in making his own rules & doesn't actually bother about the consequences because his wealth & power have enabled him to feel he is in control. Saif ur Rehman happens to be married to the widow of his elder brother Farkhanda (Ayesha Gul). She had a son from her previous marriage, Saad (Haroon Shahid) who also happens to be Raima's batchmate in the university. Saad's mother after getting married to Saif ur Rehman gives birth to a daughter Abeera (Sabeena Farooq). Abeera & Saad have been engaged but Saad is only continuing with this relationship because of family pressures otherwise he is very much in love with Raima. Abeera seems to be getting involved in Hassan (Haris Waheed) & she actually doesn't see a future with Saad because they both are two different people with very different temperaments.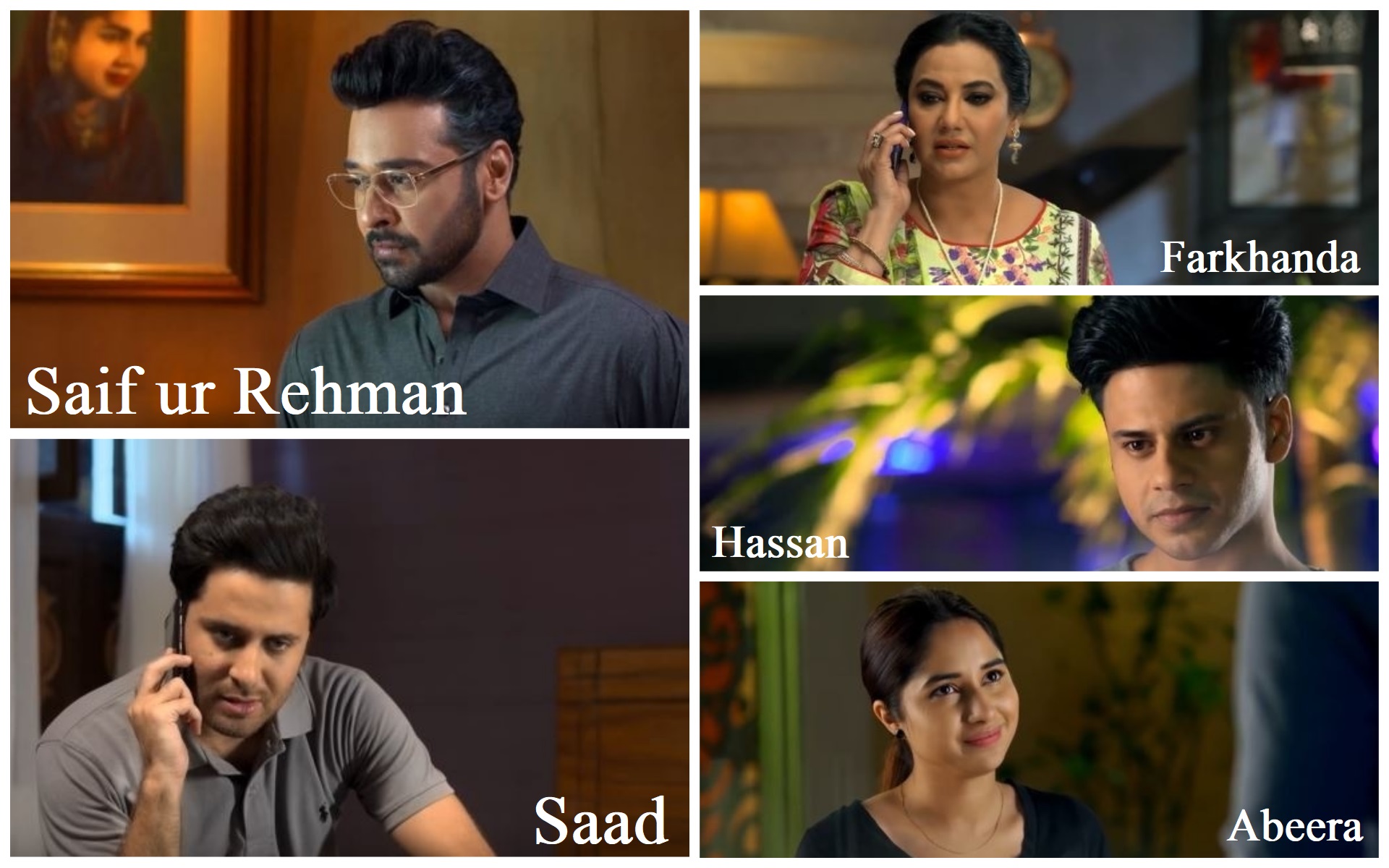 Story So Far
The story so far has covered how Raima's interaction with Saif ur Rehman impresses him so much that he decides to take it to the next level. Saif ur Rehman sends a proposal for her but Arshad assumes he will be able to deal with this on his own without telling Haris or even his wife. Saif ur Rehman has kidnapped Raima & is making her stay at his farmhouse, he is now trying to pressurize her into getting married. Haris who tries hard to find a solution only returns home beaten & bruised.
The way the story of Muqaddar has been established & the kind of direction it has been given makes it an enjoyable drama to tune to. The scenarios & situations are realistic. The characters have been written in such a manner that makes you connect with them easily & also allows you to understand what they are going through. At first, it was hard to accept that Arshad being Raima's uncle gave up so easily & didn't do what it takes to get her back but then, it has also been shown that he was being practical & by the end of the day, he worried about the wellbeing & lives of his wife & son. Arshad was not selfish in his approach but he was practical to analyze that Saif ur Rehman was not going to give up on Raima no matter what he said. Haris also tried his best to get to Raima but Saif ur Rehman went to show him his power & gave him a clear answer that he stood no chance. Raima retaliated a lot but Saif ur Rehman dealt with her patiently. The way Madiha Imam has acted throughout this predicament shows her grip on this character & she actually makes you feel for Raima. The way she cries every single time, helplessly, hopefully, in agitation, in regret, she has given a very strong performance throughout. In the initial episodes, all those humorous scenes which included Maham (Shameen Khan) & her interest in Haris were an absolute treat to watch, the comic timing, dialogues & everyone's expressions were spot on. All these little details make Muqaddar an interesting watch for sure.
Brilliantly Executed Story
Now the story seems to be moving to the next phase where Raima will succumb to the pressures of Saif ur Rehman only to save Haris's life. She has finally taken the step to ensure the safety of the only people she called her family. Now it will be interesting to see how she will deal with Saif ur Rehman. At some point, the story of Muqaddar might remind the fans of Faysal Qureshi of his drama Bashar Momin, where him being a don got involved in a girl who wasn't in love with him but later she brings out the best in him, so far Muqaddar seems to be headed the same direction but the viewers will have to wait & watch. Overall, this drama is enjoyable & the brilliant acting of Faysal Qureshi & Madiha Imam makes it worthwhile. The direction is brilliant without any loopholes & same goes for the story where everything has been explained without dwelling too much into details. I am definitely looking forward to the rest of the episodes of Muqaddar but yes, I can totally see the pace becoming a little slower from now on, let's see. Please share your thoughts about the initial episodes of Muqaddar.
Keep Supporting,
Cheers,
Zahra Mirza.