Ohkay so, Muqaddar is still in the initial stages & it is easy to believe that the actual story has not kickstarted yet. However, the way they are progressing the story, it still makes it a very good watch. There are always some emotional scenes which make you feel for the characters & relate to them. Muqaddar's story so far is not new or hasn't offered any of which has not been seen before, however, the acting & the overall execution makes it a decent drama to tune to.
Raima & Saif ur Rehman
Raima has not accepted Saif ur Rehman, but she has pretty much come to terms with the fact that she has been caged & she has nowhere to go. Raima promised herself as well as Saif ur Rehman that she will never forgive him or forget all that he has done & so far, she is sticking to her words. Saif ur Rehman is doing everything to make her feel like she is the most prized possession of his – this is his way of showing what she means to him but Saif ur Rehman doesn't know that this mentality & thinking is exactly what makes Raima feel suffocated & disgusted. Raima was a girl full of dreams, she wanted to achieve so much & had set so many goals for herself but to see someone ripping her dreams into pieces has left her shattered.
Every step of the way, Raima's portrayal of dejection was brilliant. She has lost that will to live, the drive that she had to experience life. Right now, she is being constantly reminded that her level has been elevated because of her marriage to Saif ur Rehman & she is unable to wrap her head around it. Raima comes from a very different background, therefore she feels sad at the tunnel visioned thinking of those women around her who think Raima's life is sorted because she got married to a feudal lord like Saif ur Rehman. Raima obviously can not change their mentality or thinking, that is why she is left speechless, however every chance she gets, she lets them know that she doesn't believe in any of this.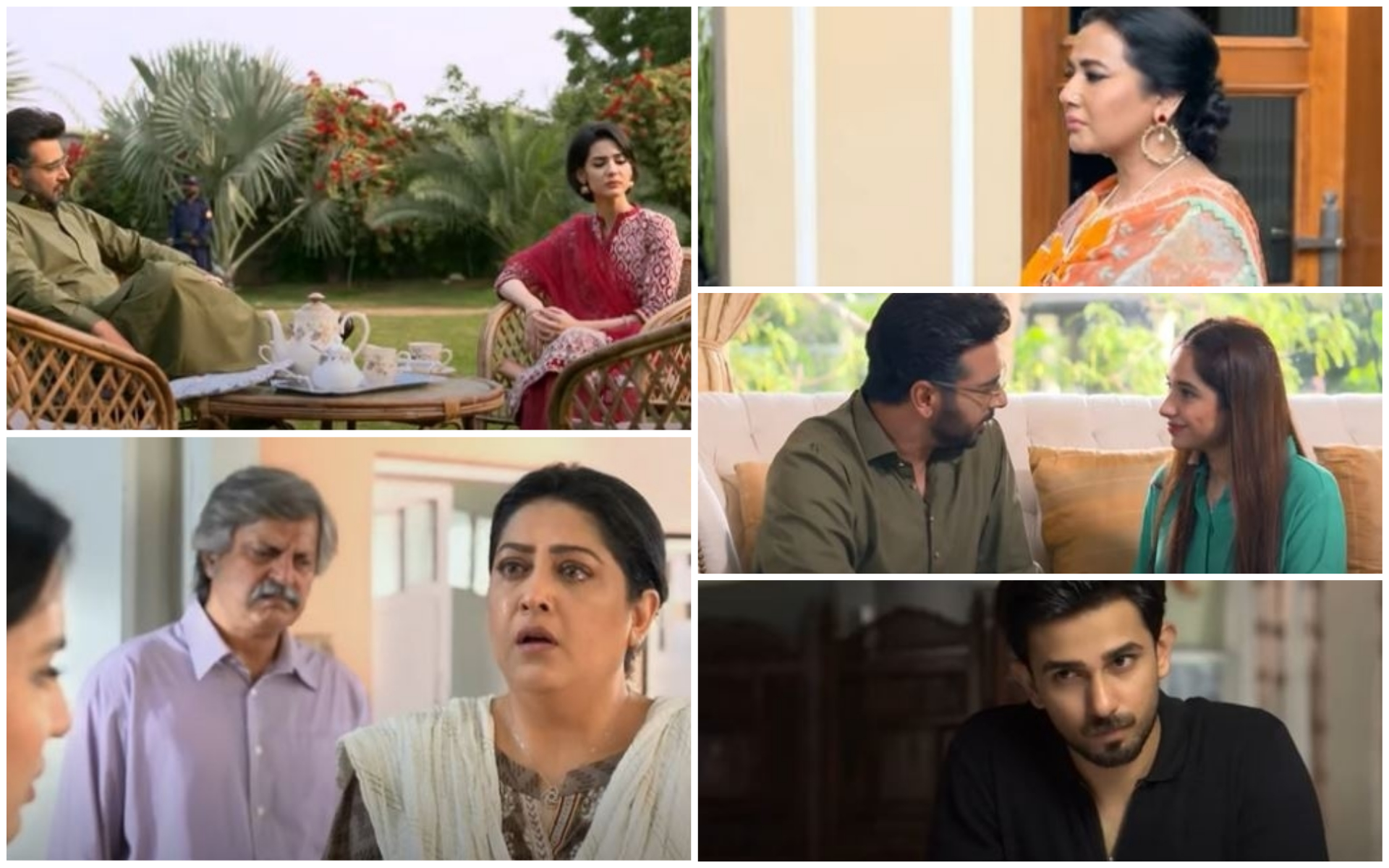 Saif ur Rehman allowed Raima to meet her family. It was only because he wanted her to tell them that she is now married to him. Saif ur Rehman also wanted to send a message to Haris loud & clear that Raima now belonged to him, therefore he should accept the fact & move on. Raima's meeting with her uncle & aunt was very emotional & well acted. Madiha Imam is superb when it comes to emotional scenes & she had added so much feel & depth in all the scenes of this kind. Fazila Qazi & Saife Hassan supported her brilliantly in this scene too. It was nice to see Arshad & Bilquess being apologetic because they actually know that they didn't do much for her. Bilquees' eagerness of not letting Raima go was sweet too. For her, Raima was like a daughter, therefore she loves her a lot & all the emotions she showed depicted just that.
Saad has been trying his best to get any clue about Raima but Saif ur Rehman is not willing to help. Saad still hasn't understood the hesitation his uncle is showing when it comes to this matter, especially when all of this is quite easy for him to achieve. Farkhanda has realized that the cold behavior of Saif ur Rehman is very much due to his fondness for someone else. This is something that Farkhanda has experienced sporadically while being married to Saif ur Rehman, therefore she is very much aware of what her husband is upto. Farkhanda doesn't seem to be the kind who would take a stand for herself, may be because so far in life, she was just happy with the fact that she was the only woman Saif ur Rehman was married to, but now with Raima in the picture, she will definitely suffer. The complexes have now started creeping into Farkhanda where she can't bear the fact that Saif ur Rehman looks down on her. So far, it doesn't look like Farkhanda will do much or will have something going for her character but if she does something to take a stand for herself, then it would definitely be interesting.
Haris continues to be bitter & seeing Maham coaxing her love & affection onto him agitates him further. Maham thinks she is going the right thing by showing all of her love & support but Haris is not in the right frame of mind to ignore or let go any of what she does easily. Haris feels irritated at everything that she does, however there was a slight shift in Bilquees's behavior towards Maham, which makes me think it won't be too long before she tells Haris to consider marrying Maham. Areeba decided to let her father know that she is not really into Saad & doesn't want to get married but it seems her parents are not going to entertain her thoughts & ideas because they actually want her to get married to Saad, it is obvious that they want the cousins to get married to each other so that they can keep the wealth within the family & don't have to worry about the distribution of property in the later stages of life.
Well Directed Drama
These episodes of Muqaddar were interesting, however I am keen to see the story kickstarting with the main focus being on Raima & Saif ur Rehman. Madiha Imam & Faysal Qureshi are definitely making this drama worthwhile & all the supporting actors have played their part equally well to make their characters shine through & look relatable. The director also deserves a credit for directing Muqaddar brilliantly. Please share your thoughts about this episode of Muqaddar.
Keep Supporting,
Cheers,
Zahra Mirza.