Muqaddas is a show that forces viewers to get their minds into it, understand the characters and connect the dots. It is exactly what the Pakistani entertainment industry needs.
Background:
The story starts with the introduction of Muqaddas (Iqra Aziz), who is confident, career-oriented and ambitious. She turns down many rishtas that her father (Khalid Anum), her brother, Muhib (Mohammad Asad), and her brother-in-law, Sameer (Umar Sultan), suggest to her because she is waiting for the man who falls in love with her before marriage. Sameer dislikes her because she rejected the marriage proposal of his business partner. Despite this, Muqaddas shares a great relationship with her sister, Tehreem (Zainab Qayyum), and niece Mishaal. 
Muqaddas has a secret admirer. Someone who leaves her flowers daily; once or even twice. She is annoyed yet impatient to find out who he is. In enters Aatir (Noor Hassan) whom Muqaddas's boss introduces as her new assistant and even though she protests that she doesn't need one, he insists that the reason of the employment "will be revealed later".
  It is very clear that Aatir only took up the job to be close to Muqaddas, because he finds reasons to visit her house several times and even befriends her dad. At last, she confronts him about it. However, Aatir is unaffected by her daant and proposes marriage right there! He tells her that he has been sending her flowers and trying to to be close to her.
Even so, Muqaddas is unsure about the proposal and consults her best friend,  Ainee, who beams and tells her that Aatir is the man she deserves and that she should say yes.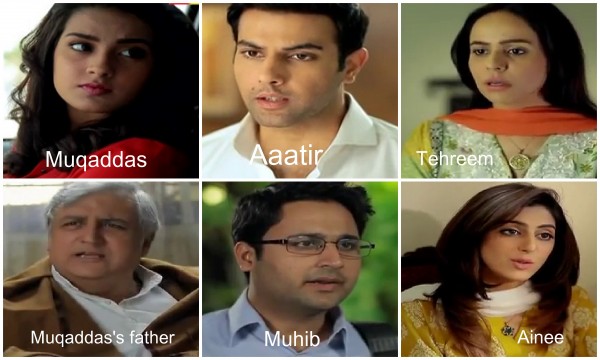 Aatir's background is revealed and we find out that he is the son of  Ahmed Ali (Sheryar Zaidi), whom he has sent to Australia for medical treatment. He runs the business that his father once did. He is a respectful son to his step-mother Ruhi (Hina Byat), and a responsible brother to his step-brother Zain (Agha Jarar) and step-sister, Nida (Nida Khan). However, Ruhi firmly believes that "sotela saanp hota hai." She is furious over the fact that Ahmed has handed over all his business and property to Aatir but acts like the most loving mother in front of him. She wants to get him married to her niece Jia (Madiha Zaidi). Nida wants the same thing but when Aatir expresses his love for Muqaddas and says that he will marry her and no one else, they have to give in. Muqaddas wouldn't have known about Aatir's background if not for Adil, Annie's husband who happens to be Aatir's friend.
Before discovering that, however, the engagement has already taken place. Muqaddas finds out that Nida's husband, Kabeer (Furqan Qureshi), is someone who confessed his love for her during the days when they studied in the same college and got slapped by her for touching her hand. Kabeer's facial expressions showed the intensity of feelings he still has for Muqaddas. These don't go unnoticed by Nida.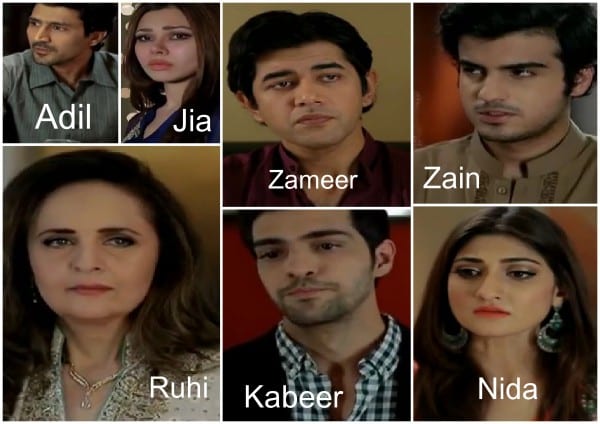 The wedding:
The wedding takes place and Aatir and Muqaddas are the happiest people on earth. Iqra and Noor look great together and Iqra looked absolutely beautiful as a bride. I really appreciate the fact that the wedding functions were not dragged through lame dances.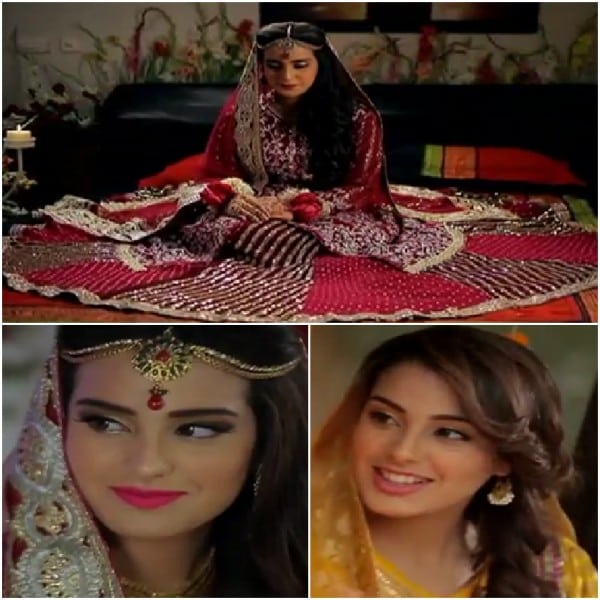 However, later at Aatir's home, tragedy strikes, In an unpredictable twist, a masked man enters through the unlocked window, shoves a cloth soaked in chloroform onto Muqaddas's face and then drags her away while unconscious.
Aatir enters the room to find out that the love of his life  has been kidnapped.
Post-Kidnapping:
The room in which Muqaddas was kept was decorated with flowers just like a bride's room. Seeing poor Muqaddas unconscious and at the mercy of her masked kidnapper made me shiver. The girl was kidnapped on the happiest day of her life and molested while unconscious!
It was clear through that scene that the kidnapper was someone who was obsessed with Muqaddas and could not bear seeing her with someone else, so obviously my doubts were on Kabeer. Muqaddas only saw the face of one person there who was probably a maid.
After the kidnapping, the next problem that made way to Muqaddas's family was her father's coma. But contrary to what Muhib and Tehreem thought, the cause of the coma wasn't the stress that came because of the kidnapping. The actual cause was knowing the fact that Aatir was Ahmed Ali's son. When Muqaddas's father saw a picture of Ahmed at Aatir's house, and confirmed that it was, in fact, his father's picture, the next thing the viewers saw was him in a coma.
The reactions and Muqaddas's return:
There were two more people who I doubted, namely Ruhi and Nida. Both of them had promised Jia that Muqaddas and Aatir's marriage would be a temporary one. But then the way Nida questioned Kabeer, again and again, made me think she wasn't involved. Ruhi, however,  is surely involved. She was so excited to know that Muqaddas had gone, that on the very moment when Aatir left the house to search for Muqaddas, she drove to Jia's house to give her the good news.
Kabeer's character didn't impress me much in the first 2 episodes. But after the kidnapping, the way he tried to help Aatir and Muqaddas's family made me like his character. He even told them to call the police (and not just once) but Aatir preferred to save his khandaan ki izzat. As for Aatir, I am confused whether to like his character or not. Firstly, he refused to call the police. Even after the ransom demand came, he did not involve the police. Later when the ransom was paid and his wife returned to his doorstep, only to faint and collapse on the floor, he refused to call a doctor!! In spite of all this, he cared for Muqaddas a lot. He was the first person she recognized when she gained consciousness, and after that he did not leave her side unless Tehreem, Muhib or Annie were present. That is why I am confused about his character. I cannot tell what his true intentions are.
Tehreem and Muhib are people who would do anything for their sister, and Annie is the best friend Muqaddas could wish for. Is was sad to know that Muqaddas did not recognize anyone from the three after she woke up. Later, as her memory slowly came back, she did remember them but not Mishaal. That was when Annie who is a doctor herself suggested that Muqaddas could have been given a drug that affected her memory. She didn't even ask about her father.
Post-return:
Zain is a spoiled brat, but despite having many ghundas at his command who can beat and scare any person he points at, he is not as smart as his mother. That is the kind of vibe I got from him in the start. Soon, I grew suspicious of his character. He deposited 2-crore in his account (the same amount as the ransom) just a few days after Muqaddas's return. Nobody would have known about this if the bank manager, Rizwan, hadn't turned out to be Kabeer's friend. Zain soon learnt about how Rizwan ratted him out and headed over to Rizwan's place with his men to give a warning. Rizwan was too scared for his family members' life to even speak a word again.
Ahmed Ali's first cousin, Akbar Ali (Farhan Ali Agha), arrived from Dubai. A conversation between him and Ruhi hinted that both of them were involved at some point in their lives and that was the reason he had to leave the country. Aatir wasn't too fond of his uncle and tried to keep him away from his life. I actually appreciated this because Akbar's loyalties lie with Ruhi and he can only stir up trouble for Aatir and Muqaddas.
Kabeer did the right thing by telling Aatir, who grew suspicious and decided to talk to Zain about the money. Zain had to do something to distract Aatir. He knew Muqaddas was the perfect distraction. Even I didn't expect what he did. For a while I thought the actual kidnapper had came back but it wasn't hard to figure out that all of it was Zain's drama.
The plan did work for some time as Aatir could not leave his wife's side once again and it was easy for Zain to escape from his house and go to the office. He even took his mother into confidence by saying that he borrowed the money from the company's account. I thought Ruhi would at least interrogate Zain a bit after finding out about the money, but she believed his story and was confident that Zain could not kidnap a person.
It was amusing to see Zain's desperation after Ruhi called him and told that Tehreem had came to visit Muqaddas and Aatir was planning to question him at the office. I was glad that Aatir found Zain's immigration papers as well. But then, the lack of interest Aatir showed in finding the source of the money and that mystery man (who had tried to kidnap his wife for the second time) irked me. He simply told Zain to keep his mouth shut about the incident and left. Weird, no?
Akbar Ali is a cunning man. Him teaming up with Ruhi and Zain was exactly what they needed. He has all sorts of plans, and the first one was to cover up Zain's 2-crores.
The hospital visit:
Tehreem was adamant the Muqaddas needed a proper checkup and that's why she took Muqaddas to her house and then to the hospital where Annie worked. What happened after that was saddening. I felt for Muqaddas more than ever now that she is pregnant. She doesn't know this but it isn't long before she finds out. Muhib's scene with his father left me heavy hearted.  He needs his father now more than ever and feels he is all alone.
Tehreem was deeply stressed when she collided into an unfamiliar person in the restroom. The girl was very eager to find out why Tehreem was so worried. She even came into Muqaddas's room later to find out exactly why Muqaddas was there. I was super glad that she could not find about the pregnancy  because I kind of doubted she was  from the press. Surprisingly she was! But she was Jia's friend as well, thus she reported the whole event to Jia who reported it to Ruhi. After that, she called her editor and narrated the story of Muqaddas's kidnapping to him.
In the news:
Getting some dirt on the city's elite was exactly what the editor wanted and so, he decided to cash on it. Next, we were introduced to Farhan, who is Aatir's business rival. He is the one who tells the editor to do this homework and print the news.
After reading the newspaper, and finding out that Farhan was behind the whole thing, Aatir confronted him and that's when I realized that the rivalry between them isn't just related to their businesses. It has been their since they were in school. I am excited to find out how it started.
Simultaneously….
Muqaddas had spotted the maid she saw at the kidnappers' place outside the hospital. From that day she was adamant to find her out. Zameer's disapproval of his sister-in-law staying at his house made Tehreem choose between her sister and husband and she chose her sister (which I am glad she did!). She took Muqaddas and Mishaal to their father's house. Muqaddas's health got a bit better. She was finally able to take a stand for herself and that's when she told Aatir that if he really loved her, he would find her kidnappers within two days. I think Aatir deserves this. He chose not to go to the police and didn't even take Muqaddas to the hospital. He was only concerned about the news report so that his khandan ki izzat wouldn't be damaged. Now that Muqaddas has taken a stand for herself, he will be forced to find the culprits and do something other than just give jhooti tasallian!
A few scenes of the maid and her family were shown. She lives with her daughter and son-in-law and her son-in-law was involved in Muqaddas's kidnapping. He is an illiterate person who is forcing his wife and her mother to stay inside the house because he fears she will get caught outside. His wife needs medical treatment but he doesn't care.
A few words of praise:
The writer, Adeel Razzak, has wonderfully written the story and included just the right amount of suspense and thrill in it. The show doesn't have a lack of good people that keep my faith in humanity after seeing characters like Ruhi, Zain and Akbar. The dialogues are spot-on; not too over-dramatic and not too bland.
The director, Ali Masud Saeed, has done his work brilliantly. There are no OTT moments in the show. The newcomers are doing well along with others and I didn't think that any scenes were dragged.
Iqra Aziz has outdone herself. Noor Hassan is, as usual, a great choice for this character. Agha Jarrar is doing well for a newcomer. Furqan Qureshi, Nida Khan, Zaynab Qayyum, Madiha Zaidi and others are great in their respective roles. However, Hina Byat and Farhan Ali Agha are the stars. Both their characters are equally cunning and smart and even though I hate Ruhi and Akbar, these two actors are the best performers in Muqaddas.
What do you all think of Muqaddas? Do you find it interesting? Any theories? Feel free to share.
You can catch Muqaddas every Monday-Wednesday at 9:10 pm on Hum TV.
Areeba Mohsen