I'll say it once again, Muqaddas is a definite treat to watch!
The situation maybe tragic, and evils might lurk in the female lead's life but this show has plenty of interesting characters and unpredictable twists to keep us all hooked. This is no roti dhoti kahani. 
Muqaddas told Aatir to find her kidnappers no matter what, and even told him not to come to her before he did so. Her mind changed when Zameer came to her house and told Tehreem that she was ruining her marriage for her sister. She realized that she is being a burden on Tehreem.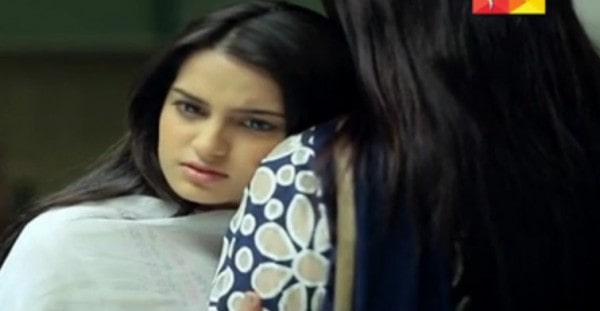 Muqaddas decided to call Aatir, who did arrive, only a day later. The reason for his late arrival was Ruhi. One of Ruhi's good for nothing "friends" has planted this thought in her mind, that in Ahmad Ali's family, second marriages are the permanent ones. She used the fact that Ruhi herself is a second wife to support this nonsense. Thus, Ruhi was convinced that Aatir should divorce Muqaddas and marry Jia. However, when she told Aatir to do so, he refused saying that, "Mein aik soteli maan ke liye apni biwi ko kabhi nahi chorunga."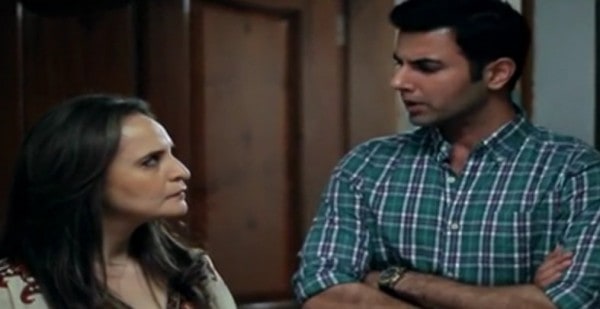 Ruhi was furious over what Aatir said to her and locked herself in her room. I really think there was nothing wrong in what he said because Ruhi was being very unreasonable. She should be grateful for a step-son like Aatir but instead she can't wait to see him unhappy. Akbar requesting Ruhi to open the door and shifting from Ruhi to "Ruhi Bhabi" mode, after Aatir arrived, made me laugh.
So after handling this situation, he made his way to Muqaddas's house where Muqaddas was waiting for him. She even agreed to return to his house but Tehreem could not let this happen. She was worried sick thinking what Aatir's reaction would be  if he found out about the pregnancy. I think Tehreem telling Muqaddas about Jahanzaib's (their father's) condition was a way to stop Aatir from taking her home, but I am glad Muqaddas finally remembered her father.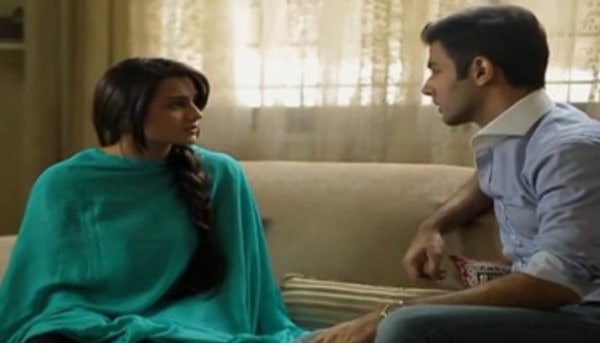 I think I am finally understanding Aatir's character (not completely though). He does love Muqaddas a lot, but he is selfish. He wants Muqaddas all for himself. All the others in her life can go to hell for all he cares. The glances he gave Tehreem in the car while he drove Muqaddas to the hospital suggested that he didn't want Muqaddas to find out about Jahanzaib's coma mainly because that would mean her not returning to his house. But I can't shake this feeling, that he knows something about the kidnapping that he is not sharing.
I really enjoy Akbar and Zain's scenes. Zain knows Akbar is the one to call for help when things get messed up and as Akbar is gradually learning about all of his nephew's harkatein, the conversations between them are getting more amusing.
Zain had one of his men, Babar, scare Muqaddas when the whole embezzlement issue surfaced. He had decided to get Babar out of the city but fate wasn't in his favour. Babar turned out to be the fiancé of the journalist, Irum, who reported about Muqaddas's kidnapping. Since Jia and Irum are friends, Irum decided to make her friend meet her fiancé. The way Jia put two and two together was rather unbelievable. Still, one of my favourite scenes from this week was Zain and Jia's confrontation while Kabeer watched. Now two people know of what Zain did. Jia, however, is sure that Zain kidnapped Muqaddas and that's why she told her mother to stop trying to get her hitched to him. I really want to see what Kabeer does now.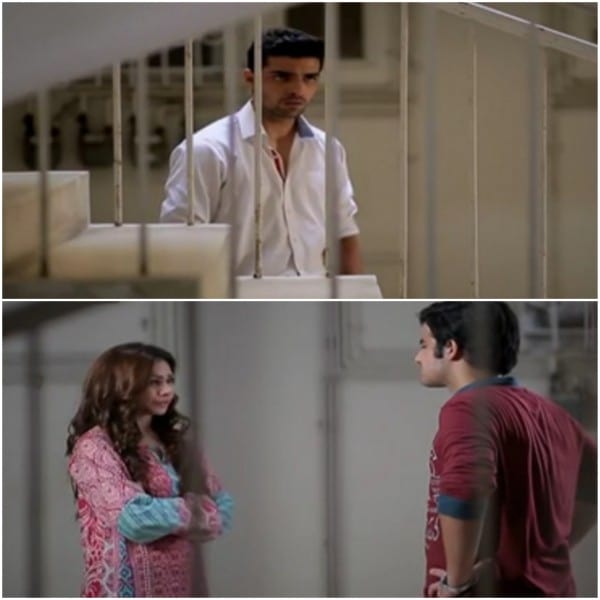 Babar is terrified of Zain but Irum isn't. Even when Zain told her that Aatir is searching for her and will make her suffer she didn't want to leave the city. Even if Babar decides to follow Zain's instructions, I think Irum won't. She is already fuming over the fact that Babar has hidden so much from her.
Nida talked some sense into Ruhi (although I wish she hadn't done it) and told her to plan a Valima ceremony for Aatir and Muqaddas. Ruhi realized that in order to throw Muqaddas out of Aatir's life, she'll have to bring Muqaddas back first. However, Muqaddas isn't interested in having such a ceremony at all. Her family's lives are a mess and she can't possibly be enjoying her life right now.
This show is so well written, directed and performed that I hardly get bored while watching it. I can't think of any actors who would play these characters better. Even the supporting cast is performing well. That's something!
Are you enjoying Muqaddas as well? Feel free to share your thoughts.
Areeba Mohsen