Muqaddas is getting more interesting after each episode and the makers have made sure that the viewers don't get bored any second! I really appreciate the writer for introducing the right twists at the right time. Muqaddas might have slowed down a bit after the reveal of the kidnapper but now it has picked up speed.
After Ruhi's constant reminders to Aatir, that the child could not possibly be his, made him realize that this child would never live a normal life. Muqaddas would always face taunts.  When Muqaddas finally accepted in front of him that even she believed the child wasn't Atir's, he knew that he had destroyed the life of the woman he loved. Unable to face Muqaddas, Aatir ran away from the house for a few days, after telling only Ruhi. All he left Muqaddas was a text, and told Kausar to take care of Muqaddas. Now Kausar may be a kind soul, who always warns Muqaddas if Ruhi is cooking something up against her, but she is only a servant of the house. What could she possibly do to save Muqaddas from her evil MIL? Aatir should never have left his wife at the mercy of Ruhi because he knows very well how much she dislikes Muqaddas_ but he did.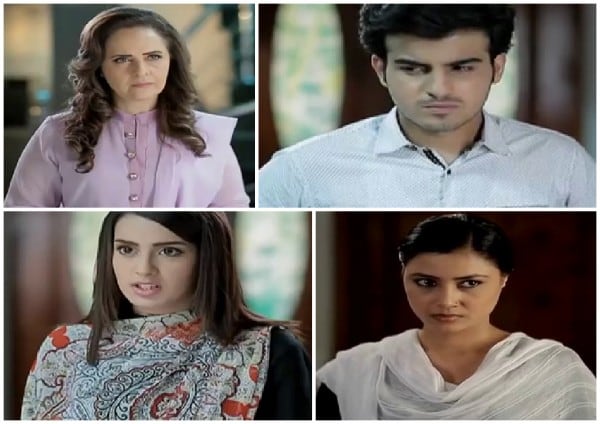 If it was any other actress playing Ruhi, this character would be intolerable. Hina Byat, on the other hand, has played many of my favourite characters in the past and she performs well in every role, even as the evil stepmother and saas. Aatir leaving the house, for Ruhi, was like hitting the jackpot. First of all, she told Zain to grab Aatir's place as CEO of Ahmed Ali Group of Companies. She knows that Zain is not mature enough to do any such thing. She also knows how much Aatir loves his step-siblings and respects her, but her greed remains the same. Secondly, she reminded her daughter-in-law that now she would be the one giving the orders. This resulted in Muqaddas not being able to meet Ashrafi once again but none of these steps were as evil as scaring poor Muqaddas in the middle of the night! She fainted right there. Still, it was funny how quickly Annie, Kabir and Nida arrived at the scene and Ruhi could do nothing other than pass sarcastic comments. Annie came in like a boss, as of it was her house and Ruhi and Zain were outsiders. It made me laugh.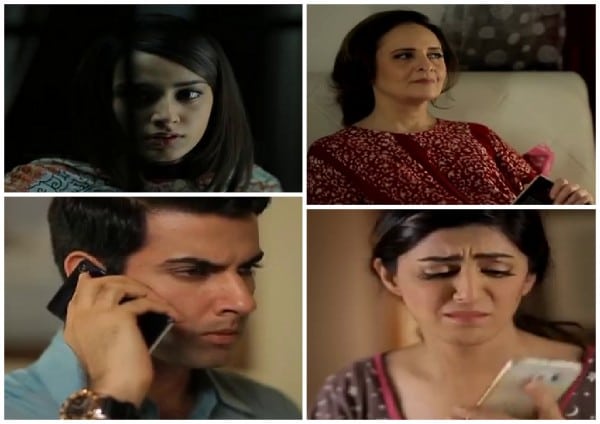 Aatir made his way to another house of his. He desperately wanted to talk to someone and that is why he called Sarmad, the man he met at the graveyard. Even when he didn't know much about Sarmad, he felt a connection to him and that is why he felt no issue in discussing important issues of his life. Mera dil karta hai ke mein apne dil ki saari baatein tum se share karun. He told Sarmad all about how he married Muqaddas and then kidnapped her to take revenge from Jahanzeb, how he fell in love with her after that and now that she is pregnant, his plan for revenge is in jeopardy. Sarmad proved to be a voice of reason. Jin se muhabbat karte hai unse intikaam nahi liya karte. Aatir planned his revenge for a long time, but he had no idea fate would intervene like this. Now that it has, he has no idea how to deal with it. What will Muqaddas do when she finds out about what he did to her and her father? Her entire world will shatter and she will definitely never want to see Aatir again. He wouldn't have returned, if not for Kausar's phone call.
The biggest reveal however, was that Maryam is still alive and well. She is living with Sarmad, her son. After seeing Maryam for the first time, a lot of questions popped into my head. Maryam is alive, so who did Aatir's family bury? Why hasn't she contacted her son? When Sarmad asked her if he had a brother, she denied. I was kind of surprised after hearing her thoughts.  "Jis baap ne tumhe najaiz keh kar tumhe gaali di, uska beta tumhara bhai kese hosakta hai?" Did she not meet Aatir all these years just because he was Ahmed Ali's son? Whatever the matter is, I love the timing of this drama!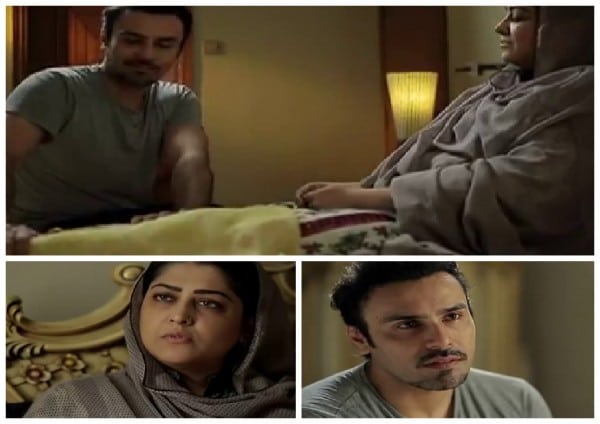 For the first time, Kabir actually analysed the situation and explained it to Nida. Doubt will ruin their relationship and for the first time Nida realized that he was right. Their relationship is suffering because; Kabir has been in love with Muqaddas all this while. He could never build a strong relationship with Nida who isn't exactly a polite and patient woman. Also, Kabir is trying to help Muqaddas realize that Aatir is her kidnapper, and Aatir is Nida's brother. Kabir can't tell this to Nida because she will never believe this. His attempts at helping Muqaddas are considered cheating attempts by his wife. This communication gap could result in a divorce.
Aatir found a way out of this situation_ abortion. He knows that if Muqaddas finds out that the child is actually his, she will realize that he kidnapped her and he doesn't want to lose Muqaddas. What he doesn't know is, that it's not possible to abort this child, otherwise Muqaddas would have done it earlier.
Kabir and Muqaddas's meeting seemed like a waste of time first. Even though this time Kabir was completely sure about Aatir's involvement (since he overheard Jehanzeb and Aatir talking in the hospital)  I did not expect Muqaddas to trust him at all, but he did manage to convince her a little bit. When Muqaddas visited Jehanzeb after her conversation with Kabir, she ended up crying on her father's shoulder and telling him about what Kabir said. Aatir doesn't want Muqaddas to meet Kabir because he knows Kabir is on to him. Looks like Jehanzeb also doesn't want Muqaddas to find out the truth. He is too ashamed of what he did and knows he wouldn't be able to face her. He ended up telling Aatir about Kabir's meeting with Muqaddas.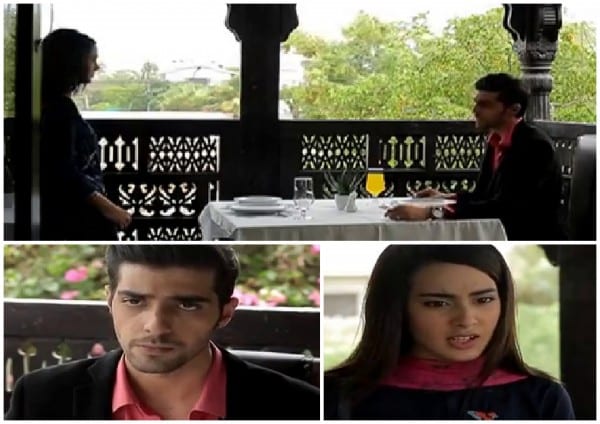 Aatir drove mad after hearing this, and even threatening Kabir at the top of his lungs wasn't enough. Woh mujh se zyada kabir pe aitbaar karti hai. Aatir's breakdown in the washroom was wonderfully performed by Noor Hassan. I have lost count of all the moments when he was phenomenal in Muqaddas and this was definitely one of them.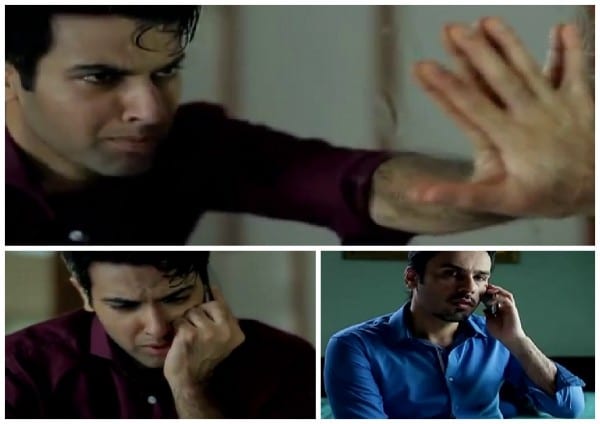 Sarmad's phone call came at the moment when Aatir needed it. I kind of like the bond between Sarmad and Aatir. They're brothers and they don't know it but still have this strong connection. I wish Sarmad would make more of an effort to make Aatir realize that what he did was wrong. I really think that meeting Maryam will change Aatir and he will accept his mistakes. What made me laugh was that now there are two people entitled to the ownership of Ahmed Ali Group of Companies. Ruhi doesn't even know it yet! ;)
 Whether Aatir will accept his mistakes is not clear, but one thing is obvious, it isn't happening anytime soon. Aatir is up to his knees in revenge and he isn't leaving it behind. He will do anything to keep his cover. Him blaming Kabir for the kidnapping was surprising considering how much he tried to save Nida's marriage. This highlights Aatir's extreme side, just like the breakdown earlier. He will do anything to stop Muqaddas from finding out the truth. Nida's reaction did not surprise me. I was just happy that Muqaddas wasn't in the house. She would probably be murdered by Nida!
Did you guys enjoy these episodes? Please share your opinion about them.
Areeba Mohsen