This latest episode of Mushk focused more on the effects the decisions made in the previous episode had on the central characters. I am sure that I wasn't the only one who was looking forward to witnessing Zulekha's reaction after Roshni disappeared from the scene perhaps that is why the writer decided to make us wait another week! Tonight's episode laid the foundations for the most important development in the story till now and it will be difficult waiting another week to find out where this track is headed. Imran Ashraf has done everything in his power to keep the intriguing element of the story alive. He has made sure right from the beginning that the viewers have a reason to look forward to the next episode. Like every other episode of Mushk, this one too showed the challenges faced by the main characters. Mehak and Adam both are going through testing times. Shayan is still imprisoned even after being released and there is a big question mark over Roshni's fate.
Some of the scenes tonight made me wonder how Mehak and Guddi had managed to keep this secret from everyone for this long. Mehak has shown her love for her son quite openly more than once. Dada's apology did not make up for his unreasonable and extreme behavior in the previous few episodes but it was good to see him feel some remorse! The nurse's explanation about the injection did not work for me at all; do you really get slow poisons in such packaging? Her explanation could have been less descriptive.
Guddi Is In Control
Guddi is the only character in Mushk right now that is completely in control. Even Muqaddar Khan is facing difficulties executing his plan but Guddi's determination and of course her manipulation tactics precede all the other characters. She is clever and she also has the patience required to execute a plan perfectly. Even Muqaddar Khan gets impatient at times but not Guddi! She is turning out to be a really strong character that primarily looks after her own interest. Although she could have driven pleasure out of Zulekha's helplessness once Roshni eloped with Saqib, she decided to make this deal even more lucrative by making money out of it as well! Guddi never fails to surprise the viewers and she always makes sure that she gets the best out of everything.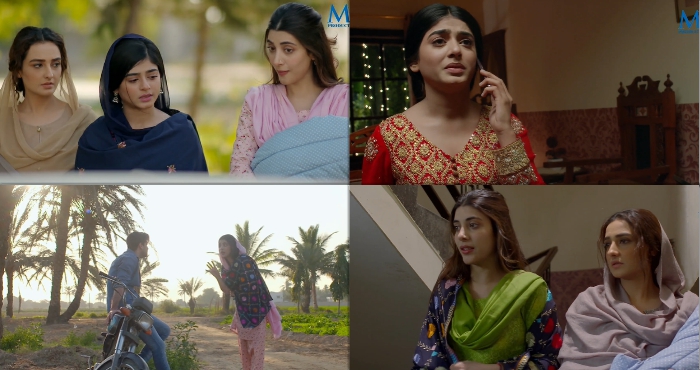 Even when she is the one getting the most out of a situation, she manipulates the other person in such a way that they are thankful to her for doing them the favor! She did the same with Mehak; she is taking money from her and also makes her do everything exactly the way she wants yet Mehak is the one who feels like she owes her. I am wondering how she will change when she falls for Adam; watching someone like her being in love will be really interesting.
Tonight, Guddi convinced Saqib to elope with Roshni, took the money from him, and also found out that Zulekha was trying to kill her husband. She also gained the trust of the husband and assured him that she will support him. There has barely been any interaction between Zulekha and Guddi but Guddi's conversation with the husband suggested that Guddi was working as a house help for Zulekha in particular even now. Just like she asked Roshni to be on her best behavior so that her mother won't suspect anything, it seems she has been doing the same. Urwa Hocane and Sehar Khan acted exceptionally well in this episode. Urwa Hocane translated Guddi's confidence splendidly on-screen and Sehar Khan was equally convincing as the scared girl who was depending completely on Guddi.
Adam and Mehak
Adam and Mehak both were shown suffering in their own way. Adam's scenes with his sister were used intelligently to convey how difficult this situation was for him. He had always dreamt of getting married to Mehak and now this dream was coming true in the most convoluted way possible. In fact, his dream was actually turning into a real-life nightmare – this reminded me of the phrase 'be careful what you wish for'! Imran Ashraf has translated Adam's soft and polite nature superbly on screen. No matter how much he is suffering, he never shows his pain or frustrations. Even though Adam's feelings were not communicated through dialogues, the situations and Adam's reactions to them said a great deal. There was more showing than telling, which is always a great way of making the viewers connect with a character. This basically goes to show that Imran Ashraf believes that his viewers are intelligent individuals who can derive conclusions instead of spoon-feeding these little details to them.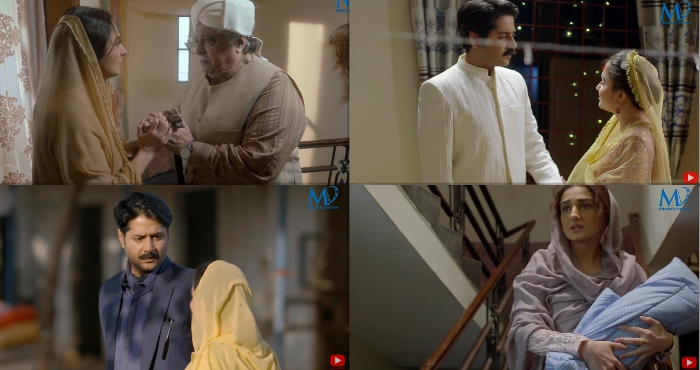 The writer had the same approach while narrating Mehak's story in this episode. Mehak's helplessness was shown through that one scene in which she could not even take her child to the hospital. Moomal Sheikh has been really convincing as the mother in this drama. The way she shows this mother's vulnerabilities and love for her child has been the best part of her portrayal. In fact, it is this love that makes me wonder for how long she will be able to keep this secret. Guddi is also too loud and her dialogues revealing these secrets are usually quite long, sooner or later someone is bound to find out the truth. Mehak has a really weak side to her personality therefore once she is engaged to Adam, he will most probably be doing a lot of heavy lifting for her.
Final Remarks
Shayan's marriage was delayed in this episode owing to his ill health. Aehsun Talish continues to be impressive as Muqaddar Khan. He is making sure that Shayan does not leave his sight. Overall, this was another interesting episode of Mushk but the next one will definitely be even more so. The story has a lot of potential and the performances have been impressive throughout. The director Aehsun Talish also deserves credit for giving this story the right treatment.
Did you watch this latest episode of Mushk? Share your thoughts about it.