Tonight's episode of Mushk intelligently showed how women most often end up in the most miserable situations because of the men they trust. It also highlighted that no matter what the consequences trading your self-worth for comfort should never be an option. While there were enough dialogues that highlighted the concept of 'ghairat', there were also those which defined 'mardangi'. It was good to hear someone define a real man for a change since most often in dramas we only hear what a 'perfect' woman should be like. All the developments tonight were convincing as usual and some of the dialogues were brilliantly written. Adam and Guddi's dialogues in particular were on point.
Adam Fails
Although I am rooting for Adam, I am glad that Adam's heroic attempt was not successful because that would have been somewhat unbelievable. Roshni is not free but at least she is 'safe' for now. The way Adam defined 'mardangi' was outstanding and from then on the writer went on to show that sometimes women get into the most undesirable of situations because they think men are their saviors. There are many such examples in the drama already and tonight Adam said it out loud while holding the women responsible too where it was needed. These dialogues were the highlight of this latest episode. This development was also used wisely to show Guddi's concern for Adam. Mehak continues to be selfish since even though she knows Adam could be in trouble, she is still more concerned about her own problems. She is turning out to be a rather 'strange' character, sometimes she comes across as manipulative and a little too self-centered.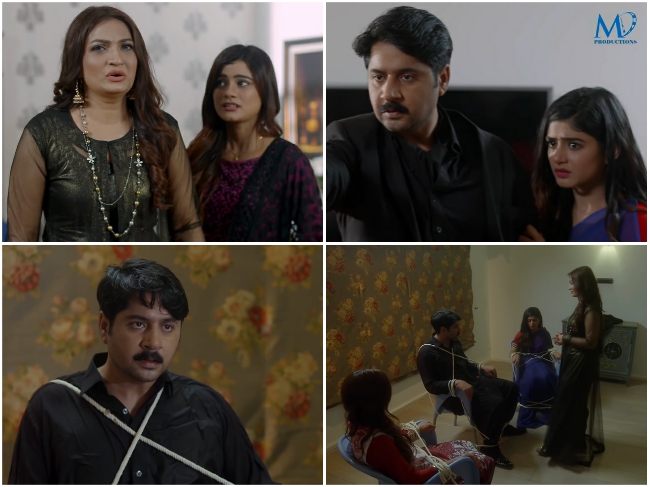 When Adam asked that girl to help him untie, I was wondering why he didn't ask Roshni for that favor. Even though Roshni is innocent but she would have been a better option than a complete stranger. I really hope that the preview of the upcoming episode is misleading and trusting this stranger won't turn out to be another bad decision. This situation has made the story more interesting in many ways. I am waiting to find out how Adam manages to escape with Roshni, he surely cannot talk his way out of this situation and he has already tried using a gun! I like the fact that while penning down the script Imran Ashraf has kept things real and convincing without going overboard.
Mehak and Guddi
Mehak and Guddi's conversation tonight coupled with Guddi's concern for Adam showed a completely different angle of this character. This was the first time that Guddi actually prayed for someone and was genuinely worried for Adam too. Her conversation with Mehak yet again reflected exactly what was going through the viewers' mind – she wasn't even bothered about Adam! Mehak isn't as naïve as she is 'focused' on herself. She is so busy thinking about her own problems and it seems like she does not really care about Adam even. Adam is someone who she knows would always be there for her that is why she simply turns to him when she needs him, other than that she feels absolutely nothing for him. Mehak's scene with dada was definitely not the best one tonight since dada's dialogues were rather disappointing even though the circumstances have made him bitter. He was introduced as such a positive character but he is turning out to be rather typical. The reason why Mehak decided not to spill the beans was also somewhat predictable.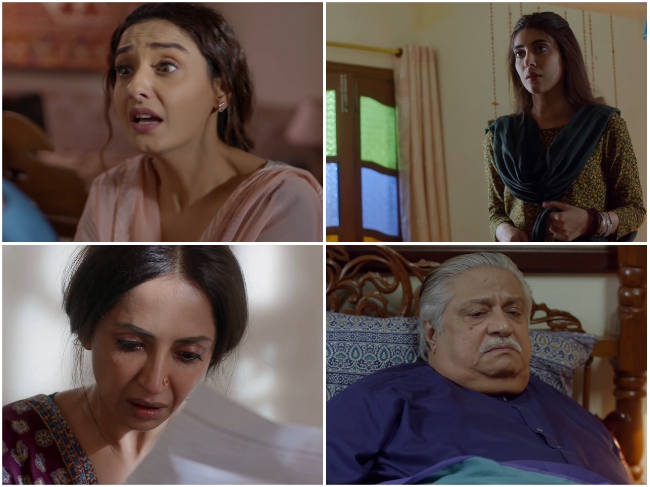 Then we have Guddi, who is gradually falling for Adam perhaps because opposites attract! Guddi's dialogues suggested that she had never met someone who was worthy of her 'concern'. Even though she keeps on making fun of Adam for being too nice, the fact is that it is this side of his personality that attracted her towards him. It is truly refreshing watching a strong character such as Guddi falling for a man instead of the man falling for her. I always wondered how Guddi will eventually fall in love and I must commend Imran Ashraf for showing this development gradually and convincingly. It remains to be seen if Adam will fall out of love with Mehak and in love with Guddi too. Guddi continued to work actively towards her main goal at the moment while making sure that her tracks are covered.
Shayan's Track
Shayan's track is being taken forward gradually as well. We are getting to see his displeasure with the situation, his hopelessness, and most importantly the reasons why he feels he needs to go ahead with this marriage. Muqaddar Khan had the conversation with his daughter tonight as well therefore he should be going ahead with the nikkah soon. That one dialogue regarding the day of judgment summed up the mentality that is behind justifying everything people like Muqaddar Khan do. This particular track is just as unpredictable as Adam and Guddi's track at the moment.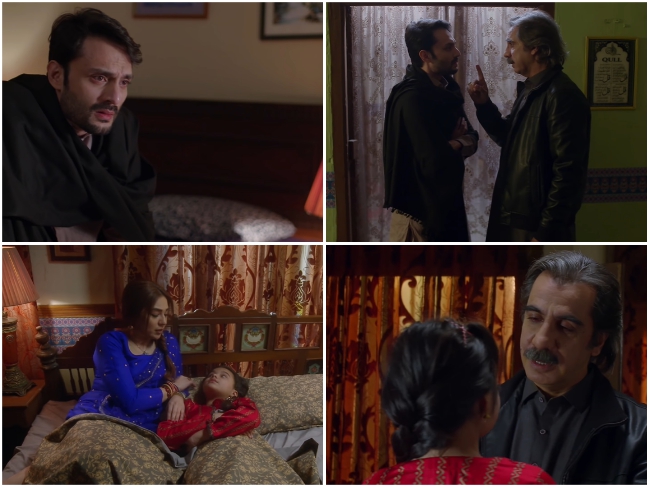 Final Remarks
Mushk continues to be interesting and engaging with a refreshing storyline which is also meaningful. The performances have been brilliant throughout too. Sami Khan, the child actor, deserves a special mention here for standing out in every scene. Imran Ashraf has definitely given this drama his best and Urwa Hocane owns her character right from the beginning. Tonight's episode had some of the best dialogues. The only scene which did not work for me was the conversation Mehak had with dada. The preview of the next episode was enticing! Just like all the other episodes of Mushk, this one too gave me so much to look forward to.
Did you watch tonight's episode of Mushk? Do share your thoughts about it.