Tonight's episode of Mushk was Romance/thriller/mystery all mixed in one, it ended too soon and I must admit that even with so much going on, I am most interested in the love triangle more than anything else right now. There were quite a few meaningful scenes and situations in this latest episode. Yet again, the writer highlighted another social issue by showing the fake peer's conversation with his wife in a way that was rather amusing. There was finally some character development in Shayan and Mehak's track. Dada also made an appearance in this episode. I am also waiting to watch how chota Chaudhry's track is wrapped up.
My favorite conversation tonight was the one between Adam and his mother. Guddi's willingness to 'gift' the only man she had ever loved unconditionally over to Mehak showed that she had learned to give without questioning from Adam! Guddi's track has been penned down brilliantly since the writer chose to be an advocate for a flawed person and he managed to make the viewers fall in love with her. I think the fact that most of us find ourselves rooting for Guddi even with all her flaws makes Imran Ashraf's character exceptional and Urwa Hocane's performance simply unforgettable.
Adam's Confusion
There was a time when all Adam wanted was to spend the rest of his life with Mehak and now that he has that opportunity, he is not sure what he should do. For once Adam needed time to answer Mehak's question and although he offered her his 'jaan', he wasn't sure if he could make the commitment she wanted. Adam has fallen for Guddi and I must say that this particular track has been carried forward in the most convincing manner. Just when Adam thought he could allow himself to fall in love with someone else, Mehak asked him for a favor which made things really difficult for him once again. This is the kind of conflict that piques the interest of the viewers especially at a point when the story is headed towards its ending. Mehak has always asked Adam for the biggest favors as if he owes it to her. Their childhood scenes shown in some of the previous episodes helped me understand why she feels so comfortable asking him for so much. Adam did not want Mehak to go ahead with the divorce and he was sane enough to question her about her reaction when she witnessed Shayan's nikkah. This is yet another thing to look forward to; Adam getting in touch with Shayan to ask him the question which Mehak never asked him.
Adam needed some time and clarity to answer Mehak therefore he decided to make up an excuse. The conversation he had with his mother showed that she knew that he will perhaps be happier with Guddi since right now it seems as if getting married to Mehak will just be a way to support her and make her happy. Adam was more than willing to put Mehak's happiness before his own before but now perhaps he is thinking about how it would impact Guddi as well. Since he is someone who cannot let people who have expectations from him down, it was easy to understand his state of mind. Imran Ashraf's performance tonight translated all the different phases Adam went through perfectly.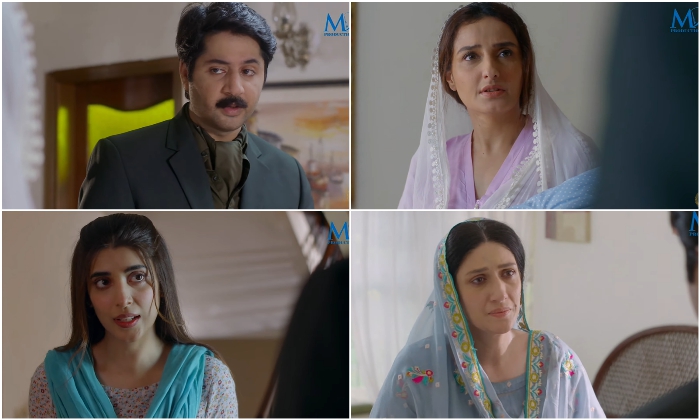 Guddi's Character Development
Guddi has taken her revenge and since the last two episodes, she was completely focused on Adam. However, when she heard Mehak asking Adam for that favor, she was sure that Adam will never say no to her. That is why she congratulated her beforehand and for once Guddi was willing to give something up without fighting! She also accepted Adam's 'apology' in advance. Guddi finds Chaudhry's advances off-putting and she does not feel scared telling him off. She has not once reconsidered her decision to unleash this monster; I would have liked to know what Guddi is thinking right now. I was also hoping that she would at least have one conversation with Roshni and perhaps find out that she unknowingly put her in such a difficult situation. Urwa Hocane deserves due credit for translating her character effectively and effortlessly on screen throughout.
Chaudhry and Zulekha
Zulekha has turned into a lost cause at the moment; it seems that her character will be killed off. Chota Chaudhry has two different sides to his personality, when he is with Zulekha and her brother he is a completely different person. I am wondering how he will eventually be punished. I cannot praise Hassan Ahmed enough for making his character look extremely terrifying on screen. While watching his scenes, it is easy to understand why Zulekha is so scared.
Roshni's Track
Roshni's track was impactful in the episodes covering her running away from home and rescue; right now however her track has completely been relegated to the background. One of the previous episodes also hinted that Roshni might be falling for Adam, that aspect of this track has also not been taken forward. I am glad that the focus is on the main tracks but I would like to see more of Roshni as well since she has been such an important part of the story throughout. Roshni's dialogue when she heard the drum beating outside showed just how scared she still was after everything had happened. This was perhaps also a hint for the viewers regarding what can be expected in the upcoming episodes. There wasn't a single scene covering Roshni's reunion with her father, it seemed as if she was also not happy to know that he was well now.
Shayan Remains Undeterred
Quite unexpectedly Shayan used the marriage to put pressure on Muqaddar Khan in a way we couldn't have imagined two weeks back! He is fierce now, like a man who has nothing to lose. It seems as if after the forced nikkah he feels that nothing worse can happen now and he has a bargaining chip as well. Muqaddar Khan turned to his peer for advice since he was the one who suggested that in order to keep the family inheritance, marrying off his young daughter to Shayan would be the 'safest' bet. Muqaddar Khan did not see this coming at all for obvious reasons. This makes me wonder if killing Shayan off and getting the property papers signed by his sister would have been an easier way out for Muqaddar Khan. He would have thought it through if he didn't rely on the peer so much. It was definitely good watching Shayan stand up for himself for a change!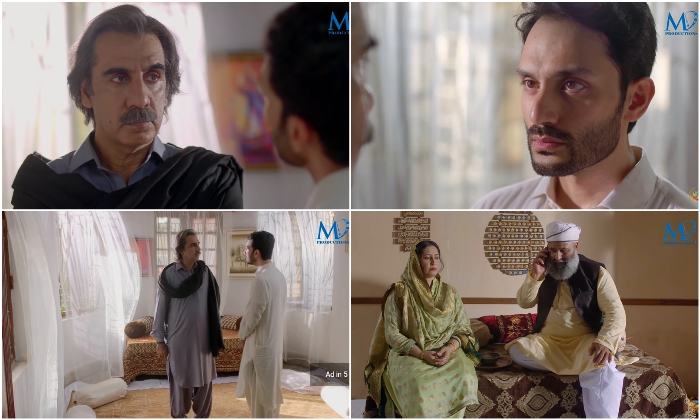 Final Remarks
Mushk has always left me with so many questions and this episode was the same. We are headed towards a happy ending it seems since there is a chance that Mehak and Shayan might end up together once Adam steps in and talks to Shayan. Guddi and Adam are meant to be together therefore I am looking forward to their union more than anything else. What does the future hold for chota Chaudhry and Roshni? I am waiting to find out.
Do share your thoughts about tonight's episode of Mushk.