This second last episode of Mushk was fast-paced, action-packed, and quite filmi. The good thing is that the drama is headed towards a happy ending and it is going to be one of those few dramas which end without unnecessary dragging. Whether this ending will be convincing or not is a completely different debate. I must say though that I feel a really strong connection with all the characters at this point since their journeys were covered in detail and quite impressively throughout therefore even though some of the developments tonight were somewhat laughable, it was definitely pleasing watching Mehak and Shayyan in the same frame. I honestly never thought that I would actually be rooting for these two because both of them were the weakest characters in the drama but after watching them suffer for so long, it was good to see them together. Dr. Rana, Zulekha, and Muqaddar Khan's track ended in the previous episode which was an intelligent move by the writer since now the focus can be entirely on the leading couples. Roshni and Saqib's track was also wrapped up tonight. Adam once again saved the day in more ways than one and this recent development made him realize more than ever how much Guddi meant to him. Muna also played a significant role in this episode.
The Reunion and Realizations
Tonight's episode opened with Saqib and Roshni saying their final goodbyes or perhaps this would be a new beginning for them as well. Saqib apologized for betraying Roshni and she got a chance to stay everything that was weighing on her mind for the longest time. Sehar Khan's performance in this scene was impressive and Raza Talish has always been convincing as a young boy who has a disturbing past. This reunion was not too pleasant but this could either be the closure Roshni needed or she might give Saqib another chance.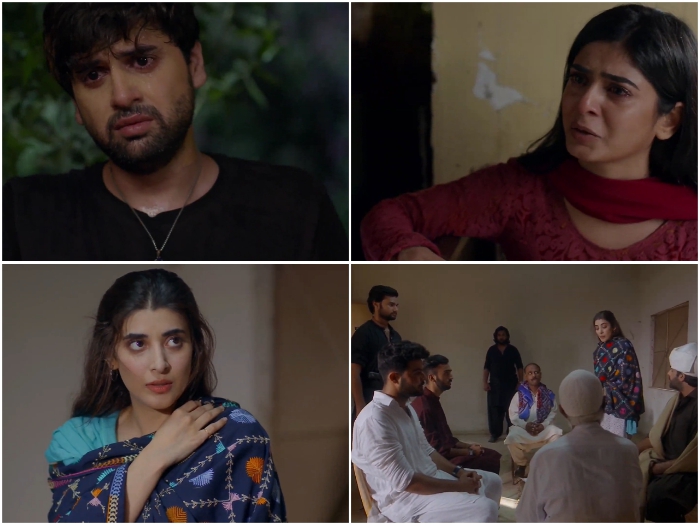 Chota Malik decided to enter into a nikkah with Guddi and it was good watching her take a stand the way a woman like her would. The way Adam saved the day was not the least bit convincing, it would have been so much better if these action scenes were executed more convincingly. All it took was a push for Chota Malik to be unconscious. This was an important development since had Guddi not been in such a condition; Adam wouldn't have realized what she meant to him. This was a powerful start to the next phase of their relationship and for a second last episode. I am looking forward to their union. The place where Guddi was kept by the Chota Malik had the strangest wall, isn't cow dung supposed to be outside and not inside and that on a board?! Imran Ashraf did talk about the limitations while shooting these last few scenes due to COVID therefore I am guessing that they had to make the most of the locations they had.
Apart from Guddi and Adam's track, Mehak and Shayyan's track for a change was the highlight of this episode. Momal Sheikh acted brilliantly tonight and the impactful dialogues added to the intensity of these scenes. Mehak wanted to believe Shayyan but she was also scared because she did not want to put herself in a situation again where she would end up with heartbreak. However, when Shayyan mentioned that Adam would testify for him since he knew everything that had happened to him, Mehak was instantly convinced. I liked how Muna was kept in the picture right till the end since he has always been so close to Mehak. His bond with Shahmir has also always been such an important part of this entire track. It did feel odd though that they managed to have this meeting inside the haveli since surely they must have guards and dada is completely missing in action. Even with all these questions popping in my mind while I was watching this scene, I was genuinely happy for Mehak and Shayyan.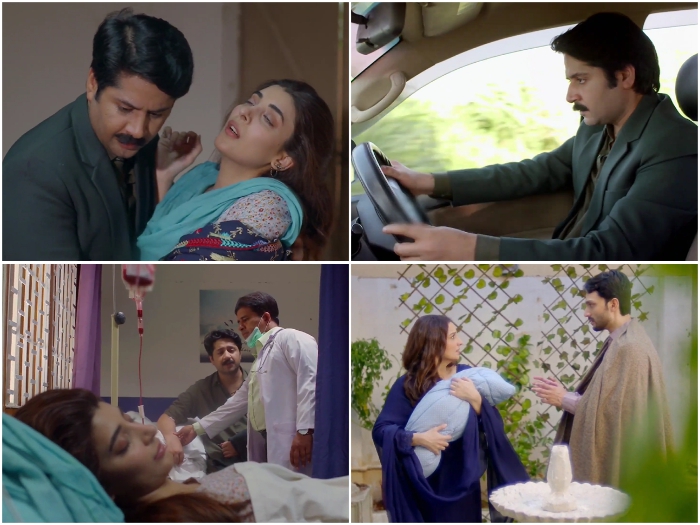 Final Remarks
Mushk has stayed true to its main theme and it has always given me something to look forward to every week. Even though the preview of the next episode revealed the end of the Chota Malik entirely, Guddi and Adam's track it seems will stay intriguing right till the end. I was looking forward to watching how Malik's track will end but the preview did not leave a lot to wonder about! Guddi will go back to her mother and once again Adam will be going after her. I feel for Adam, he has been running after someone or the other for the longest time now, he deserves a happy ending more than anyone else. Even though this second last episode wasn't too convincing, the fast pace and the reunions made it worthwhile.
Did you watch tonight's episode of Mushk? Do share your thoughts about it.