This was another exciting episode of Mushk which revealed a great deal about the characters. Even though this drama has been on air for 6 weeks, there is still so much that we do not know. Imran Ashraf deserves due credit for penning down a script which is the perfect mix of mystery and drama. He has made sure that the viewers get some important information in every episode so that they do not get impatient or lose their interest. That was really intelligent of him, most of the writers stretch the mysteries so much that the viewers get agitated rather than getting excited!
Some of the characters are turning out to be more negative than I had anticipated. The story has the potential to be really dark but so far it is more entertaining than dark. While you absolutely hate Guddi for being so manipulative and selfish, this drama wouldn't have been the same without her. Guddi continues to be an appealing character despite all her flaws. Urwa Hocane has been absolutely phenomenal in this role, I love her energy and understanding of the character she is playing. Adam once again took a backseat in this episode and he wasn't shown crying over what had happened. His relationship with Mehak remains a mystery, we found out today that he belongs to an affluent family, has done law, and is working for Malik sahab. We don't know yet whether there is a family connection or not. The story is unpredictable and convincing so far. Shayan's fellow prisoner's story was also revealed in this episode. Zulekha has a dirty secret of her own which makes this entire situation even more interesting especially considering the fact that Guddi wants to take revenge from her.
Guddi Decides To Stay
Last week's episode ended on such a note that there was no way of telling what turn the story will take. Once Guddi was back home, I was wondering why will she ultimately stay back. The reason for her decision to stay made perfect sense. She is in dire need of money therefore she decided not to run away with the baby. That also proved that she is not as 'evil' as she was pretending to be. Later on, she decided she was not going to leave Mehak's house until she got back at Zulekha. She clearly was willing to put up with much more.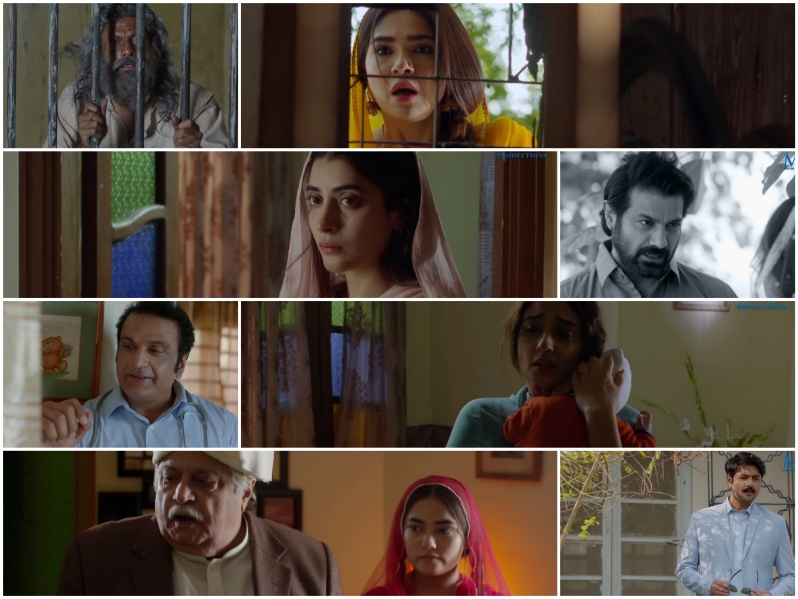 Mehak is turning out to be a really meek character which actually in some ways makes sense too. Although she went ahead and entered into a nikkah with Shayan without her family's consent, she does not have the guts to face the consequences. That is why she trusted a complete stranger and would allow Guddi to manipulate her in the future too. It isn't fun watching her cry all the time but that is who she is! I have a feeling she and Adam will be forced into a marriage because of the recent developments. When dada actually believed tayee's lie I was really disappointed but then Guddi said exactly what was going on in the viewers' mind at that given moment. That is what intelligent writing is all about! That was the writer's way of telling his viewers that he did think this one through as well! If you are thinking how could dada believe this lie then guess what that is what Guddi is thinking as well. Once again Guddi did not feel for Mehak at all, she was like a spectator enjoying what was going on! Guddi has this sadist side to her and if something does not affect her in any way, she doesn't do anything to change the situation. She feels absolutely no connection with Mehak and all of this is nothing more than a business deal for her.
Adam's scenes were not as intense as I was hoping for them to be since he has gone through so much in these past few hours. For now, all we know is that Adam fell in love with Mehak at a really young age and his love is unconditional. He somehow associates love with pain and therefore is more than willing to do whatever it takes to please Mehak. Imran Ashraf's dialogue delivery and his overall look for this drama make you forget all the other characters he played recently. For the first time, I feel that this is not the same actor who played Bhola's role.
More Secrets Revealed
Shayan's fellow prisoner's backstory was also revealed tonight. He was Muqaddar Khan's best friend and his wife's love interest. I am wondering why someone as vicious as Muqaddar Khan did not kill him because his presence could be a constant threat. He is not killing Shayan because he needs something from him but why isn't he killing this man? I am sure there is a plausible explanation for this.
Zulekha is responsible for her husband's deteriorating health. I wasn't expecting her character to be this evil! She is having an affair with the doctor who is working on killing her husband gradually. She is a lot like Guddi as well, the only difference is that she has more power and wealth than Guddi. The way she covered up for Roshni went to show that she would do whatever it takes to achieve her ends. Roshni also took a really big risk and as it turned out Saqib is not as sincere with her as it seems to be the case.
Final Remarks
Tonight's episode was just as entertaining and exciting as the previous few. Mushk has a different storyline, some superb performances, and quite a few unusual scenarios. The preview of the next episode was even more enticing!
Did you watch tonight's episode? Do share your thoughts about it.