Naml Review – Episode 23 & 24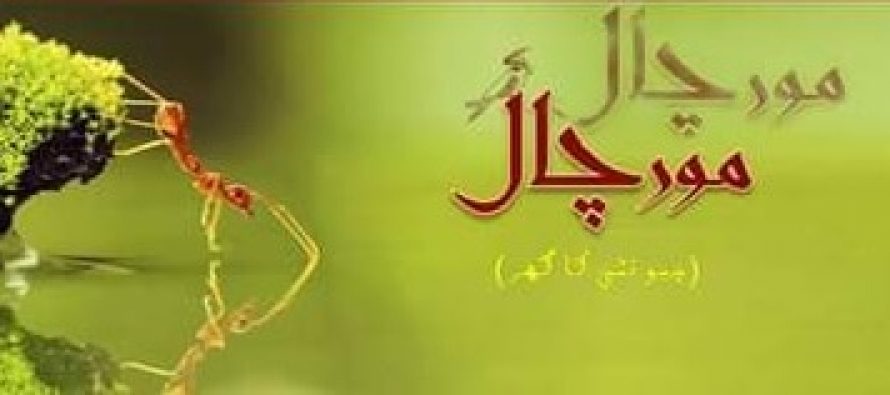 Firstly, sorry for the late review of this novel.Secondly,would try my best to cover everything which speedily happened in these episodes…
The title of the 23rd episode of Naml was "Morchaal" meaning "House of Ants" so this pin points at the very basic theme of the episode which will be more of Yusuf's family.
Woww..just woww.. what an introductory poetry!
وہ ایک فقرہ خود کو سنانے کے لیے ڈھونڈو
پھر اس لاین کو مضبوطی سے تھام لو
اور پھر اس کی مدد سے خود کو تاریک اندھیروں سے باہر کھینچ نکالو
Nemrah Ahmed beautifully managed to portray the struggle of Haneen. Mainly it is related to Haneen but somehow everyone in this novel is deeply engulfed in darkness.
Faris is such a secret keeper, the sweet trifle between Haneen and Faris illustrated their love and harmony as a family.The episode has remarkable treasures and some mysteries were unfolded in an apt way and that's the style of our beloved writer.
Going inside the Morchaal ..let's get in their house and feel the fear, agony despair and hope in our Ants ?
• Saadi wants justice through court and Yusuf's are not satisfied with thi, yet they support Saadi.Its not a piece of cake when you have Hashim as your opponent.
• Haneen if truth be told is gradually collecting her broken pieces and redeeming herself that could be effortlessly seen in conversation with Zumar. " Aap srf shadeed halaath main roti hain, main shadeed halaath main aage ka sochti hun" thumbs up for hanna.
• The reason behind Naushervan's attempt to kill Saadi was jealousy and the phone call with Zumar categorized this disease in three steps and definitely Naushervan was in the final stage where harming the person physically satisfies this disease.It was true wisdom.
• Colonel Khawar was back with a bang but hopefully Faris turned out to be different than a mere killer and Zumar was the one to rescue our Mamun , Welldone Zumar ??
• Spouses are one other's mirror and how you start complimenting and appreciating the good things in your partner they will do it more for you. Another great message by giving a glimpse of the cute life of Faris and Zartaasha.
• Ha..Ha…Ha…Here comes Hashim proposing Aabi no actually ordering her to marry him ..how can such a person who destroyed many people's life can even think of his own happiness….phew!! Good for him because he will be crushed when he would know that Aabi is head over heels in love with Faris.
The Turning Point of The Episode:
The conversation between Faris and Hashim and the hidden meanings which were unfolded afterwards were mind boggling.
At first I thought Hashim is guilty and he is ready to face the consequences of his dreadful evilest acts but No..No..No …Once a devil is always a devil..
No hope for you Hashim Kardaar and I was shocked to know what their real conversation meant when he was practicing Judo Karate on Naushervan.
Faris and Hashim they know each-other well and what their hidden agendas are! And waqayi Hashim acha aadmi nahi hai par wo azeem aadmi hai..:/
Pace
The pace of the episode was nearly perfect.It covered everything and it was a pretty fast episode with only Saadi's track missing.
Tootay Taaray Jaisa Dil
Haaye!!! Once again a mesmerizing poetry, the Ba-zauq shayeri initially diverting our attention from Sun to the moon and then to the stars…Very deep! They have added good piece of literature.
So the title suggested that it would be Saadi's heart but the episode depicted Faris's heart as well and it could be Aabi and Zumar.. Mainly it was Saadi and Faris..I guess
Anyway, In this episode many new tracks were introduced as both the families are now in the verge of gathering people for their support, using each others dark secrets to cover themselves …how cunningly smart they are!
To know about the happenings and the comments about them let's see what this episode offered..
• Tye Tye fish…for Hashim Kardaar he couldn't find anything regarding Haneen's blackmailing of O.S.P as a prop to use against Saadi.Somehow while reading this there was something fishy about Ahmer and that surprise blasted afterwards.
• The passport delieverd to Hashim was just a mere mystery and I thought if its not Khawar and Alicia it must be Saadi himself because he is not that masoom anymore and how could he do such a irresponsible act after planning everything out.By the end of this astonishing episode the writer tried to convince that it was Dr.Aiman.
• OMG…was the first impression I got when Faris (Mr.Sherlock Holmes) caught Aabdaar's drama but by the end of the scene I really felt for Aabi, she is immature and is just hurting herself. It was intense.
• Saadi sneaking the house and was caught by Zumar …This lady is genuinely very wise she by her words convinced Saadi to stay home and heal himself within its beloved family….It was Cute " kuch loug is qaabil hote hain kay unkay liye pighla jaaye"
• Faris Zumar Nok jhoank kay beghair kya maza haina? ….It was super adorable or I must say I laughed and then thought it could be renamed as Awwwing moment.. they way Zumar asked as if he had gone to pray taraweeh was hillarious and his reply "kyun meri ibadatoan ko nazar lgaati ho" and teesri biwi kay paas tha ? Sach main dau number insan…Haha
Zumar-Faris track always leaves impact whether it be intense emotional upheavals or funny and sweet tantrums.
• Haneen ….Yo girl way to heal yourself. It was good to see Faris trusted her and she regained herself. She provided the text messages to Saadi and that was the moment where Saadi was crashed, not because he just accused her of something and it didn't turn out to be that but the most hurting thing was it was he himself being the main concern for his sister and he just couldn't get over it.
• The first step taken by Saadi was to arrest Naushervan and using social media "Mera Naam Saadi hai" video to start paralyzing the Hashim Kardaar's horrendous acts. It was refreshing to see Hashim being stressed out because Now the Yusuf's are all ready.
• Haroon Obaid can stoop this low for her daughter or maybe he has some hidden benefits for himself as Zumar suspected.That nose pin was so dear to Zumar because there was an emotional connection with it.
• Surah Al Naml tafseer went on and it was so refreshing to read and know about the deeper meanings of the ayaat.No one is free, Freedom is a myth and how Zumar connected them to her life and decided that She will choose "Zumar". Such a confident lady!
The Scene that was the turning point of this episode:
Well to everyone's surprise it seems now that Ahmer Shafi is against Kardaar's and is helping Yusuf's family and the point which crossed the path of Ahmer and Khawar was their past and their families being sacrificed. How Hashim and Javahirat the two evil masterminds killed people for their own interest and blamed someone else to cover for them I mean such a corrupt family. Ahmer Shafi was a big surprise in this episode and the biggest surprise was his killing khawar.
Saadi finally said to Dr.Sarah to make a decision on the basis of the trust Saadi had on her? I think its time for Dr.Sarah to side with Yusuf's and be brave.
Pace
This episode was also very happening and the pace is going good but this novel still has more tracks to uncover so its not going to end soon.
Overall, these episodes were captivating as the previous ones and there is not much to be criticized. The most admirable thing I found was Zumar's behaviour she is the Queen of the ants and she is playing her part very well. Her words are just dripping with emotions, concern, and love for her family. You really enjoy everyone's journey and Haneen is interested in interior designing …right? I assume might end up studying and finding her passion in designing.But its time now they should reach their destination and finish the game of Kardaars.
Any guesses?
Share your views about these episodes.
Asma Jamali
---